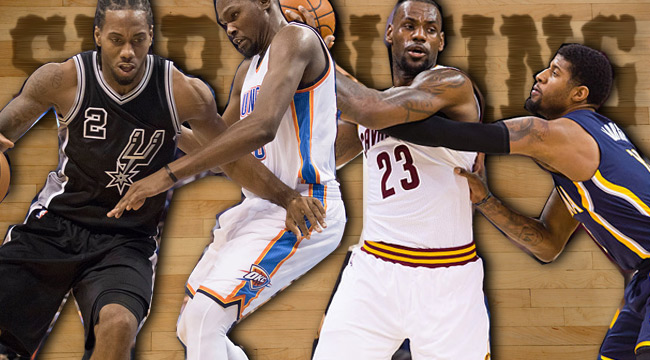 The small forward position contains three of the best four players in the game, and yet by No. 20 on our list, we had already entered the, "Eh, I guess we have to put somebody here" phase. There were questions of position eligibility and some of the most apples-to-oranges comparisons we have on the second-weirdest position we'll be covering (power forward is going to get bizarre). I mean, how do you weigh Giannis Antetokounmpo (included here mostly because of his history and who he guards on defense) and Carmelo Anthony against each other? Their impacts on the court are so different that it often seems they barely play the same sport.
But we'll give it a go anyway, because damn it, this is important. Here are the 20 best small forwards in the NBA right now.
20. Rudy Gay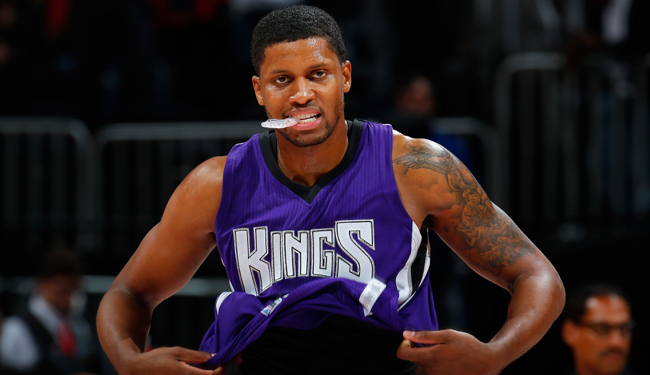 He's taken a lot of crap through the years, but boy can Rudy score. He's scored at least 17 points per game every season but his rookie year. The problem is that he does so without passing much or shooting all that high a percentage from the floor. He's got the physical tools to be a great defender, but not the interest — at least on the surface. It's been a while since he was on a team with real direction. Gay gets the distinction of being the first Sacramento King to make one of these lists, mostly because he's a generally competent player with flashes of absolute dominance that are often few and far between. In case you're wondering, No. 21 would have been Matt Barnes. Take that for what it's worth.
19. Justise Winslow
The 20 year old doesn't have much of an offensive game yet, but give him time. He has a Tony Allen-like feel for cutting backdoor when defenses sag off him too much, and he doesn't look lost out there. He's on this list because he's already one of the better defenders in the league, able to guard up a position with a physicality that belies his age. When the Celtics try to trade a king's ransom to move up for you in the draft (Frank Kaminsky looks good, but not good enough to justify what MJ turned down to draft him), and Erik Spoelstra plays you damn near 30 minutes a game in the regular season and the playoffs, you know you belong out there. In a few years' time, he might even be challenging Kawhi Leonard for the DPOY. He's warranted the hyperbole.
18. Al-Farouq Aminu
Aminu broke out in a minor way during the Dallas Mavericks' first-round defeat to the Houston Rockets in 2014-15, and parlayed it into a sizable deal with the rebuilding Portland Trail Blazers and built on that momentum. He was a non-shooter before this season, but averaged a respectable 36 percent from deep, where he now takes nearly half his shots. His release is still slow, so he can mostly only shoot when wide open, and he can't create his own shots, but having that release valve justifies leaving him on the floor for his defense. Like Winslow, Aminu can play a respectable small-ball four defensively with the bat wings he calls arms. His offensive game can still stand to improve a lot, but Aminu is already a valuable rotation piece for team that made the second round of the playoffs in the West.
17. DeMarre Carroll
If we did these rankings at the end of last season, DeMarre would probably be a fair bit higher, but he had a lost season. Serious injuries robbed him of months, and while he was gone the Raptors' roster had sort of coalesced and Carroll worked his way back to health looking up at Terrence Ross and Norman Powell on the depth chart. He proved a crucial factor in Toronto's playoff run, but he also has had only one full season of starter minutes before his body broke down this year. At his best he's an excellent defender with a credible three-point shot, but he's already 29, so he's not likely to expand his game much beyond that. With Carroll, the question is more about how much he'll be able to play going forward.
16. Chandler Parsons
Another guy who's proven himself valuable only to be caught by the injury bug. Parsons has now had the last two seasons end with major knee injuries that required surgery, and the phrase "multiple knee surgeries" is one of the scariest possible for young NBA players with teams depending on growth and longevity. Parsons isn't an above-average defender, but he was tall and long enough for the Mavericks to slide him over to small-ball four for spacier lineups, and he's a good enough shooter to be punishing at that position. He doesn't get to the line as often as you'd like for a guy with his athleticism, a trend that's unlikely to change considering those knee injuries. Still, his solid shooting at his size is enough to keep him valuable for years as long as he stays on the court.
15. Tobias Harris
Unlike most of the players on this list, Harris doesn't just play up a position when it's asked of him — there are legitimate questions about whether he's truly a power forward. At the three, Harris can dominate most matchups physically in the post, still a valuable skill that allows his teammates to take a breather every once in a while. The problem is that too many of his post-ups finish with mid-range shots, and he only shoots 38 percent on those attempts — comfortably below the standard of worthwhile efficiency in that area. According to NBA.com, he shot just 35 percent on jumpers overall in 2015-16. When he drives the lane, he's a force, and for his size, he certainly has the quickness to capably defend less-threatening wings and even more traditional power forwards. At this stage in his career, Harris is still not playing to his strengths as much as he should. That's a shame, because his package of natured and nurtured gifts is truly impressive.
14. Harrison Barnes
How do you properly evaluate someone who's so clearly laden with athletic talent, yet possibly nothing more than a highly-paid role player. Barnes was the fourth offensive option in the Warriors' starting lineup, and though he was a great defender in the Warriors' scheme, he was never Steve Kerr's designated stopper or even his best defender on the wing. Barnes' days were numbered in Oakland when Kevin Durant came to town, and he subsequently took advantage of the booming salary cap by signing a max-level deal with the Dallas Mavericks. Is just below $24 million a year an overpay for a guy who isn't a knockdown long-range shooter and can't consistently create efficient offense? Or is the rising fifth-year forward more talented than his role on the Warriors suggested?
If Barnes succeeds with an increased role in Dallas, this ranking will look very low. It's just not fair to other players who have more asked of them to rank him any higher now.
13. Trevor Ariza
The Rockets may have had a miserable season, but don't blame Ariza for it. He was grinding away on defense like he always does, and he's guarded everyone from larger point guards to some power forwards (most notably Blake Griffin in last year's playoffs) credibly. His three-point shooting is streaky, but it's balanced out over the length of the season to be very good the past few years. He still is well below average as a dribble penetrator, but with other ball-dominant guys around him, he's a reliable spot-up shooter with a decently quick release. Just as importantly, he's durable, versatile and a consummate professional. A leader he isn't, but Ariza is a set-and-forget type of player at the position.
12. Danilo Gallinari
At this point, it feels like we'll never know how good Gallinari could have truly been if he had been able to stay healthy for any meaningful length of time. Gallo shoots well enough from beyond the arc, has surprising skill with the ball in his hands, and he's an absolute beast at getting to the free-throw line — he averaged over eight attempts per game this season, a downright elite number. His defense comes and goes with his health and interest, but he's one of the most creative players in the league and a joy to watch when he's out there. If only he could be out there more often. He's still only 27, after all; weirder things have happened.
11. Andrew Wiggins
He still can't shoot very well or defend with consistency, but Wiggins is only 21 years old and still possesses all the physical tools to grow into those skills. As it stands now, his game is a relic of an earlier time, based on one-on-one moves and finishing through contact. And while that still has its uses (his seven free throw attempts per game, an excellent number), if he wants to reach his potential in today or tomorrow's NBA he needs to make massive strides as a passer and spot-up shooter – two areas in which he made subtle improvements as 2015-16 wore on. His defense, especially under the tutelage of Tom Thibodeau, should come along enough to keep him very valuable for years either way.
10. Jae Crowder
Crowder stands in direct contrast to Wiggins as someone who's built his game brick by brick, improving every skill needed to be a valuable wing today. He's a ferocious defender, not just one of the best pickpockets in the league but one who can guard both smaller and larger players to equal effect. He's an above-average rebounder for a perimeter player, a great finisher at the rim, and his three-point shot… well, it's just about average, but it's just good enough to prevent the paint from clogging. Crowder doesn't take anything off the table offensively, and paired with his elite defense, that's good enough to crack the top 10 at his position.
9. Nicolas Batum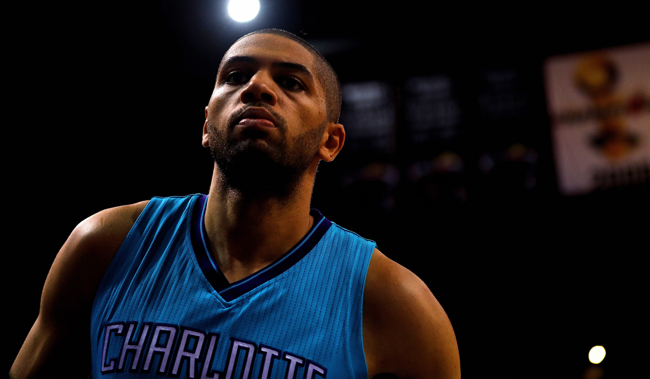 Here are the leaders in assists by non-point guards in the 2015-16 regular season: James Harden, Draymond Green, LeBron James, and Batum. He was absolutely vital to Charlotte last year, a big reason why they brought him back with one of the biggest deals in free agency. He filled holes on offense and defense, essentially serving '[as the Swiss army knife among a group of specialists. His abilities as a secondary playmaker releases Kemba Walker to spot up occasionally or attack defense that is already shifting, and his ability on the other end is even more crucial on a team with undersized Marvin Williams as the power forward.
8. Andre Iguodala
This may set a record for the highest ranking a backup has ever achieved on our lists (which weren't a thing back when Manu Ginobili was at his peak), but Iguodala is not your average backup. Sure, he couldn't play the LeBron stopper in two straight NBA Finals, but he's still one of the very best defenders in the NBA. On offense, he's a master passer and even shot a healthy 48 percent from the deep left corner last season, meaning he needs to be accounted for both with and without the ball. At 32, his best years are behind him, but he's still the ultimate luxury asset for a team as stacked as Golden State.
7. Giannis Antetokounmpo
He's nearly seven feet tall, and he plays the point guard position on offense for the Bucks. So why the hell are we ranking the Greek Freak with the small forwards? BECAUSE WE DON'T KNOW WHAT ELSE TO DO, THAT'S WHY. Players like LeBron and KD have broken the mold before, putting skills from other positions into bodies that are already freakish for small forwards, but Giannis is something else entirely. He's already a gifted passer, with arms as long as any in the league to wreak havoc on defense, and he can also dunk — let me finish — out of a Eurostep. On Serge Ibaka.
Even without the strength to guard power forwards like his height and length say he should, or any reliable jumper to keep defenses honest, Giannis is a terrifying force, still so early in his development as a player. He doesn't just break the mold — he shatters it into a billion pieces. If he improves his shooting, he could be one of the very best players in the NBA. He's still just 21 years old.
6. Gordon Hayward
Hayward is one of the best in the league at getting his own shot off against a set defense, and he does so without ever reaching top speed — just size, strength and impeccable shotmaking, which is especially necessary for a Jazz team that's been completely bereft of other dynamic playmakers in the last couple of years. Hayward also fits nicely with Quin Snyder's smothering defensive scheme, often guarding the LeBrons and KDs of the world (albeit often with Rudy Gobert and Derrick Favors behind him). He's the star of the Jazz, but in order for them to win anything of significance they'll probably need to find someone better. That's just fine — Hayward could easily be the second-best player on a title contender.
5. Carmelo Anthony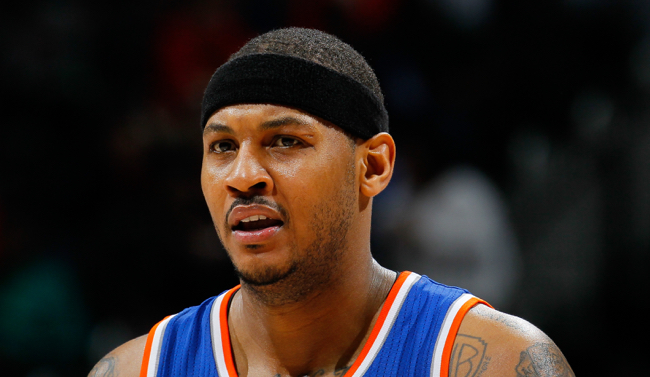 Melo isn't a transformational player that lifts all boats, primarily because his defense has never been above average, especially when he doesn't have much support around him. At 32 with his knees, his best days are behind him on both ends, but last year he dedicated himself to being a more all-around player, and notches career highs in rebounds and assists as a result. Hell, he's even capable of excellent on-ball defense from play to play, just like James Harden. Whatever you think about the Knicks' offseason, Melo has as much veteran experience around him as he's had since Tyson Chandler and Jason Kidd helped him to a playoff series victory — and Kristaps Porzingis to boot. He'll never lead the league in scoring again, but don't be surprised if we see a Melo revival next year.
4. Paul George
After a year washed out by the tibia crack heard 'round the world, Paul George came back and posted career-best numbers across the board. He's still a great defender, shooter and playmaker, a bonafide star you can build a team around. He's already been the centerpiece of a Conference Finals team, so he has very little to prove. He's only down here because three of the five or so best players in the NBA happen to play the same position as him.
3. Kawhi Leonard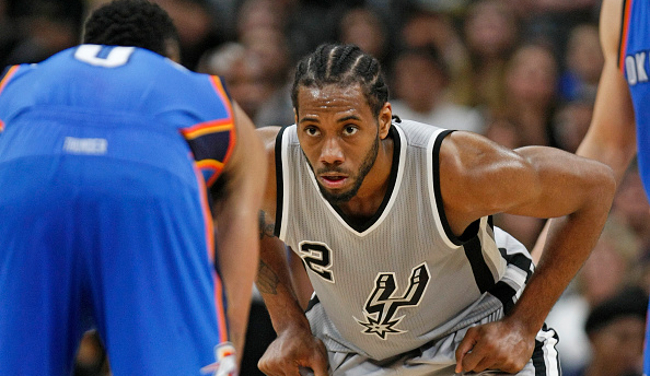 Kawhi's the best wing defender the NBA has seen in years, and last year he turned into one of the best three-point shooters in the league as well. The Spurs found the limits of what an offense guided by the aging Tony Parker paired with the ineffective Danny Green could do last year, but Kawhi and Tim Duncan's last ride produced one of the best defenses in NBA history. He's only 25, and defense and shooting are skills that tend to age fairly well.
2. Kevin Durant
Now that those foot fractures seem to be a thing of the past, Durant is right back to being at the top of the league — and thanks to his move to Golden State, at the top of the league's consciousness as well. Expectations have never been higher for KD — anything but a championship will be a massive failure, health depending — but he's still in his athletic peak, and with the team around him we could see an all-time efficient season.
1. LeBron James
More than the best small forward in the game, LeBron proved in these last NBA Finals that he's still the best player in the game, period. (Even if he did it by playing a ton of power forward.)