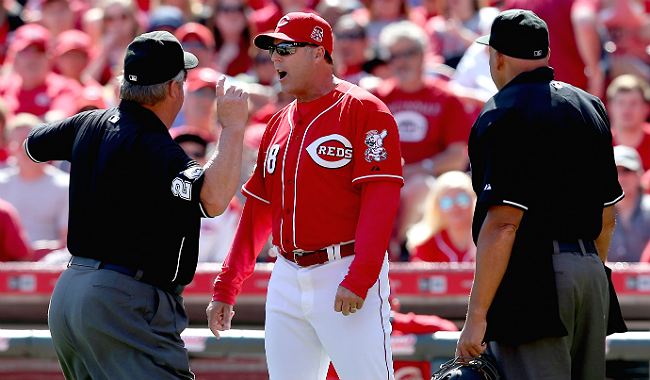 Social media went nuts on Monday evening following the release of a transcribed tirade by Reds manager Bryan Price. In it, Price goes after a Reds beat reporter for what he felt was unnecessary publishing of his team's roster availability, which in his opinion was putting the team at a competitive disadvantage. Later, audio of the rant was released, providing a bit more context as to what put him in such a surly mood.
Price isn't the first coach to go on a spectacular media rant, and he certainly won't be the last. But does it stack up among the all-time best? Let's find out. To the highly scientific rankings!
10. Herm Edwards
A lot of people would probably rank Edwards' rant higher on this list simply for how famous it is. "You play to win the game" is a quote many of you have probably heard dozens of times by now, and it's definitely a go-to audio clip for most sports talk radio shows. But if I'm being honest, to me this rant always felt a bit contrived, like he planned it as a way to motivate his team. You could probably say the same for a lot of coaching rants, but that still drops it down a few pegs. It's still a top 10, but loses credit for lack of spontaneity.
9. Mike Singletary
After his team was beaten rather handily, 49ers coach Mike Singletary was upset about many aspects of the game, but most notably he was angry with his tight end Vernon Davis for "not being about the team." Players who are about themselves rather than about the team? Sorry, but he can't play with 'em, win with 'em, or coach 'em. He just can't do it.
8. Jim Mora
The first Jim Mora entry on this list is probably the more famous of the two, and even today, so many years later, it's tough to hear someone say the word "playoffs" without immediately thinking of this legendary clip.
7. Jim Mora
The reason this meltdown ranks higher than the previous one is for the way Mora expertly jumps right into the rant with seemingly no prompting. He practically started it before he even reached the microphone. That's expert ranting right there.
6. Bryan Price
The reason we're here today is because of this splendid new entry. Perhaps the best part of this tirade is where Price basically says to the beat reporter that it's not his f*cking job to to scoop out every little f*cking thing they do, which is interesting since that's precisely a beat reporter's job. I don't think you can define it better than that, actually. The reporter should be commended for more or less not responding throughout the whole thing, but it would have been awesome if he would have said something like, "oh yeah? Well it's not your f*cking job to fill out the lineup and make pitching changes."
5. Dennis Green
After a stunning loss on Monday Night Football to the then-undefeated Chicago Bears, Cardinals coach Dennis Green came away unimpressed. And who could blame him? His team let a late 20-point lead slip away despite the Bears offense not scoring. Incredibly, this game even has its own wikipedia entry. It put Devin Hester on the map and foreshadowed a record-breaking career for the young kick returner, but as for the Bears offense, they were who Dennis Green thought they were, and the Cardinals let 'em off the hook.
4. Hal McRae
One media member walked away from this rant with a bloody face. Did Hal McRae go to jail for assault for this? I don't think he did. The 1990's were weird. But this tirade is great.
3. Kevin Borseth
Not knowing who Kevin Borseth is does not diminish how wonderful his rant was. As head coach of Michigan's women's basketball team, he came into this post-game press conference with guns blazing and it never let up for the entirety of the clip. Had this occurred with higher stakes, it could have cracked the top 2.
2. Mike Gundy
Gundy didn't want to talk about football. He wanted to talk about a newspaper article that was critical of his backup quarterback. In Gundy's eyes, that's just something you do not do. If you want to come after someone, come at him because he is not a young college kid with parents. He is a man who is 40 years-old. Ironically, a couple years later Gundy would employ Brandon Weeden at quarterback, who at the time was 57 years-old (give or take).
1. Lee Elia
It will never get better than Lee Elia. He attacks Cub fans and he attacks Cub culture, and the results are glorious. This rant does not stack up with Bryan Price's in terms of f-bomb usage, but it gets personal and impugns the entire culture of Cubs fandom, right down to the stereotype that they're jobless losers who have nothing better to do. It gets extra credit for being one of the first rants we have on record, but it doesn't need it. It's simply the best. WARNING: Language is NSFW.