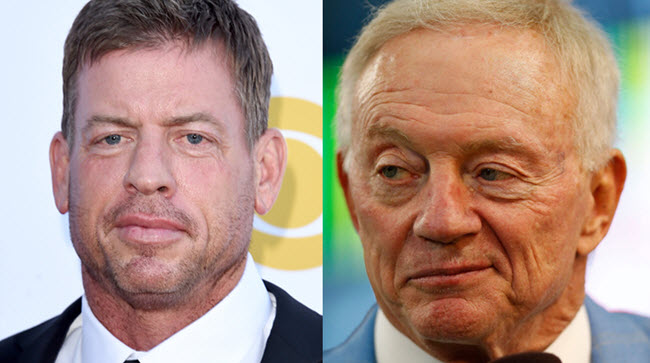 Even as seemingly everyone around the NFL shakes their heads, Greg Hardy steadfastly refuses to apologize or even lay low regarding his history of domestic violence and his general sleaziness towards women. He continues to be the dreaded "distraction" for a Cowboys team that, at 2-6, is barely holding on to the hope that Tony Romo can drag them back to playoff contention, but Jerry Jones still plans on keeping him around for the long haul.
It's at a complete cognitive dissonance from the way the NFL wants to be viewed towards wrongdoers, and it's standard operating procedure for Jones. Cowboys legend Troy Aikman knows more about Jones than all of us, and in an interview with a sports talk radio show in Dallas, he confirmed what we all were thinking. He was asked what it would take for Jones to get rid of Hardy.
"I guess the line is when he's no longer productive, you know? I think that's always been the line for Jerry Jones, is he's one to pretty much accept everything as long as a guy's productive. There's not many owners in this league like that. Obviously, (Carolina owner) Jerry Richardson isn't like that. They could certainly use Hardy in Carolina even though they're undefeated. As far as a pass rusher, they don't have that type of guy, but (Richardson) wasn't going to keep him. I think over the years, if you just look at the history of the moves that have been made and the players that have come through, the indiscretions that if at some point he's not productive, then he won't be on the team any longer regardless of whatever it is that's going on off the field, and if he is productive, then he'll be here as long as he is."
This is news to no one, especially in light of what's gone on with Hardy. In a way, it's almost refreshing to see Jones simply not care about the appearance of moral superiority like other owners, but it's not enough to overcome the sickening feeling that Jones, with his M.O. of "as long as you produce on the field," will tacitly approve any sort of wrongdoing, no matter how awful.
(Via Sports Day DFW)