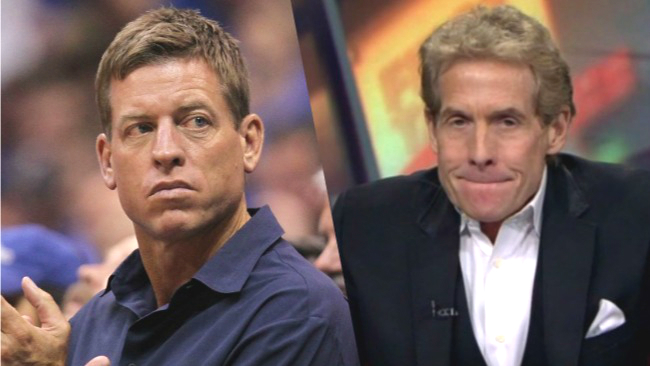 It's no secret that Fox Sports is attempting to compete with ESPN as a destination for round-the-clock sports coverage by becoming a depository for more, angrier, and less-informed debates than the Worldwide Leader. Its biggest move in that depressing arms race was hiring away Skip Bayless from the First Take show that cemented his national reputation as a troll and giving him a platform to be somehow more aggressively dumb. But not everyone at Fox Sports is happy to see this new direction.
Troy Aikman is one of the most recognizable faces for FOX's Sunday NFL coverage, the moneymaker that allows the network to sink millions into trying to make Skip and Shannon Undisputed happen, and he was once the target of a straight-up lie that Bayless told in a book about the Cowboys — that Aikman was gay. For this, and for the same reasons millions of Americans can't stand Bayless, he was understandably upset about the presence of his new colleague.
"To say I'm disappointed in the hiring of Skip Bayless would be an enormous understatement," Aikman said. "Clearly, [Fox Sports president of national networks] Jamie Horowitz and I have a difference of opinion when it comes to building a successful organization. I believe success is achieved by acquiring and developing talented, respected and credible individuals, none of which applies to Skip Bayless."
You could say those are harsh words, but Bayless has been paid millions to say far worse about far less deserving targets, so Aikman is being more than fair. Here's hoping that Bayless stays over on Fox Sports One, where he can safely be ignored, and doesn't get in Aikman's way on Sundays. Fox Sports declined to comment on the tension between its two employees.
(Via Sports Illustrated)