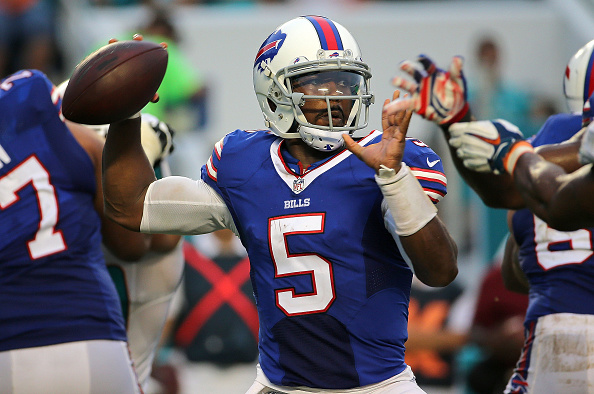 With Cam Newton playing in the Super Bowl, it was announced on Monday that he will be replaced by Tyrod Taylor in this Sunday's Pro Bowl. Despite 133 players being named to this year's exhibition teams, the honor still helps crystallizes a career year for Taylor. But does the 26-year-old quarterback have a long-term future with Buffalo?
It's safe to the Bills had a fairly disappointing season. They missed the playoffs for the 16th straight season, and their once-mighty defense suffered a severe regression. That said, the one source of excitement was the superb play of Taylor, who vastly exceeded preseason expectations in his first season as the starter.
There's a lot to like about Taylor's game. He's a highly mobile quarterback, who rushed for 568 yards, the second most by a quarterback this season, trailing only Newton (he also broke Doug Flutie's franchise record for QB rushing yards). He throws a great deep ball, connecting with wide receiver Sammy Watkins on nine plays of 35 yards or more this season. This led to him finishing fourth in the league in yards per completion (12.5), and yards per attempts (8.0). He threw just six interceptions this year, good for a pleasingly low interception percentage of just 1.6 percent, which was the fifth lowest in the league, and ahead of Russell Wilson, Drew Brees, Andy Dalton, and Cam Newton.  Taylor's ability to avoid poor decisions with the football would help Buffalo set a franchise record for fewest turnovers in a season. Quite simply, Taylor impressed in a lot different areas in 2015.
So, why would there be any doubt that he's The Guy going forward? In a word, inconsistency. When Tyrod was on, he was often dead-on, providing the exciting QB play Bills fans have been clamoring for ever since Jim Kelly retired 19 years ago. But when he was off, he had a tendency to disappear from the game. In October, Taylor led the Bills to a comeback win over the Titans, in which he made a stunning 24-yard first down run on 3rd-and-23, but the truth was, the Bills only needed to comeback because of how ineffective Taylor was in the first half. Taylor also waited until the third quarter to do anything in a game against the Giants, and by that time, it was too late. While Taylor's mobility is definitely an asset, it's worth noting, he took a lot of sacks, too. Taylor was sacked 36 times last season, and his sack percentage index was just 82, well below the average of 100. Finally, as impressive as his lack of interceptions were, he also fumbled nine times, the eighth most in the league. For all the things Taylor has proven himself to be capable of, the lingering question is whether or not he can do it all the time.
Luckily for the Bills, they don't have to make a major decision on Taylor now. They still have him on the cheap for the 2016 and 2017 seasons. This means that they can take a wait-and-see approach; if Taylor lives up to his promise next season, the Bills could then make the decision to ink him for a long-term deal. You could understand why the Bills — as well as their fans — would be gun-shy about signing a quarterback to a big contract based on a relatively small sample size. In 2011, the team shot off to a 5-2 start due to the strong play of Ryan Fitzpatrick. As a result, they gave Fitzpatrick a six-year, $59 million contract. It would prove to be a poor decision. Fitz regressed considerably, and after 2012, the Bills released him. After that fiasco, you can see why the Bills would be a tad anxious about going all-in on a quarterback when it's unknown if he'll be able to consistently play at a high level.
And yet, Bills fans should still be excited about Tyrod Taylor. In spite of his inconsistency, when he was on his game, his play could be downright awe-inspiring. His accuracy on deep throws and his ability to extend plays with his legs make him a highly attractive option going forward. After flailing in the wind with EJ Manuel, who had a nasty tendency toward woefully inaccurate passes, the Bills have a QB with a complete skill set on their hands, something they haven't been able to say for a long time.
It would be unlikely — although not impossible — to see the Bills give Taylor a serious contract extension during this offseason. He's theirs for another year, and when you've burned as badly as the Bills were by the Fitzpatrick, you don't want to rush into things when you don't have to. We don't know if Taylor is The Guy just yet, and the Bills can comfortably wait another season finding out before opening their pocketbooks. With that said, Taylor is far more dynamic than any QB the Bills have had in recent memory, and this long-suffering fan base finally has someone under center they can get excited about.