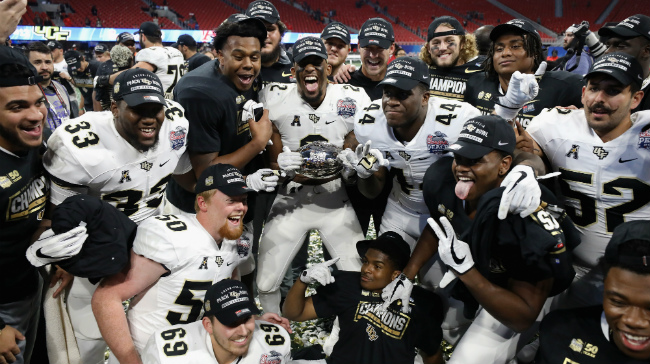 UCF was the best story in college football this season. The Knights went from 0-12 last year to 13-0 this season, which included winning the American Athletic Conference and a Peach Bowl victory over Auburn. Additionally, UCF is the only undefeated team in FBS. While head coach Scott Frost has left to take the same position at his alma mater, it was still a year that no one in Orlando will ever forget.
This is because UCF is, unofficially, the 2018 college football national champions. You might be thinking that's a bit absurd because the College Football Playoff title game is next Monday and features an all-SEC matchup of Alabama and Georgia, but the Knights do not care.
The school has declared themselves the champions, and are doing what they can to let the world know that they view themselves as the champs.
If you thought that was over the top, wait until you see how the university actually plans on celebrating their self-declared achievement.

There always seems to be a Group of 5 team every year that runs the table but doesn't get any respect nationally for their accomplishments, and whether that is fair or unfair is up to whomever is judging said team. But the Knights are really, really good — in addition to taking down an Auburn squad with wins over both teams in the national title game, they are seventh in S&P+ and 13th in Sagarin, meaning advanced stats further illustrate that they're not your average Group of 5 team.
Could they beat Alabama or Georgia on a neutral field? Beyond that, could they beat any of the teams that made it to the Playoff, or even a team like Ohio State, Penn State, or Wisconsin that also won a New Year's Six bowl? We will never know the answer. It's unfortunate because UCF should get the chance to show what they could do, but credit to the school, they're making the best out of the fact that won't happen.