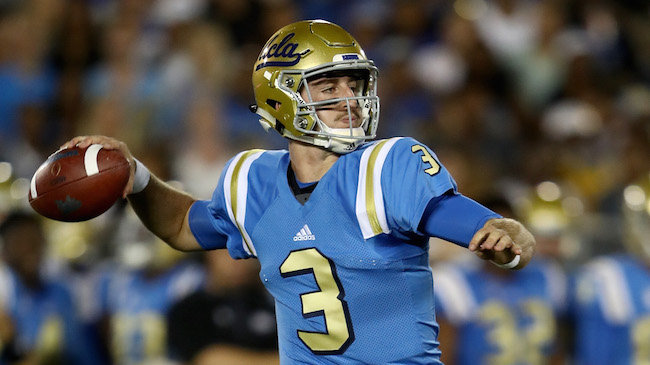 When UCLA and Texas A&M headed to halftime with the Aggies leading 38-10, the talk was about whether Jim Mora Jr. would make it to Monday still as the Bruins' head coach.
The Aggies were torching UCLA on both sides of the ball for the better part of three quarters, when suddenly, the Bruins and star quarterback Josh Rosen came to life in the fourth quarter. After going down 44-10, UCLA ripped of 35 straight points, including 28 in the fourth quarter as the future first round NFL draft pick racked up 491 passing yards.
The last two touchdowns were both ridiculous passes that, in all honesty, should have been intercepted by Texas A&M, but instead found their way into the hands of UCLA receivers. The first was a bomb that went through the hands of an Aggie defender, while the second-to-last touchdown was a prayer under pressure that Rosen floated to the front pylon.

However, as ridiculous as those were, the most incredible play of the game was the winning pass from Rosen. After driving down the field with under a minute to play, Rosen faked a spike and tossed a perfect fade to the back pylon.

That's the kind of throw that has made him a projected first round draft pick since he arrived on campus at UCLA. For Texas A&M, it's one of the all-time worst collapses in recent college football history. After three quarters of "will Mora be fired" talk, after the game, that conversation is still happening, only it's centered around whether Kevin Sumlin will last the flight home as the coach of the Aggies.