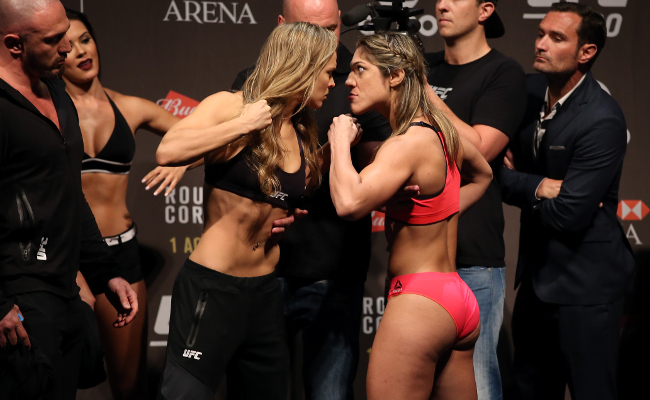 Hey fight fans! We've got a big event, with a highly anticipated title fight, plus some Brazilian legends. We are joined tonight in our predictions by the voice of the UFC, Mike Goldberg! UFC 190 is live from Rio, starting at 7PM ET on Fight Pass!
Important Standings of Note:
Jessica: 459-306-4 (60%)
Burnsy: 464-288-5 (62%)
Vince: 213-139-2 (60%)
Ryan: 10-5-1 (66%)
Danny: 161-77-1 (67%)
Spilled: 81-60-2 (57%)
Sydnie: 16-12 (57%)
Chris: 44-15-2 (74%)
NY Ric: 36-26-1 (57%)
Ghost: 6-7 (46%)
Seth: 32-15 (68%)
Biss: 41-39-1 (51%)
Jared: 88-49-1 (64%)
Melanie: 34-15 (70%)
Bantamweight – Hugo "Wolverine" Viana vs Guido "Ninja" Cannetti
Jessica: Both guys are kinda crappy, but at least Viana has lost to Aljo Sterling and TJ Dillashaw, which is better than Cannetti's loss to Henry Briones and a pair of TUF: Latin America defeats. I'll take Wolverine to win by decision
Jared: Both guys are scrappy strikers, but Viana just hits harder and should be to muscle Cannetti around to a clear win.
Burnsy: All aboard the Viana bandwagon. I'll always take UFC experience over guys who call themselves Ninja.
Vince: How can I pick against Pokemon Wolverine? He's adorable. Viana.
Goldy: Vienna
Middleweight – Vitor "Lex Luthor" Miranda vs Clint "Headbussa" Hester
Jessica: Both guys, bang, bro, with over 70% KO rates. I really like Hester, and at this level of the card, that's enough to give him the nod. Hester wins with a third round TKO.
Jared: Hester. Miranda is just too one-dimensional to overwhelm Hester with anything he hasn't seen before. I know it's a stretch, but I'm personally hoping to see Hester land a standing elbow like he did against Bristol Marunde that leaves Miranda stanky-legging all over the octagon.
Burnsy: I could pick Hester, too, but that would be boring. I also really liked when Lex Luthor TKO'd Jake Collier back in December so I will assume that he will do that again.
Vince: I was pretty high on Headbussa until he lost to some Australian dude named Rob. As J-Train points out, both these bros come to bang, and Hester throws bricks, but I think Miranda is slightly more diverse. If he can keep from getting merc'd. I'll take Miranda via scarily prominent cheekbones.
Goldy: Hesper
Bantamweight – Iuri "Marajo" Alcantara vs Leandro "Brodinho" Issa
Jessica: Issa lost to Russell Doane, while Alcantara beat him. MMAth is stupid, but I'm going with it here, you can't stop me! Alcantara uses his skills as a Marajoana fighter to smoke Issa with a second round submission.
Jared: I'm hesitant to pick Alcantara based on his last performance, because, you know, he dropped a unanimous decision to Frankie Saenz despite being a +900 favorite. That said, I simply don't know enough about Issa to place any real confidence in him. Great analytical skills, I know, but I've been absolutely CRUSHING these picks lately and am not going to change my ways for nuttin' or nobody!!
Burnsy: Marajo has a ton of experience and at 34 is still kicking a lot of ass. That typically goes a long way in my scientific process. However, I'm giving this one to Issa for his two-win streak and the momentum.
Vince: "Brodinho" (love that nickname) is coming off two subs of Asian guys in 2014, but Marojoauñao has only been subbed once in his career. Though he is coming off a massive upset loss to a flyweight in his last fight. Alcantara has a lot of length, maybe he uses that to outpoint Issa? Sure, let's go with that. Or should I say siuri.
Goldy: Izza
Welterweight – Warrlley Alves vs Nordine Taleb
Jessica: I'm still salty about Alves getting the nod over Alan Jouban last year, so I'm picking Taleb to take this. Luckily, Nordine is a thumper, and I see him dropping some French bombs and putting Alves' lights out in the second.
Jared: Warlley Alves, despite absolutely stealing a judges nod from Alan Jouban in his last performance, is a legitimate prospect who should enjoy a good tenure in the UFC. Taleb, despite his accomplishments, has never really struck me as all that impressive. I'll take the dude with the weirder first name. Woooorrleyy.
Burnsy: Now here's a fun little contest between two guys who are 10 years apart. Alves is 2-0 since joining the UFC while Taleb is 3-0. Really, this comes down to whether or not you think the 34-year-old Canadian can come to Brazil and beat up the 24-year-old hometown hero. I do. Taleb wins.
Vince: "Nordine" sounds like my idea of a fake French-Canadian name. As for the match-up, I'd point out that Alves is coming off a big win over a tough guy (Alan Jouban), whereas Taleb is coming off three decisions over weakish competition (Chris Clements, Jiangliang Li, Vik Grujic). Alves.
Goldy: WARley
Light Heavyweight – Rafael "Feijao" Cavalcante vs Patrick "Durkin" Cummins
Jessica: Ralphie Beans punches pretty hard, which seems to be a major weakness for Cummins. On the flip side, Cummins is a decent wrestler, and I an easily see him putting Cavalcante on his back and maintaining top pressure for the entire fight. It's kind of a toss-up for me, and when that happens, I go with the outcome most likely to make the Brazilian fans mad, so Cummins wins a decision.
Jared: How can you honestly have any faith in Rafael Cavalcante? He hasn't fought in over a year, hasn't put together a win streak in 5 years, is a roidhead, and is as inconsistent a performer as anyone you will ever see. Although Tom Lawlor made me eat crow the last time I said this, I gotta pick Cummins based on consistency alone here.
Burnsy: I like DURKIN more because it's really fun to say DURKIN out loud when no one knows what you're talking about. That said, as much as I think he should win this fight, I'm taking my gut's pick of Cavalcante to win this one for the home crowd.
Vince: I don't know what the hell to think about Feijao, dude is more inconsistent than Heineken. But I know Cummins is pretty good, or at least fair to middlin, especially when he's not fighting world class freak athletes like Cormier or OSP. I'll take Patrick "He Just Keeps Cummin" Cummins.
Goldy: Cummers
Welterweight – Demian Maia vs Neil Magny
Jessica: If Neil can keep the fight standing, he should be able to brutalize Demian (given how I characterize these two, they definitely need to swap first names). Maia's a decent wrestler in addition to his amazing BJJ, though, so Magny might have to work a bit to prevent the take downs. Whatever, I fully submit to my dark lord, the endless one. N E I L M A G N Y will win by second round KO.
Jared: Maia is as tough as they come and has exactly the kind of grappling game that could present a lot of troubles for the red-hot Magny, but I'll be damned if I'm picking against a guy on a 7-fight win streak, especially on the heels of his arguably greatest performance.
Burnsy: I like Maia a lot, and by all accounts he should win just about any fight in front of his home crowd and crazy loud fans. HOWEVER! To recap, Magny has won his last seven fights. Pretty impressive, eh? Well, all of those fights have taken place since February 1, 2014. This guy is a machine and what he is doing should have him as the favorite of fans everywhere. I pick him because I want him to win and get into the welterweight title conversation, because Neil Magny, like Cowboy Cerrone, is the workhorse hero the UFC needs right now.
Vince: I've been waiting my whole goddamned life for Demian Maia to get on a roll and I think it's FINALLY ABOUT TO HAPPEN YOU GUYS! Also, no way I'm ruining my streak of picking against Magny and being wrong now. Maia.
Goldy: Magny
Strawweight – Claudia "Claudinha" Gadelha vs Jessica "JAG" Aguilar
Jessica: Gadelha is the only person to give Joanna Jedrzejczyk a tough fight in the UFC, but I've seen Aguilar do some good things in Bellator and WSoF. I haven't recently, so I'll take Aguilar because she's a Jessica, and one of us should be successful, dangit. JAG wins by decision.
Jared: This fight is a long time coming for Aguilar, who has been boasting about being "the greatest strawweight" for what feels like years now. Unfortunately for her, Claudia Gadelha is a nightmare – an extremely adorable, yet simultaneously traumatizing nightmare of a fighter. She's way more advanced than Aguilar on the feet and will not be controlled on the mat, so I don't see how she loses here.
Burnsy: The strawweights continue to impress me with each fight, not because they beat the hell out of each other, but because they fight like everything is on the line. That's why I don't really care about Aguilar's 19-4 record and crazy pre-UFC win streak. I'm taking Gadelha because she went up against the now-champ (I ain't spelling her name) and held her own, so I want her to win this one and give us another awesome strawweight title fight.
Melanie: JAG by split decision
Vince: Gadelha is the tiny mean one, right? I remember being impressed by her. Gadelha.
Goldy: Gadala
Heavyweight – Antonio "Bigfoot" Silva vs Soa "The Hulk" Palelei
Jessica: Well, Mark Hunt failed to destroy Silva in five rounds, but that version of Bigfoot did fail his post-fight drug test. Soa doesn't hit anywhere as hard as HUNTO, but Silva has been looking crappy since that epic fight. Soa has okay wrestling, but I just don't see him getting Silva down. However, he probably won't need to, considering he has some classic Pacific Islander brick fists. Palelei wins by second round KO.
Jared: *sigh*……… Palelei by first round KO.
Burnsy: I just have this dumb feeling that Bigfoot will win quick in brutal fashion, and then people will talk about how maybe he's back and deserves a title shot, and then he'll lose to a toddler. So yeah, dumb feelings and Bigfoot win.
Melanie: Silva by TKO
Vince: Bigfoot has looked like a shadow of himself since the Hunt fight, but he's fighting a guy who lost to Jared Rosholt one fight before his last. What it comes down to for me is this: Bigfoot doesn't have a chin anymore, Palelei does. Also, Palelei is 38 now, and everyone knows Islanders don't really hit their stride until 40. I'm thinking this is where Palelei begins his improbable run at the title, before his eventual loss to Frank Mir via calf slicer in 2017, on Mir's 66th birthday. Palelei.
Goldy: Paleleigh
Heavyweight – Stefan "Skyscraper" Struve vs Antonio Rodrigo "Minotauro" Nogueira
Jessica: This fight is going to make me sad, regardless of the outcome. I like both dudes, and they have very solid avenues for defeat. Nog is literally made out of dust, held together with athletic tape, and at this point, an over-enthusiastic hug could send him to the canvas. Struve still has that whole "is his heart gonna explode?" thing going on, plus he imitates the struggles of a baby giraffe learning to walk far too often. On the flip side, Struve is with the Blackzilians now, and though I'm not a fan of like 75% of the dudes there because they are vile domestic abusers, that Henri Hooft guy seems like he knows what he's doing. Struve might finally learn how to use all of his 19-foot frame and just punch Big Nog in the face a lot. Struve wins by second round submission.
Jared: *bigger sigh*……………… Struve via submission. Yeah, submission. ☹
Burnsy: Just two really great (and by that I mean awful) examples tonight of how bad the heavyweight division is right now. Struve will win, but it won't be pretty or fun, and like Jessica said, I'm terrified someone might explode into a cloud of particles by the end of this fight.
Melanie: Struve by TKO
Goldy: BigNog
Vince: This is tough. Big Nog is a fragile old veteran and Struve is a kid who may never learn how to use that Manute Bol body of his. Have we ever considered that being 6'11" might not be ideal for combat sports? Still, every once in a while he'll do something insane, like beat Stipe Miocic. I'm thinking Minotauro isn't quick enough to outstrike someone as long as Struve, and Struve probably can't submit a black belt like Big Nog, to say nothing of the fact that neither of them are known for their wrestling. I'm thinking Struve will use his length to outpoint Nog in a boring decision.
Bantamweight – Reginaldo Vieira vs Dileno Lopes
Jessica: OH GOD, WHY ARE THERE TUF BRAZIL DORKS AT THIS POINT IN THE CARD? Uhh, I'll take Lopes since he was in an organization called Mr. Cage. Lopes wins by second round submission.
Jared: Who the f*ck are these guys, and why are they fighting over Big f*cking Nog and Bigfoot f*cking Silva?!
(*Consorts Google*) (*sighs repeatedly*)
Ah, they're TUF: Brazil guys. Let's go with Lopes.
Burnsy: I'll be pouring drinks for my lined up stuffed animal viewing gallery while this fight is happening. These TUF fights should be the "main event" of the FS1 prelim, not stuck right in the middle of something people pay $50 for. Anyway, coin flip… Reginald VelJohnson wins.
Melanie: Lopes by submission
Goldy: Lopez
Vince: Turns out, I'm not an expert on Brazilian flyweights who've never fought in the UFC before. Lopes trains at Nova Uniao and is a -350 favorite, so let's go with that. I'll tell you this, my thumb is a stone cold lock to be hovering over the fast forward button.
Lightweight – Glacio "Nego" Franca vs Fernando "Acouguerio" Bruno
Jessica: Acouguerio apparently means butcher, and considering I don't know anything about these dudes, that's enough of a neat nickname to get me to pick Fernando. Bruno wins by decision.
Jared: See my last entry, but swap Lopes with Franca. Seriously, I don't care how badly they've aged, putting these two fights on a PPV-card above Big Nog and Silva is a goddamn disgrace.
Burnsy: Maybe these guys put on the greatest fight I've ever watched. That would be awesome. I still have no clue why they're above, say, Maia and Magny. So coin flip again, and it's Bruno. I guess.
Melanie: Bruno by unanimous decision
Goldy: Franco
Vince: I'm one of the biggest MMA fans I know and I have no idea who either of these dudes are. Odds say Franco is favored, but they also spell is name "Glaico." I'll take the Glaico Caveman by his famous finishing move, the Glaico HyperGlaicemic Coma.
Light Heavyweight – Mauricio "Shogun" Rua vs Antonio Rogerio "Minotoro" Nogueira
Jessica: Their first fight was pretty fantastic, but that was back when dinosaurs where in high school. Now, both dudes are close to falling apart, and I think everyone wants this to be a double-retirement fight. Shogun has suffered two bad back-to-back knockout losses, while Lil Nog took a huge KO from Anthony Johnson. I'll go with Nogueira to put Shogun on his ass and finish him with a second round TKO.
Jared: (*sigh*)………….
…………………….
(*sigh*)…………………………….
YOU'RE TEARING ME APART, 190!!
Shogun by KO, I guess.
Burnsy: I really hope I don't fall asleep before we get to Rousey. I'll take Minotoro to win.
Melanie: Rua by TKO
Goldy: LilNog
Vince: Lil Nog's last win was so boring I didn't even remember it happened. How do you even pick a Lil Nog fight? He fights once every two years and looks completely different every time. Who knows who's going to show up for this? I'll say this though, the guys who beat Shogun usually have big punching power, and Lil Nog doesn't seem like that kind of striker. Shogun.
Bantamweight Title – "Rowdy" Ronda Rousey vs Bethe "Pitbull" Correia
Jessica: Ronda might say she wants to prolong the violence, but I think that when the adrenaline starts flowing, she'll lock up an armbar and crank with all her might the first chance she gets. Then for Bethe, it's time to end this suffering, she'll need a minute to herself. Rousey wins by first round submission, in under 3 minutes.
Jared: Ronda Rousey vs. the Dead Lady – As fight-picking "experts", it's our job, more or less, to sell you on the idea that X fighter can beat Y fighter because of this and that reason. We bloviate about certain techniques to look out for, X or Y fighter's history, and x-factors ranging from MMA math to rumored injuries in order to convince you that perhaps the most unpredictable sport of them all is anything but. But today, my friends, I will offer nothing in terms of fight analysis, nor will I repeat what we've already come to know about the machine that is Ronda Rousey. Instead, I offer this gif:
That's a UFC title challenger right there. May God have mercy on her soul.
Burnsy: Come on. This is UpRousey. No way the champ loses this.
Melanie: Rousey by submission in less than a minute
Goldy: Ronda Arouseme Will Win
Vince: So hear me out here: I thought Sara McMann was a decent challenger, and she looked great for about 45 seconds until Ronda kneed her liver into pudding. Then I thought Cat Zingano was an even decenter challenge, and she had some kind of aneurysm and died five seconds into the challenge. Bethe Correia has never impressed me much or done anything for me to think she could beat Rousey, so if we reverse the polarity on my past predictions, the law of reverse expectation math dictates that Correia should win? I'm predicting Ronda to stomp her of course, but food for thought.
Performance of the Night
Jessica: Ronda doesn't need a bonus, so I'll go with Magny and Struve
Burnsy: Magny and Cavalcante
Fight of the Night
Jessica: Miranda vs Hester
Burnsy: I'm optimistic… Rua vs Nogueira