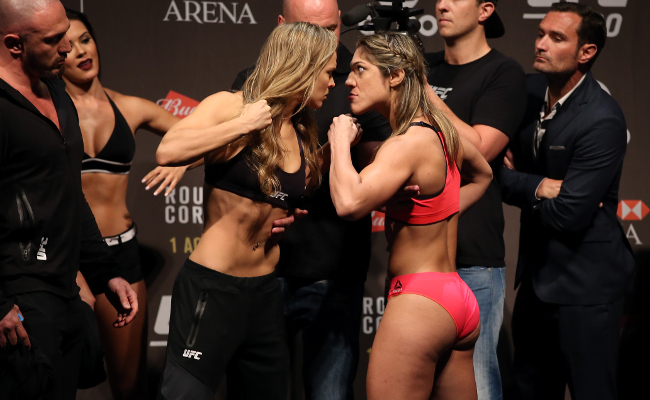 Hey fight fans! We've got a big event, with a highly anticipated title fight, plus some Brazilian legends. We are joined tonight in our predictions by the voice of the UFC, Mike Goldberg! UFC 190 is live from Rio, starting at 7PM ET on Fight Pass!
Important Standings of Note:
Jessica: 459-306-4 (60%)
Burnsy: 464-288-5 (62%)
Vince: 213-139-2 (60%)
Ryan: 10-5-1 (66%)
Danny: 161-77-1 (67%)
Spilled: 81-60-2 (57%)
Sydnie: 16-12 (57%)
Chris: 44-15-2 (74%)
NY Ric: 36-26-1 (57%)
Ghost: 6-7 (46%)
Seth: 32-15 (68%)
Biss: 41-39-1 (51%)
Jared: 88-49-1 (64%)
Melanie: 34-15 (70%)
Bantamweight – Hugo "Wolverine" Viana vs Guido "Ninja" Cannetti
Jessica: Both guys are kinda crappy, but at least Viana has lost to Aljo Sterling and TJ Dillashaw, which is better than Cannetti's loss to Henry Briones and a pair of TUF: Latin America defeats. I'll take Wolverine to win by decision
Jared: Both guys are scrappy strikers, but Viana just hits harder and should be to muscle Cannetti around to a clear win.
Burnsy: All aboard the Viana bandwagon. I'll always take UFC experience over guys who call themselves Ninja.
Vince: How can I pick against Pokemon Wolverine? He's adorable. Viana.
Goldy: Vienna
Middleweight – Vitor "Lex Luthor" Miranda vs Clint "Headbussa" Hester
Jessica: Both guys, bang, bro, with over 70% KO rates. I really like Hester, and at this level of the card, that's enough to give him the nod. Hester wins with a third round TKO.