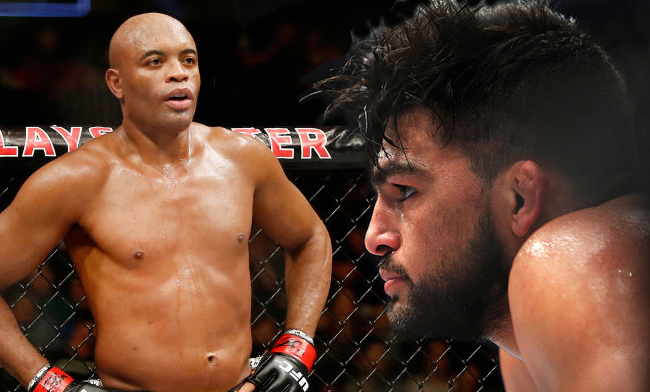 Hot off a first round knockout over Vitor Belfort, 25-year-old TUF winner Kelvin Gastelum called out another Brazilian legend Saturday night — Anderson Silva. It seems like Gastelum, the former top-5 welterweight whose issues making 170 forced him back up to middleweight (where he's undefeated), isn't going to end his legend-killer tour anytime soon. Silva agreed to the match almost immediately, and now we have a fight in Brazil at UFC 212: Aldo vs. Holloway. It's a solid co-main if there ever was one.
If you've been keeping tabs on one of the best, young UFC fighters on the roster, Gastelum retired Tim Kennedy back at UFC 206 and defeated former welterweight champ Johny Hendricks at UFC 200. Now, his sights are on the 42-year-old GOAT who was probably giddy to answer the call.

We know Anderson's last few years since losing his belt to Chris Weidman (while showboating) have been weird. He shattered his shin on Weidman's knee in their rematch, came back and beat Nick Diaz in one of the strangest fights the UFC has ever held, failed a drug test for a sexual enhancement drug which led to the Diaz fight being a no contest, then came back once again to lose a five-round war against Michael Bisping that many thought he won. He did knock out Bisping in the fight, after all.
But, Anderson doesn't really seem to care whether he wins or loses. He signed a 15-fight contract back in 2014, and legitimately enjoys the simple life of competing and not really worrying about being the champion. He "saved" UFC 200 by agreeing to fight light heavyweight champion Daniel Cormier on just 48 hours notice, which led to an 0-4-1 record in his last five bouts, then Silva trolled his way to a win over 8-ranked Derek Brunson at UFC 208. Maybe Anderson is fine, he's just not as lucky right now?
Even then, it's not like he's looking for money fights against Derek Brunson or Kelvin Gastelum. What's Anderson's game here? Since the UFC's sale to WME-IMG, "moneyfights" have been the name of the game, but here's Anderson, going out there and fighting another dangerous up and comer.
With a win, Silva's right in the mix. Maybe he has another title run in him? Even if he falls, he's paying it forward to the next generation who will benefit from the exposure, so it's a win-win for MMA.