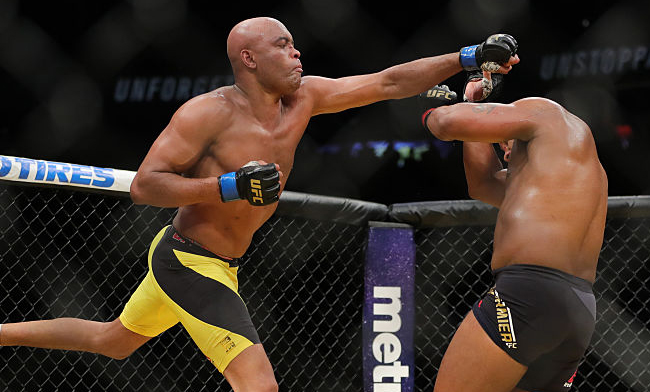 Anderson Silva essentially saved UFC 200 when he took on Daniel Cormier on less than 48 hours notice. Jon Jones was shamed and suspended due to a tainted batch of male enhancement medicine, or "d*ck pills" as he's put it, but that did allow fans to at least see what Anderson Silva could do to a great like Cormier with zero preparation. Turns out, not so well.
Anderson definitely got some shots in on the champ, and even blasted Cormier's liver with a beautiful kick, but time and time again, Cormier would take down Silva, and grind out the win. It wasn't exciting, and Cormier definitely could've put on more of a show when Anderson stepped up for the fans and made Cormier a ton of money.
The way Cormier won clearly hasn't sit well with Silva. He's been talking to Jon Jones about it, and Jones went into it on today's UFC 214 conference call:
"When it comes to the fight, basically he just told me to know what I'm capable of. He said basically in a roundabout way, he said: 'Make sure you know what you're capable of.' He said it was almost surprising to feel the level of fear (he) felt from Daniel. He said to me, 'I'm an old man now, and Daniel had to take me down round after round because I felt fear coming off of him. This man has fear in his heart.' He said, 'Know what you're capable of, go out there, and you take this from him.' In a roundabout way that's what he said."
Anderson Silva has never said anything false ever. He said Chris Weidman (The Chris) was "the best" and he was quickly beaten. Now you have to realize that this is canon now. Cormier has fear in his heart. UFC 214 is gonna be interesting.
(Via MMA Junkie)