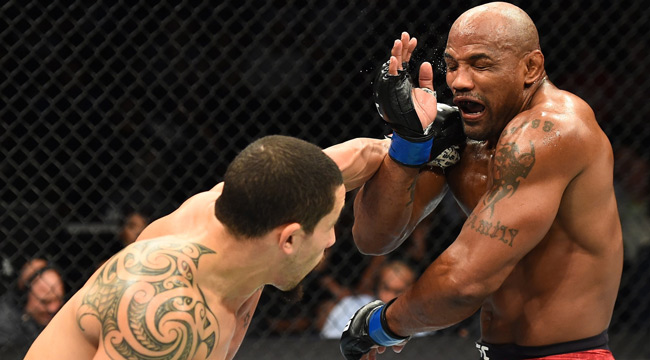 The UFC middleweight division continues to be one of the best and most chaotic divisions in the promotion. With several fighters vying for the belt, every contender match and title fight is guaranteed fireworks. But there always seems to be controversy that continues to damage the legitimacy of the title. For UFC 225 in Chicago, that involves challenger Yoel Romero missing weight by .2 of a pound, turning the card's main event rematch with champion Robert Whittaker into a non-title affair.
That means if Romero had won, the UFC would be stuck with a champion coming off a loss. Fortunately for the promotion, Whittaker won a split decision by the skin of his teeth, with all three judges scoring it 48-47, two in favor of Whittaker. It was a close affair with Whittaker throwing way more volume but Romero exploding and hurting the champion in the third, fourth, and fifth round.
Looking at the overall fight, you've got to admit Yoel beat the champ up more. But the way it played out across the scorecards, a narrow win for Whittaker wasn't too hard to see. The controversy really sets in when you take into consideration the new unified rules, which allow for more 10-8 rounds. In theory, Romero probably should have gotten a 10-8 round from at least one judge for at least one round where he knocked Whittaker's block off. That didn't happen, allowing Whittaker to squeak by and remain the undisputed champ. But considering how wild the fight was, it's hard to feel too ripped off (unless you happened to bet money on Romero winning).

The first round saw Whittaker immediately start attacking Yoel's knee with side kicks, attempting to blow out his knee. Romero was largely inactive for much of the round, exploding a few times with massive shots that didn't quite connect but looked extremely dangerous. The second round saw Whittaker open up even more, snapping a jab that closed Romero's eye and continuing to hammer him with kicks to the knee and stomach.
Things got crazy in the third when Romero landed a massive right hand that sent Whittaker reeling. From there the two went back and forth with Whittaker unloading elbows on Romero and Romero fighting back with uppercuts and controlling with his wrestling. It was the kind of five minutes that feels like 15, but both men managed to survive the round.

A low blow in round four gave both fighters time to recover, and while Robert Whittaker unleashed more volume across the round, by the end he was limping on one leg and refusing to throw his right hand. With 30 seconds left, Romero cracked him upside the head, sending him on wobbly legs across the cage. Round five unfurled similarly with Whittaker getting hurt badly, only to have Romero unable to finish him on the ground.
While an immediate rematch could be warranted given the controversial scoring of the fight, we imagine the UFC might decide that Romero needs to make weight before getting another title shot. Who knows, with the damage Whittaker took to his leg and hand, Romero could return to the cage on weight, win, and come back for the next go at the belt. Given the fireworks we've witnessed through the first two fights, we wouldn't mind that too much at all.