Tony Ferguson (26-3) defeated Donald Cerrone (36-12) via second-round TKO in a controversial ending to their UFC 238 bout Saturday, June 9, from the United Center in Chicago.
Ferguson dominated the second round, but a late shot after the bell drew a stern warning from the referee and boos from the crowd. As Cerrone prepared to come back out for the third and final round, he blew his nose, causing his already swollen eye to close completely. Unable to see any longer, the doctor stopped the fight and awarded the win to Ferguson.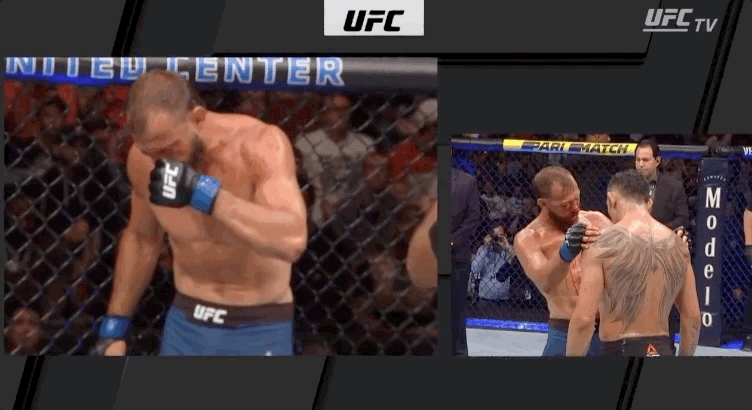 In the first round, Ferguson was relentless moving forward, but it was Cerrone jabbing away, snapping the former interim champ's head back and opening a cut over his left eye. To open the second, Ferguson buckled Cerrone's knees with a sharp jab, but Cowboy recovered quickly. Ferguson busted open Cerrone's nose, peppering him throughout the round with punches and elbows. Cerrone took Ferguson to the ground momentarily, but Ferguson was able to escape with relative ease.
The loss ends Cerrone's cinderella run toward a title fight. It should, however, open the door to Ferguson getting a shot at the winner of September's Dustin Poirier-Khabib Nurmagomedov bout for the lightweight crown. Ferguson hasn't lost since 2012, and he's riding a 12-win streak. He is a former interim lightweight champion who relinquished the belt following a torn LCL suffered in a freak injury on a television set.