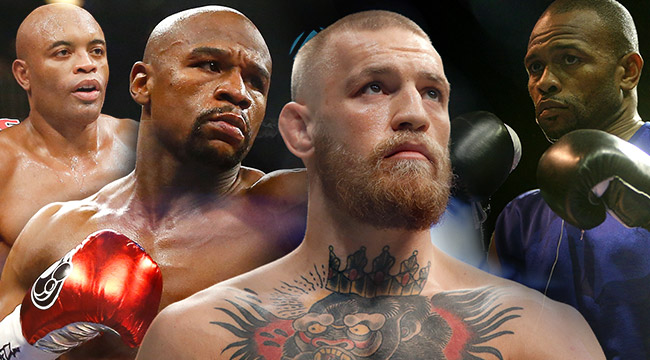 Rumor has it Conor McGregor vs. Floyd Mayweather is all but a done deal. After months of back and forth, MMA's most popular fighter and one of the greatest boxers who ever lived may finally step in the ring together. It's an unprecedented marriage of boxing and MMA after years of being at odds with each other, but McGregor vs. Mayweather isn't the only boxing vs. MMA matchup that can be made. Anderson Silva and Roy Jones Jr. have been flirting with a fight for years. Now, there's no reason to keep them from fighting. So what if they were on the same card? How would that play out?
In this hypothetical megacard, we look at McGregor vs. Mayweather and the boxing vs. MMA fights that could go down in easily the biggest event in combat sports history.
Main Event: Conor McGregor vs. Floyd Mayweather
We've all been following the incessant back and forth between McGregor and Mayweather over the last few years. Now, the Irish would invade Las Vegas in this would-be main event. These two would headline the star-studded crew of fighters as the ultimate test of whether MMA fighters could ever stand with pro boxers. And it would be bolstered by a ridiculous amount of hype, trash talk and Instagram posts full of bling.
As far as the fight goes, Conor McGregor has monster power, but Floyd Mayweather, even at the age of 40, would be a slippery force to be reckoned with. Nate Diaz, a man who knows Conor McGregor better than anyone in combat, said Mystic Mac would have a puncher's chance in the first few rounds against Mayweather, but most of the combat sports world is counting McGregor out. Like they have many times before. Could McGregor do what no boxer has done before? That's a PPV selling question.
But it gets better.
The co-main: Roy Jones Jr. Vs. Anderson Silva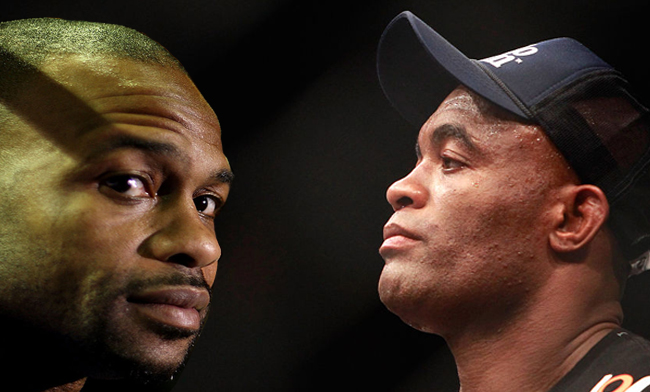 If you thought Mcgregor and Mayweather have been going back and forth for way too long, add on about five years and you've got the Roy Jones Jr. vs. Anderson Silva matchup. Silva and Jones have been talking about this fight since 2008, when Silva kicked it all off with the following:
"After my contract with the UFC is finished, I will set up the fight with Jones Jr. The fight has already been permitted by Jones himself."
We know both of these men are well past their prime. Jones is 48 years old, and Silva is 41, but that wouldn't make this dream matchup any less intriguing. Silva has some of, if not the best striking in MMA history (including a 1-1 pro boxing record). While Jones is still out there, winning fights against much younger men. The best part? This fight is such a no-brainer it looks like it's close to being made. This is the McGregor/Mayweather effect.
Jones Jr. tweeted this after meetings with the UFC brass back in February (what was he doing out there?) and he's right — this fight, years in the making, would put McGregor/Mayweather over the top:

Jones even sold the fight earlier this year:
"It was so big when it was talked about back then with me, it would have been the biggest fight of my career by far. [UFC President] Dana [White] didn't want to do it, but he's not the owner now. People make decisions usually try to make money for their decisions. These two fighting [Mayweather and McGregor], like me and Silva fighting in a boxing match, will not diminish the UFC brand."
You know WME-IMG like that.
Now, here's Anderson before UFC 209, explaining that he absolutely wants to still fight Roy Jones, but he also has been training boxing for many, many years and knows how different the sports are, so McGregor needs to make sure he respects that fact.
This all makes too much sense not to happen. These old men need to punch each other in the face. It's destiny. But the card isn't as good as it could be. We need a Diaz.
Bout 3: Nate (or Nick!) Diaz vs. Whoever, it's whatever.
Nate and Nick Diaz have been sparring with Andre Ward for years and thanks to that, their boxing is simply on another level than most MMA fighters. So who does Nate (or Nick) fight? Anyone. It's whatever. Hell, put Nick and Nate out there and just have them start shadowboxing for 15 minutes. It'll get views.
Screw it — just give Nick a pair of nunchucks and charge us $5 and it'd be worth it.
Here's Andre Ward talking about the Diaz bros. He knows.
And Floyd likes Nate too! Bring him on! Conor digs "fat skinny" Nate, and everyone wants to make money, and a Diaz bro would bring in stacks. Imagine the promotional opportunities!
For real though, when it comes down to it, the opponent doesn't really matter. It can be a relative nobody, or it can be a mid-level boxer to keep it competitive. The only issue — Nate can't throw up the middle finger in a boxing glove, so it won't feel exactly like a Diaz fight, but it'll be close.
Opening Bout: Jimi Manuwa vs. David Haye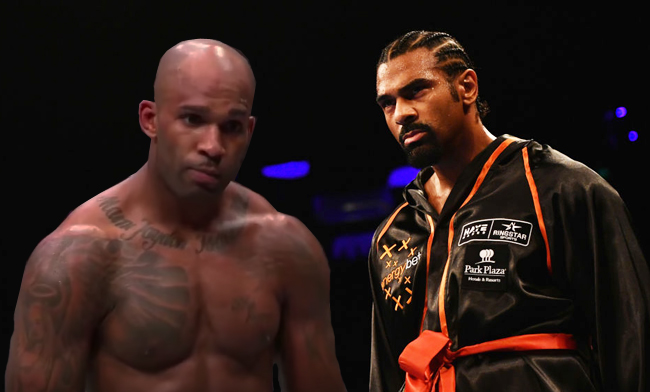 How about the battle of Britain to open the show? That will give it some flair. Yeah? We have former heavyweight champ David Haye, whose star has fallen a bit since he lost to Vladimir Klitschko in 2011 and took nearly 5 years off, but he's fought four fights since then. At 36 years old, Haye's body is patchworked from years of surgeries, while Manuwa is a 37-year-old knockout artist seemingly hitting his peak now, as he contends for a UFC light heavyweight title shot. It's the old, beat up boxer against the up and coming MMA fighter. Built in storyline. Book it.
https://www.youtube.com/watch?v=-bh9L5pB0cA
"Conor wants to fight Mayweather so why not have me and David Haye on the same card? Two of the hardest hitters in London and I think that fight makes sense…"
Haye vs. Manuwa — it's a perfect show opener and nice for getting those UK views. Imagine putting Haye and Manuwa on a UK-only promotional tour? And since this would be going down around 4 am UK time, BT Sport or another UK channel would be showing this, and millions would probably tune in. It's wonderfully international.
The Undercard
As for the rest of the card, you could put anyone on it and the PPV buys would roll in. But how about a mix of MMA fights and boxing bouts from the respective camps of the boxers? A few TMT guys, a couple UFC guys, and everyone is satisfied with an ultimate celebration of combat sports.
Or we could keep going with the boxer vs. MMA fighter theme. At this point, everything's gravy. This would be the biggest combat sports event of all time, and there's no way it wouldn't satisfy.
Now let's watch TJ Dillashaw spar boxing champ Vasyl Lomachenko and think of all the wonderful possibilities…