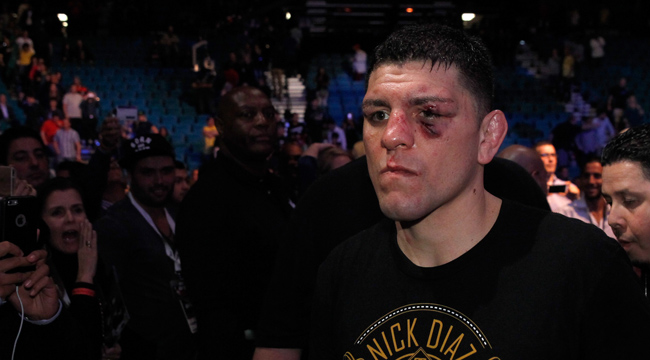 Nick Diaz is about to spend some time in the cage… unfortunately, it will be a prison cage and not the UFC's eight-sided octagon. Diaz was arrested twice for DUIs in the span of 10 months – once in November 2013 and again in September 2014. Adding to his legal troubles, the notoriously no-showy fighter skipped a number of his initial court dates, resulting in a warrant being issued for his arrest leading up to his superfight with Anderson Silva.
Diaz turned himself in and started taking the charges seriously, and now he's had a sentence handed down. Via TMZ Sports:
Diaz was facing real jail time if convicted in both cases — but struck a sweet plea deal with prosecutors in which he pled no contest to DUI with .08 or higher, and in exchange 3 charges were thrown out … including the second DUI.

He was sentenced to 2 days in jail — and gets credit for 1 day served … so he'll be a free man in no time (props to Nick's lawyer).

In addition to the jail time, Diaz also got 3 years of informal probation and must complete a DUI educational course.
This is some pretty impressive legal wrangling, considering the back-to-back arrests and additional obstruction and destroying evidence charges after Diaz allegedly tried to induce vomiting to clear the booze out of his system.
I'd say Nick should just stick to the marijuana, but he's been having trouble with that, too. He failed a drug test for marijuana metabolites in January following his match with Silva. This is the third time the Nevada State Athletic Commission has busted Diaz for smoking weed, with the other two occurring in 2007 and 2012. A length of suspension has not been sorted – let's hope it isn't too long since a rematch between welterweight champ Robbie Lawler and Diaz would be epic.
(Via TMZ Sports)