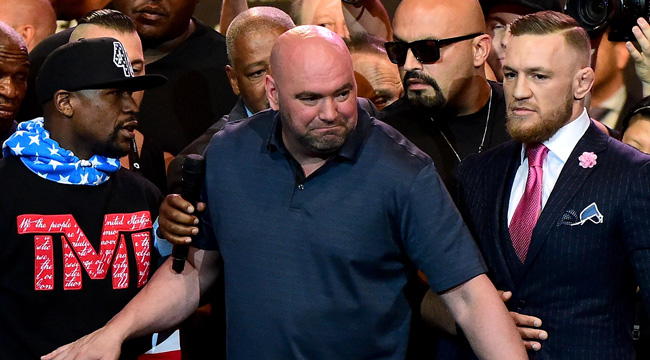 The UFC is "getting into boxing, 100 percent."
That's the official word from UFC president Dana White, who announced the company's plans to the Las Angeles Times at boxing coach Freddie Roach's Wild Card West gym in Santa Monica on Tuesday.
"No, no, no, I'm not leaving the UFC. I'm getting into boxing with [WME head] Ari [Emanuel] and the UFC will be doing boxing, too," White said. "It's still early. We're still working on it. I've got to get my s**t together, but I'm getting into boxing, man. It's coming."

White has been hyping a potential move into the sweet science for months, wearing a Zuffa Boxing shirt to several of the Mayweather vs. McGregor promotional events and teasing the possibility of using the UFC platform and resources to hold boxing events. Now it's for real, and the MMA promoter is in the process of applying for a boxing promoter's license in several states.
There's no word yet on who he'll work with when it comes to TV partners, other boxing promoters, or boxers themselves.
"We'll see who's interested when I say let's do this," White admitted. "It's harder than saying we're getting into boxing. We still have to get some homework done. I feel like I can do it better than everyone else. I love the sport. If you look at what we've done over the last 15 years, we're not afraid to try new things."
The pivot to boxing isn't likely to lower the amount of MMA events the UFC is holding, and is likely happening now because the combat sports promotion is in the middle of negotiating new television deals with multiple broadcasters. WME has some very aggressive numbers they're looking to hit on that end, and offering several boxing events a year is a way they could boost the amount of money made off that front.
There is the concern, though, that it could mean less time and effort spent on lifting up the potential stars of tomorrow already competing in the UFC. The company had a hard time in 2017 getting people to pay attention to fighters on its roster outside of Conor McGregor, Jon Jones, and Georges St-Pierre. That's despite the organization continuing to hold tons of great events with men and women pulling off the kind of knockouts that used to be reserved for kung fu flicks.
But who knows how this deal will work. If Dana White starts focusing more on the boxing side of things, maybe someone new will step into a top role with the UFC and bring some freshness to the product, which has changed very little production-wise over the years (other than in the number of events being held). Consider us hopeful, but also a bit worried.