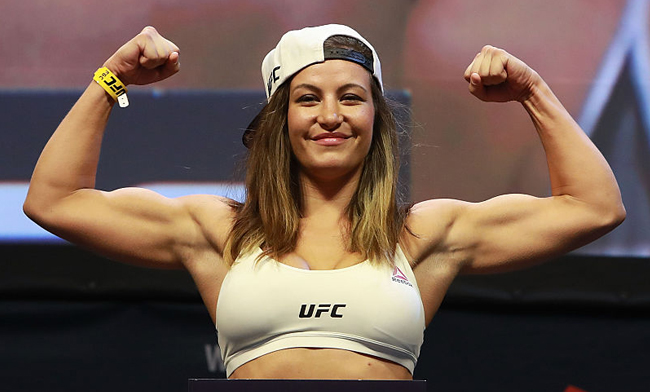 Say what you will about her overly dramatic feuds with Ronda Rousey, Miesha Tate is a fighter. She was around well before women's MMA was at the heights of popularity it's in today, back when Dana White was bashing the division and the ladies were forced to compete under different rules with three-minute rounds. She will be looked back on as one of the pioneers of WMMA.
She's also a badass. One needs to only look at her arm bending the wrong way as Rousey twisted it into a shape Gumby would nod approvingly at without tapping to agree. Tate has never avoided a fight, and while it's easy for her to bring this up now that she's retired, she sees fighting Cyborg as an opportunity, not something to be avoided.
"I mean, what do you really have to lose when you fight someone like Cyborg, of her stature? If you beat Cyborg, you're on another level of respect. And if you lose, it's like, well so has everybody. So, my opinion of it is, as a fighter, just from a fighter standpoint I think it would be an awesome thing to be able to fight Cyborg."
That said, she's not bashing former UFC featherweight champ Germaine de Randamie's decision to not fight Cyborg, which left the UFC no choice but to strip Cyborg of the belt, she gets it. But still, fighters fight.
"I do respect and understand what Germaine is saying," Tate said. "And I don't think she's scared of Cyborg. She's a fighter. She's been kickboxing forever. She's one of the baddest women on the planet.

[De Randamie's] point she's trying to make is, she doesn't believe it's fair," Tate later added, "and that, I cannot disagree. I don't disagree with what she's saying."
Considering Tate is a big 135er (a former featherweight) and has trained with 'Borg, seeing Miesha come out of retirement to fight Cyborg would definitely be something most MMA fans would be into.
(Via MMA Fighting)