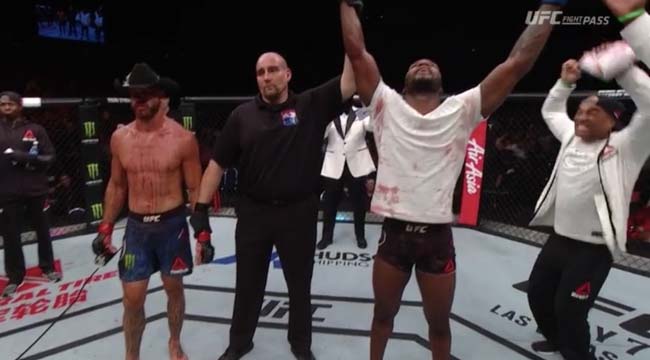 For those lucky souls willing to get up at 4:30 AM on a Saturday morning, the UFC had a special treat for you: a UFC Fight Night from Singapore headlined by fan favorite Donald 'Cowboy' Cerrone versus surging Brit Leon Edwards.
Things haven't been looking so good for Cowboy lately. He's 1-3 since 2016, but that one win was a cracker of a knockout over Yancy Medeiros in his last fight. He flew to Singapore ranked 11th of 15, determined to re-establish himself in the welterweight rankings.
Unfortunately he ended up becoming a stepping stone for 13th ranked Leon Roberts. Roberts was just a bit faster and cleaner, landing a lot more head strikes and bloodying Cerrone up. Cerrone stayed right in there with Edwards across five rounds, and that was reflected in the close 48-47 scores on all three judges' cards for Edwards.
Afterward Cerrone revealed he'd spent the entire day leading up to the fight sick in bed, which is exactly the kind of devil may care attitude that's earned him the love of UFC fans… and maybe a few more losses than he'd have otherwise.
The fight featured another slow start for Cerrone, who took some hard shots from Edwards during the first that cut him open and put him on the defensive. But as we've come to expect, Cowboy righted the ship in the second and started scrapping. He repeatedly bullied into the clinch to fire off sharp muay thai knees, and near the end of the round caught Edwards upside the head with a big kick (albeit with the help of some illegal glove grabbing).
That's not to say Edwards didn't get his in as well. A constant theme through the fight was Edwards landing a hammer of an elbow again and again on Cerrone whenever they separated.
Edwards kept it up in the third, using his speed to unleash dangerous looking volleys that snapped Cerrone's head back. Cerrone responded by exploding with brawling attacks and uppercuts that connected with Edwards' chin, but they didn't seem to phase the Brit much.
Edwards switched gears in the fourth, standing on the outside and waiting for counter opportunities while peppering Cerrone with kicks to the leg and body. With just over a minute left in the round, Cowboy hit a takedown but it wasn't long before Edwards was right back up on his feet and punishing Cerrone on the break with another big elbow to his already bloodied temple.
The fifth and final round saw the two fighters touch gloves in respect before stalking each other around the center of the cage. It was a tentative final round for both, with the most significant moment being another takedown from Cowboy that Edwards got right back up out of moments later. With ten seconds left the two planted their feet and started swanging, but the fight ended before anything could come of it.
The fight puts Edwards on a six fight win streak, which is no small feat in the UFC. As for Cerrone, he may find himself pushed off the UFC's rankings list, a list he's been on since the UFC started ranking the top 15 in each division in 2013. Five years in the hyper-competitive lightweight and welterweight divisions is a pretty good run. And knowing Cowboy's resilience, we wouldn't even be surprised if he turns things around in the future and blitzes his way back into the top five.
Full results from the rest of the Singapore event:
Donald Cerrone vs. Leon Edwards — Edwards defeats Cerrone by unanimous decision (48-47 x3)
Tyson Pedro vs. Ovince Saint Preux — Saint Preux defeats Pedro by submission (armbar) at 2:54 of Round 1
Jessica-Rose Clark vs. Jessica Eye — Eye defeats Clark by unanimous decision (30-27, 29-28 x2)
Daichi Abe vs. Li Jingliang — Li defeats Daichi by unanimous decision (30-26, 30-27 x2)
Teruto Ishihara vs. Petr Yan — Yan defeats Ishihara by TKO (punches) at 3:28 of Round 1
Felipe Arantes vs. Song Yadong — Song defeats Arantes by TKO (elbow and punches) at 4:59 of Round 2
Rolando Dy vs. Shane Young — Young defeats Dy by TKO (elbow and punches) at 4:40 of Round 2
Hector Aldana vs. Song Kenan — Song defeats Aldana by TKO (punches) at 4:45 of Round 2
Shinsho Anzai vs. Jake Matthews — Matthews defeats Anzai by technical submission (rear naked choke) at 3:44 of Round 1
Yan Xiaonan vs. Viviane Pereira — Yan defeats Pereira by unanimous decision (29-28 x2, 30-27)
Naoki Inoue vs. Matt Schnell — Schnell defeats Inoue by split decision (29-28, 28-29, 29-28)
Jenel Lausa vs. Ulka Sasaki — Sasaki defeats Lausa by submission (rear naked choke) at 4:04 of Round 1
Melinda Fabian vs. Ji Yeon Kim — Kim defeats Fabian by split decision (29-28, 28-29 29-28)