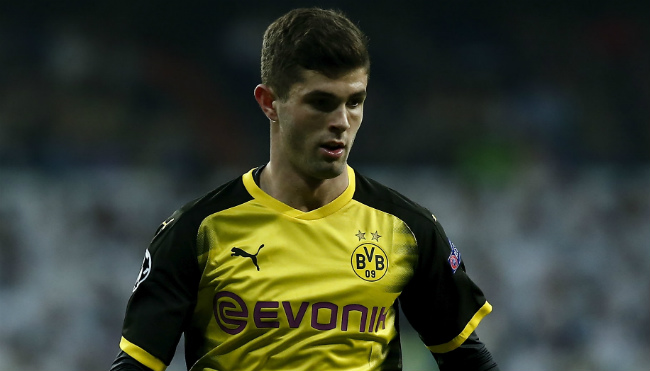 The 2018 World Cup starts on June 14, and while 32 countries are preparing to send their best footballing talent to Russia to compete in the world's premier international soccer tournament, the United States will sit at home, watching the festivities instead of taking the pitch. Of course, this is because the United States Men's National Team faltered in qualifying, most notably by failing to register a point against Trinidad and Tobago in the final match of qualifying last October.
You'd be hard-pressed to find a person who was happy with this outcome, but going further, you'd be hard-pressed to find anyone who thought the United States had the potential to make a run at the World Cup. After the 2014 tournament, then-manager Jurgen Klinsmann said the goal in 2018 was for the Americans to make the semifinal. Klinsmann was sacked during the final stage of qualifying, and his successor, Bruce Arena, could not navigate the rest of the way forward.
There are a whole lot of reasons why, but one is that at the end of the day, the United States just didn't have the players to get the job done. There are thousands of words that can be spent on why that happened. The youth soccer team is fundamentally broken and intrinsically tied to financial gain over improving the talent of children and the developmental system is still in its early stages with room to improve. Additionally, while the general culture surrounding the sport has shifted, it still has a long way to go, plus the domestic league (Major League Soccer) is nowhere near being the world's best and must clear a myriad of hurdles before it gets to that point. There's also a debate surrounding the merits of attending college for any period of time and delaying playing professionally and a number of other factors that have been written about at length in the days since the Americans failed to make the World Cup. But maybe we should talk about something else.
With nothing really going on this summer that is of interest to American footy fans, we wanted to look to the future and highlight some of the top young players the sport has to offer stateside and abroad. This is a very, very, very incomplete list — guys like Haji Wright at Schalke 04, Antonee Robinson at Everton, Shaq Moore at Levante, Kellyn Acosta at FC Dallas, and plenty of others didn't make the cut and are all great. I highly recommend falling down YouTube wormholes of compilations of their skills, goals, and assists. But before you do that, here are a handful of young players you need to know for upcoming tournaments, whether they be the Gold Cup in 2019, the World Cup in 2022, or any of the future tournaments that are nowhere near the horizon right now.
Christian Pulisic
The obvious name on this list is Pulisic, who may be the most talented American footballer ever at the ripe old age of 19. His workrate is what you expect out of an American, but what makes him so unique is that his skill and creativity is something you don't see out of anyone from the United States, let alone someone who hasn't turned 20 yet. Pulisic is a hyper-aggressive dribbler, which can sometimes work to his detriment, but as he gets older, he has the potential to be among the best in the world.
He's already a regular for Borussia Dortmund, one of the best clubs in Germany, although that could change sometime soon. Pulisic's name has been swirling in transfer rumors, partly because of the apparent value of a star footballer from the United States. Transfer rumors are a fickle thing, but there are rumblings that Pulisic could cost a club (with Liverpool and Manchester United both reportedly interested) up to €100 million. For reference, the current American transfer record is €20 million, held by John Anthony Brooks.
Pulisic is, for the foreseeable future, the face of American soccer. Not bad for a teenager, eh?
Weston McKennie
Despite all the well-deserved hype, Pulisic isn't the American whose team finished in the top-2 of the Bundesliga this past year. That would be McKennie, who is about a month older than Pulisic and gives the United States a talented and physically imposing box-to-box midfielder.
While McKennie wasn't a fixture in Schalke 04's XI, partly due to a knee injury that kept him sidelined for several weeks, he did start 13 Bundesliga matches and he appeared as a substitute in nine more. He is the kind of midfielder who wants to be the heartbeat of a team, whether he's sparking the attack with an incisive pass (or just joining Schalke as it goes forward), or wreaking havoc as opponents have their eye on the goal.
If Pulisic is going to be the dynamic creator in the midfield, McKennie, who was selected as one of Bundesliga's breakout teenagers this season, brings the ability to impact the game all over the park.
Keaton Parks
Perhaps the most intriguing talent on this list is Parks, a 6'4 midfielder with the technical ability of a shorter player (you can read why right here). He plays his footy for Portuguese giant Benfica, and at 20 years old, Parks gives club and country an imposing presence in the middle of the park.
Parks also just made his national team debut recently, seeing the pitch for the first time in the red, white, and blue during a friendly in Philadelphia at the end of May. The good news is Benfica sees his potential — it recently signed Parks through 2022 — and with four first-team appearances under his belt over during his first year in Portugal, he's gotten a tiny amount of experience already.
Benfica reportedly views Parks as a defensive midfielder, which would require some work. But he's talented enough that he should develop into someone who can play somewhere in the midfield, and if he reaches his potential alongside Pulisic and McKennie, the United States could have a legitimately dangerous midfield for years to come.
Timothy Weah
When it comes to raw talent, there may not be an American who comes close to Weah, the son of former FIFA World Player of the Year and Ballon d'Or winner George Weah. Currently a forward for Paris Saint-Germain, the best club in France, the 18-year-old Weah possesses the ability to play anywhere in the attacking third.
His father suited up for Liberia, but Weah was born in the United States and grew up stateside. It's quite the stroke of luck for the red, white, and blue, because Weah has the potential to be special. His speed, dribbling, and ability to create would give the Americans a legitimate terror wherever he suits up. PSG has a metric ton of attacking talent, and it would be quite the endorsement of Weah's skill and potential if new manager Thomas Tuchel gives him consistent time next season.
Cameron Carter-Vickers/Matt Miazga/Erik Palmer-Brown
If all goes well, at least two members of this trio make up the American pairing in central defense for the next decade. At the very least, one of them will, ideally, line up next to John Brooks if he's able to stay healthy.
All three are on loan, but play for one of the top clubs in the Premier League: Carter-Vickers plays for Tottenham, Miazga for Chelsea, and Palmer-Brown for Manchester City. Miazga is the oldest of the group, as he turns 23 next month. Palmer-Brown just turned 21, while Carter-Vickers is 20 until the end of the year.
The younger two center backs are fascinating for their potential — both have been on the periphery forever, Palmer-Brown because he came up through the Sporting Kansas City system. The club famously rejected a $1 million bid from Italian giants Juventus for him when he was 16 and, earlier this year, he joined the Premier League champions before getting loaned to KV Kortrijk in Belgium. Carter-Vickers, meanwhile, was born in England and has been in Spurs' system since 2009, although he has only seen the pitch during loans to Sheffield United and Ipswich Town.
Both still need some seasoning, which was prominently on display as Carter-Vickers struggled during the USMNT's friendly against Ireland. Miazga, meanwhile, is more polished right now, even if he still has room to grow. He's been a rock in central defense for Dutch side Vitesse, even scoring a few goals and getting the opportunity to captain them this year. Whether or not Chelsea loans him out again next year remains to be seen.
Tyler Adams
Adams is the only MLS player who isn't a goalkeeper on this list … for now. The teenage star for New York Red Bulls has been widely linked to a move that will send him to another club owned by the energy drink company: German side RB Leipzig. Until that becomes official (or possibly falls through), he'll continue to be one of the premier young talents that still plays stateside.
The appeal of Adams comes in his versatility: The 5'9 native of the Empire State is nominally a central midfielder, but he possesses the ability to play fullback or on the wing. Watching his development is going to be fascinating, as Adams is a tremendous passer with outstanding vision that he uses to his advantage going forward and in defense.
Josh Sargent
Another promising 18 year old, the hope is that Sargent is the national team's goalscoring striker of the future. Now situated in Germany for Werder Bremen, Sargent is a native of Missouri who burst onto the scene last year while suiting up for the Americans at the U-20 World Cup, where his four goals were the second-highest mark in the tournament.
More than basically anyone on this list, the intrigue with Sargent lies in his potential, as he has yet to play a first-team match. The opportunity will pop up this year, though, as he couldn't sign with Werder Bremen's first team until his 18th birthday. He's suited up for their U-23s, though, and is expected to join the first team once the 2018-19 season commences.
Zack Steffen
First things first, #SaveTheCrew. Steffen has always possessed considerable talent, and has been viewed as the national team's keeper of the future since his time at the University of Maryland. His stint with SC Freiburg in Germany didn't lead to any first-team appearances, but he has been the first-choice keeper for Columbus since 2017, where he's reminded everyone why his future is so bright.
Of course, goalkeeper is a tough position, since there's one on the pitch and it's not a position you need to rotate. So perhaps going forward, guys like Ethan Horvath (currently at Club Brugge in Belgium) or Jesse Gonzalez (FC Dallas) may beat out Steffen for the first choice keeper gig.