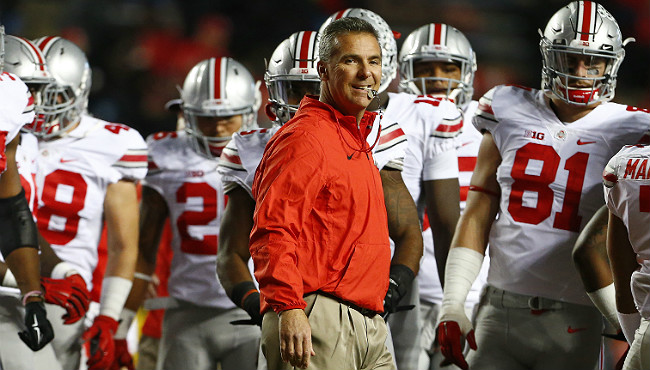 Landon Young was a four-star recruit when he committed to Kentucky in February. Before he made that decision, the offensive lineman was courted by several big-time schools, including Ohio State and coach Urban Meyer.
According to Young, he received wonderful treatment from the staffs of Auburn and Alabama, but the Lexington native was treated "like crap" by Meyer when he paid a visit to Ohio State.
Here's what Young had to say in an interview with SEC Country:
I was at Ohio State having a private meeting with Urban Meyer. I had gone up to camp there, and they had treated me like a piece of meat, just treated me like crap. By that time, I was a four-star tackle. I weighed about 270 [pounds], and I was 6-7. I wasn't even on their radar.

He said, 'Well, if you look back at that time, you were how big?' I said, '6-7, 270, just like I am now.' He said, 'Well, you were an insubstantial tackle, an insubstantial player,' so he was saying I (didn't) even amount to being able to be recruited by Ohio State as a four-star tackle. He said, 'Now what offers did you have?' I said, 'I had my one from Kentucky,' and he said, 'Well, you were an insubstantial player with insubstantial offers from an insubstantial school.'
I mean, it sounds like Meyer was being a jerk to this kid, but it also sounds like he was making the point that Kentucky stinks and Ohio State is great, which is at least true from a football perspective. It's not the best tactic, as getting someone to date you by pointing out the ugliness of that person's current boyfriend/girlfriend isn't cool or all that effective, as Young stuck with Kentucky.
It also seems like Meyer learned a new word that morning and wanted to show a kid how smart he was, although his effort proved to be insubstantial. Everything about this story is believable and will hopefully be a storyline when OSU and Kentucky meet in the national title game next season.
(Via SEC Country)