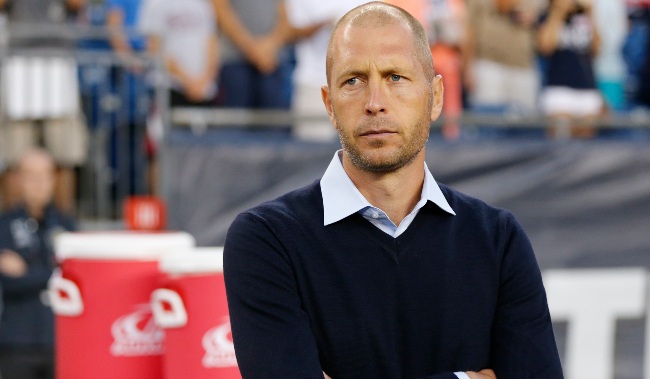 U.S. Soccer has operated without a full-time manager for more than a year. You can argue it has been more like two years, as Bruce Arena was installed with the goal of leading the United States to the 2018 World Cup after Jurgen Klinsmann was fired on Nov. 21, 2016. Since Arena resigned on Oct. 13, 2017 for his inability to do that, however, the national team has spent the last year under the careful eye of interim manager Dave Sarachan.
The search to hire a manager can generously been described as confusing, but on Sunday, the United States Soccer Federation announced the process had come to its conclusion. To the surprise of few who have followed this search with even a minor amount of interest, Columbus Crew manager Gregg Berhalter received the job.
In terms of credentials, Berhalter is a perfectly fine choice to lead the next generation of the national team. He played throughout Europe for 15 years before spending the final three years of his career with MLS side Los Angeles Galaxy. He also received 44 caps for the national team during his playing career and played in two matches at the 2002 World Cup.
Once he decided to hang up his boots, Berhalter transitioned to a role as a manager. He became the first person of American descent to manage a European side when he took over Sweden's Hammarby IF in December of 2011, but was fired in July of 2013. He took over the Columbus Crew several months later and has been at the helm ever since.
Berhalter has done a solid job with the Crew, leading them a 74-69-50 record in five years at the helm with four postseason appearances and a berth in MLS Cup in 2015, where they lost to Portland. At 45 years old, Berhalter gives the national team a manager who could, theoretically, lead the team through multiple World Cup cycles if the two sides would like for that the happen.
The issue is that this has been a hiring process that has taken way longer than it had any business taking. The case can be made that a full-time manager should have been installed shortly after Klinsmann got sacked, but the fact that it took more than a year following Arena's ouster — when the national team could focus all of its attention on getting a manager — is nothing short of inexplicable.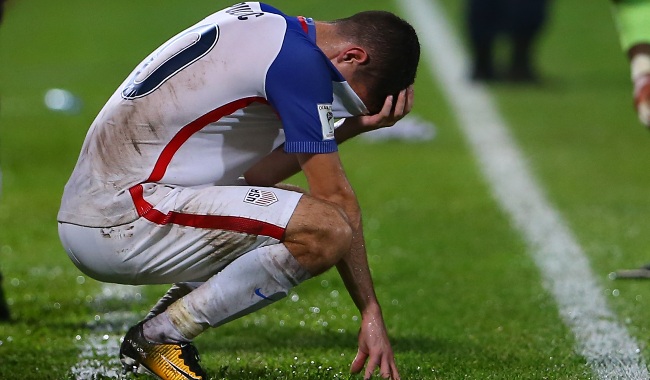 Following the United States' failure to qualify for the World Cup in Trinidad and Tobago last October, USSF president Sunil Gulati announced he would not seek re-election, and fans were told they had to wait for his successor to be selected before a manager could be hired. His vice president, Carlos Cordeiro, got the job in February, but before a manager could be selected, fans were told the Federation wanted to select a general manager, a new position that would, among other things that largely revolve around how the team will play and approach functioning as a national team, hire a manager.
The decision was made in June to hire Earnie Stewart, a former national team player who left his role as sporting director for the Philadelphia Union to fill the job. Stewart then mentioned that things like the ability to speak English fluently and a willingness to move to Chicago, where U.S. Soccer headquarters are located, were more or less requirements for the position. You do not have to be an avid soccer fan to understand why these two things restricted the pool of candidates to, essentially, Americans or managers in Major League Soccer.
Two things have happened while all of this has gone down:
1. Berhalter has been viewed as a favorite (and, in the last few months, the favorite) to get the job.
2. The national team has gone through a significant youth movement.
The first thing is easy enough to understand: Berhalter's name has popped up a lot throughout the process, both for fair reasons (his knowledge of American soccer, his credentials as a manager) and for reasons that might not be fair, but no one knows for sure (namely nepotism, as Berhalter and Stewart have a lengthy relationship and Berhalter's brother, Jay, is an executive with U.S. Soccer, albeit as the person who handles corporate, broadcast, and retail partnerships).
While the process has gone down, Berhalter has been at the helm of a Crew side that were in the midst of an acrimonious situation regarding whether or not the club would move to Austin, Texas.
The much bigger issue is that second thing. The national team has been swept up in a youth movement, one that has led to legitimate optimism surrounding the program. The optimism is that the national team has a number of players who are actually good and not just good for Americans. Christian Pulisic may already be the most talented American ever, and he just turned 20. Midfielders like Weston McKennie and Tyler Adams look like building blocks for the national team program; the former is 20, the latter 19. Two bright attacking talents, Timothy Weah and Josh Sargent, are both 18. Two potential goalkeepers of the future are 23: Ethan Horvath starts for Champions League side Club Brugge, and Zack Steffen is rumored to be on the verge of joining English giant Manchester City after two impressive years in Columbus.
This young talent, however, did not get the chance to play for a team with a clear vision, as Sarachan — who deserves praise for doing his best despite being asked to be the adult in the room — was never the long-term answer. We know this because reports surfaced in recent days that exactly two people were interviewed for the position, and the one who was not Berhalter took another job.

On Saturday night, this was confirmed, as ESPN reported that the search began with 33 candidates, which was trimmed down to 11, which was trimmed down further to two finalists: Berhalter and Pareja. But no matter who got hired, the biggest issue is that there is a difference between building a foundation and whatever happened over the last year with U.S. Soccer.
Instead of pressing the reset button following firing Klinsmann and, eventually, the failure to make the World Cup, the organization trudged through 2018 without any clear-cut direction, which was unfortunate, because as the failings of the national team the year prior showed, putting the focus on what happens on the pitch and growing the game in the United States as opposed to nebulous issues like "who is going to fill a general manager position that was made up ostensibly so someone can be at fault and shield those at the top of the USSF food chain in the event the team comes up short" was more important than ever. It was evident that this wasn't the priority because of how the national team closed the year, with an 0-1-4 record and back-to-back losses to England and Italy in which the squad looked like it was ready for 2018 to end.
Gregg Berhalter very well might end up doing a good job at the helm of the U.S. Men's National Team. If he was hired six months ago, or even right on the heels of the World Cup, odds are it would have been a hire that would have inspired some amount of optimism. But for reasons that have nothing to do with him, his tenure — one that features a player pool that has earned the distinction of being a "golden generation" of American footballers and, more importantly, a Federation that acted with no apparent sense of urgency — will start with a bad taste in the mouths of some fans.