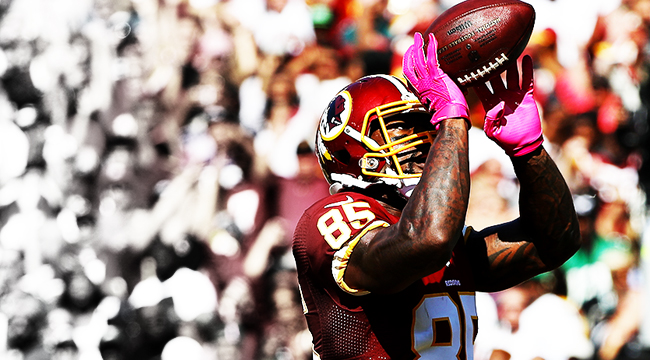 Vernon Davis really likes yams. And sweet potatoes. Whatever they are, exactly, he's interested in them. The tight end is in his 13th season in the NFL, and this year he got to play on Thanksgiving with the Washington Redskins.
Davis is quietly improving his numbers in his second year with the Redskins, but one thing he isn't quiet about his his affection for the Thanksgiving dish he famously shouted out the last time he played on Thanksgiving. There's a very famous Vine that is an easy reminder of this fact
Thrillingly, he even got to reprise his most famous line on Thanksgiving night this season against the New York Giants.
https://twitter.com/cjzero/status/933892217365819393
But what you may not know about the tight end is that he's also a huge fan of curling. He sat down with Uproxx to talk about his other favorite sport, playing with Kirk Cousins and how being a tight end has changed over his NFL career.
What's your first season in Washington been like? You're in the Wild Card mix right now, where do you see yourselves heading into the final few games?
It's been well. We see ourselves as a strong team. We feel like we can play with anyone, and we can beat anyone. We just have to continue to stay together. Make the sure the synergy is there and the continuity as a team and take it one step at a time.
It seems like it's been a strange season so far, with very few elite teams out there. Are you surprised that more teams seem to have .500 records and no one has really established
No, no, it's not. In the NFL everyone's good. Everyone's good. Everyone's a professional so you can't take anyone lightly. It's one of those things where you have to go into every single game thinking that it's going to be a tough competition because it really is.
You've been on a few different teams in your career, this is your 12th season now, what's changed about being a tight end in the league? I talked to Rob Gronkowski before the season started and he said tight ends are asked to do so much these days. Has it evolved over your career?
Yeah, I truly think that the position has evolved. You look at a guy like Travis Kelce over with the Kansas City Chiefs, they have him taking balls from out of the backfield almost as if he's a running back. He's doing it all. A lot of tight ends are getting more involved in different aspects of the game. So I feel like it's evolving, they're looking for guys who are a lot smaller than before. I'd say usually tight ends are around 240-250 pounds, and you have to b e able to run. Tat's what they're looking for. Run and block.
I'd say you played a part in changing at least how people perceive the position. It seems like the NFL is such a reactionary league, though. Not a lot of teams experiment until someone proves something like the shovel pass to Kelce works and now other teams try it. Is the risk for failure so high that it makes teams afraid to try now things?
Yeah, that's one thing is that we like the season to get started so we have film on teams. We look at different teams and see what they're doing against opposing teams that we're about to play. And maybe we can do something similar because we feel as a team and as a coaching staff, you always feel that that same play will work against that team someone else played if you actually run it. It's just one of those things, you try it at the right time depending on the situation.

What's it like working with Kirk Cousins? How important is it to build a rapport with a quarterback?
I love working with Kirk Cousins. He's immaculate. He's everything you'd want in a quarterback. He does things the right way. He's truly a professional and he wants to be great. He wants to be just like Tom Brady and Peyton Manning someday. He works extremely hard and it shows.
And having a good rapport with him is vital. It's vital for any receiver or tight end to have a great relationship with their quarterback because at the end of the day you want to make sure that you're in the same page and the chemistry is there and you guys are working together and you see things the same way.
So I've read you're a huge fan of curling. How did you get involved in the sport?
A beat writer in San Francisco came up to me when I was there and she was like 'Hey Vern, you should come out and try curling.' And I was like, 'Oh, what's curling?' I'd never heard of it.
So then I went out and was like, wow this is pretty cool. And the US Curling team heard about me participating so they reached out to me and asked me if I wanted to come out and be a honorary captain for the US Curling team. I took the offer and since then I've been an honorary captain.
Were you surprised how hard curling is? I've curled a couple times and I'm always surprised how sore I get the next day.
One thing I know for sure is that you want to make sure you're extremely flexible. Once you get in that lunging position and you don't stretch, you'll probably tear your groin or your quad (laughs).
Do you get to curl a lot? Have you found a place to curl in D.C. yet?
Every once in a while. It's like golf, you make time for it when you can and it's just one of those things.
Are you watching on TV a lot? I know in the US it's not as easy but I know NBC Sports often has it on.
I watch it whenever I can I watch it on TV. Especially during the Olympics.