When it comes to Vince Wilfork, the three F's — football, family and food — are serious business.
The veteran defensive lineman is preparing to head into his 13th NFL season, his second with the Houston Texans after spending the first 11 in New England. The 34-year-old has been in the news quite a bit recently, for a variety of reasons. Not only has there been some speculation surrounding when he might retire, but news also broke that he would be nakedly featured in ESPN the Magazine's "Body Issue" this year. Yep, all 325 pounds of him.
In addition, Wilfork and his three children were part of a pretty awesome Father's Day campaign from Courtyard Hotels last week.
I got a chance to talk to Vince about that experience, as well as his future in football and, of course, his approach to barbecue over the summer.
What was it like to see your kids talk about you without them knowing that you're listening? That must be a pretty rare experience for a parent.
Courtyard Marriott is the official hotel of the NFL and one of the things I really enjoyed was seeing how they got my kids to talk to them. My youngest, he's not a camera person. He does what he wants to do. And my oldest, he starts sweating when people talk to him, let alone with a camera in his face.
So to watch them kind of ease them into some questions and just give them a few layups, my kids kinda opened up to them and it started flowing.
I just remember sitting back and watching my kids talk about me as a father. It was the best feeling in the world because no matter what you do in the world, you never know if you're doing a good enough job as a father. You always think about how you can become a better father and a better person.
From the looks of it and hearing what they had to say, I think I'm doing a pretty good job of being a parent. That's the scary part, because your kids really don't open up to you like that and let you know how they feel because they're kids. Just to hear them talk about me as a father, it was priceless. I could have melted in my seat just hearing what they were saying about me. It really, really put a smile in my heart that my kids really love me and I've been doing an amazing job as a father. I know I have to continue to do that if I want them to feel the same way towards me. That's something I always strive for — greatness. Not only on the field, but also at home with my family.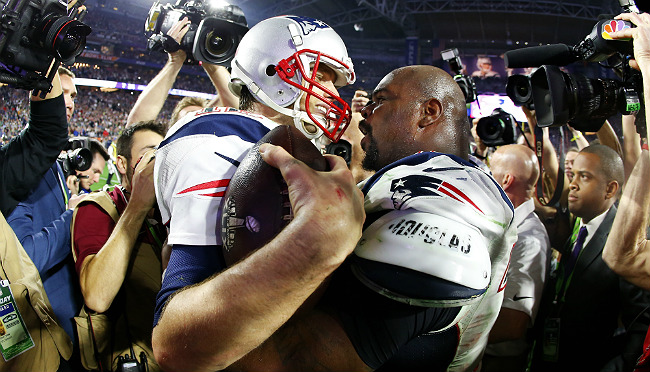 Would you say that coming up as a football player has helped you as a father? Are there things you learn in the locker room that translate to parenting?
The one thing about sports, in general, is that when you're in the locker room you have tons of conversations, and it's not all about football. It can be about anything. I've taken things from different people in the locker room, just the conversations we've had. I've been through some things in my personal life that have helped me become a better father, a better person and a better teammate.
That's the one thing I enjoy about playing the game is that in the locker room, nothing's off-limits. You can talk about anything, and it stays in the locker room. That's an amazing feeling; it's a brotherhood, it's like a fraternity. You'd be amazed at the amount of respect that people have for you in the locker room, coming from New England and coming to Houston. It's like I left one great locker room for another great locker room because everyone wants to know about whatever it may be. It may be about being a father, it may be about the profession, my position, me growing up, my days at the University of Miami. People are always talking to me about different things. That's the beauty of sports – you have the opportunity to have a group of guys you can call your brothers. And after football is done, they're gonna always be your brothers. I think any locker room should be like that
It's been in the news recently that you're trying to decide when you should retire. With the wave of players calling it a career early due to various long-term health concerns, how much has that weighed on the minds of you and your family?
None.
None?
Absolutely zero percent. If I could play another 10 years, I would. I'll play until my body tells me it's time, and I'm far from that time right now. I really don't look at individuals and say, "he's doing this, I may need to do this too." No, I'm my own man and I beat to my own drum. My body is different than any other body, so I really don't pay attention to that. I don't let that affect me as a player when guys are retiring at a young age. Your body will let you know when it's time for you to call it quits. Just because of an age or something that you went through, I don't think that's the definition of saying it's time to call it quits.
I've talked to guys and asked them, "hey, when did you know?" And they said "trust me, your body will let you know when it's time to let it go." When that time comes, everybody else will know too. But as of right now, it's nowhere in sight.
One of my favorite videos on the internet to this day is the one your wife shared of you dancing and grilling in your backyard. I was curious, with the summer coming up, what's your approach to barbecue? You seem to take it pretty seriously.
My barbecues start early in the morning and last all day because I like to be around the grill. I like to cook, I like to try different things. When it comes time for me to barbecue, it takes me about four days in advance to start prepping. From that process all the way until eating, it's something I really enjoy and my kids enjoy.
I grew up like that, that's something that my father did and I was always by his side when he did it. I kind of took over that tradition when I lost my father and got older. Now my kids, they're the same. They're playing outside and taking little samples I have on the grill, like I did when I was growing up. It just takes me back to when I was their age and I was with my father outside.
It's an all-day event, man. Kids playing over here, adults over there. You got the music playing, you're playing catch with the football. For me and my family, it's a great bonding time because it's like a tradition in my house. When it's time to barbecue, everybody know what they gotta do.
What's your favorite barbecue food?
My favorite is ribs. Pork ribs. Spare ribs. I don't too much deal with the baby backs. Sometimes I do St. Louis, but I don't like it. I don't like my ribs looking pretty. I think the St. Louis gives you a pretty rack of ribs, but I like the gristle and everything on it that gives you the flavor and keeps the juices in.
I make my own sauce. I make my own rub. I've been experimenting lately with a new sauce and a new rub because that's what I do. I like to play around in the kitchen. People tell me I don't need to play around because what I have is already good enough. But people like tasting different things so I always like to have something new in my repertoire.
I feel like everyone loves to brag about how much food they can put down at a cookout during the summer. You're a big guy…how many, say, hot dogs or hamburgers would you say you could put down at a cookout?
Not a lot. That's the funniest thing — when I cook, I don't eat a lot. I don't know if it's because I'm around it all day, cooking it and dealing with it for four days, but I really don't deal with it on that day. But the next day, I can go through some food. [laughs]
I'm a big ribs and chicken guy and I can go through that like it's nothing. But on the day of, I don't eat too much of it.
So you're all business on the day of the cookout?
Absolutely. By the time that's over, I'm ready to sit down, kick my feet up and pop me a brewski.
We've seen in the past that you're pretty good away from the football field and on the basketball court. You called yourself a 'modern day Michael Jordan.'
Yes sir!
What's your best backyard lawn game? What's your specialty?
Well, it has to be basketball. I have a court and I grew up playing football and basketball. When it's time to barbecue and we're outside, it's basketball. We're shooting the basketball and we're talking a lot of trash. That's kind of tradition also.
When I was growing up, it was football. We played in the road – two-hand touch in the road, tackle in the grass. For me right now, it's basketball. My kids, their friends, everybody wants to come over and shoot a basketball. We too old to run around and we play football for a living, so anytime we can get away from it we try. You want to show people you're good at other things and that's what we do.