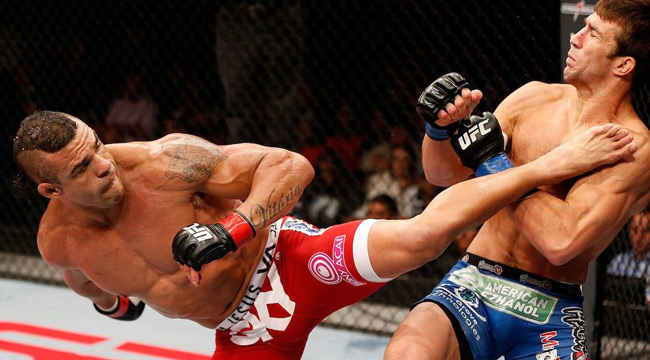 Vitor Belfort made his UFC debut back in 1997 at the young age of 19. Now, 20 years later, the 40 year old has decided his fight on Sunday January 14th against Urijah Hall will be his last.
"This is my retirement fight," Belfort said during an interview on the UFC Unfiltered Podcast (via MMANYTT). "After that I'm going to put my body to rest. This is it. Breaking news."
It's been a rough couple of years for Vitor as the legend went 2-3-1 since 2015. But what probably stings more than a couple of losses in the cage is the loss in revenue he suffered when the UFC brought Reebok in and banned in-cage sponsors. Belfort often looked more like a Nascar driver than a fighter, and his wife went on the record complaining that they were losing millions due to the change.
Then there's the loss of prestige. The UFC didn't just book Belfort for a random Fight Night card on Sunday in Missouri, they stuck him halfway down the card. He's not even the main event! We imagine that probably has a part to play in it all, but Belfort kept things professional and attributed his retirement to old age.
"I think my body need to rest," he said. "I have other things, I have a business of my own, I developed have a system, I developed a group class training system that we're going to franchise. I just want to leave to help the sport in a way, work with the sport and help and do other things. We got to know the time to start and I think we need to know the time to end and it's about time."
There's still the question of whether Belfort will stay retired or if he plans on jumping ship for Japan where he can do all the things he can't any more in the UFC: headline cards, take sponsorships, and undergo Testosterone Replacement Therapy. But for now we'll take him at his word. It's been a long crazy ride watching Belfort smash his way through the combat sports world. We'll miss him.
UFC Fight Night: St. Louis goes down Sunday January 14th at 10PM EST on FOX Sports 1. The card is headlined by knockout artists Dooho Choi and Jeremy Stephens and also features Paige VanZant vs. Jessy Jess and Emil Meek vs. Kamaru Usman.