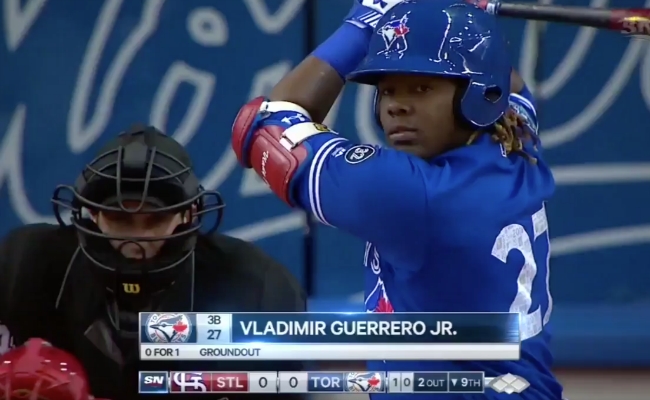 They only play Major League Baseball in Montreal during spring training these days, but Vlad Guerrero Jr. made the most of the nostalgia on Tuesday night.
Guerrero, the son of future Baseball Hall of Famer Vlad Guerrero, is a top prospect with the Toronto Blue Jays and it's no surprise that the slugger's son hits some impressive dingers of his own.
It was already a special night for the Guerreros, with the Blue Jays playing an exhibition game against the St. Louis Cardinals in Olympic Stadium in Montreal, the former home of the elder Guerrero's Expos. But in the bottom of the ninth in a scoreless game, Vlad Jr. muscled out as dramatic a home run as you can find in spring ball.
https://twitter.com/BlueJays/status/978809084676792320
The walk-off got an awesome reaction from the crowd, the players and especially the Jays broadcast crew. He even got a curtain call from the Montreal faithful.
The best part is that Vlad was there with the family taking it in. Look at the view he got of his son's home run from the nice seats.
The #LikeFatherLikeSon hashtag was used quite a bit on Tuesday night to describe Vlad Jr.'s slugging power. But it's not a crazy thought. Check out the similarities in swings from the two Guerreros.

Perhaps the tweet of the night comes from pitcher Brandon McCarthy, who noted the similarities between the two while giving props to Senior's incredible knack for hitting huge bombs on balls that were well out of the strike zone.
Baseball is almost back, and that means spring is coming. If it also means a Vlad Guerrero is back hitting home runs — maybe even in the Majors — it's going to be a good summer.