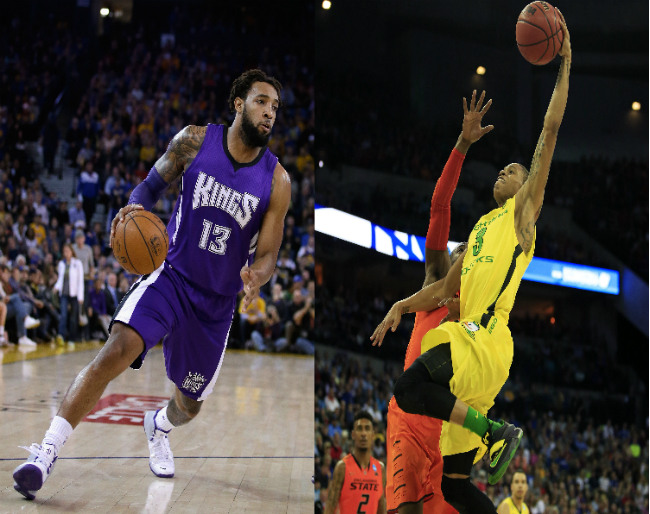 Dunks are fun. Arguments about dunks are fun too. That's why we're having our very own argument about two very different dunks on Friday – the dunk by Derrick Williams on Bismack Biyombo during the Kings' 101-91 win over the Hornets, and the one Joseph Young delivered in Oregon's win over Oklahoma State in the NCAA Tournament.
Here are the two dunks in question:
To facilitate this noble endeavor, Dime Mag editor Jack Winter and UPROXX Sports senior writer Martin Rickman are going to give a point-counterpoint and see where they end up. At the end, they'll open up the floor to everyone else for the appropriate amount of discussion, and of course, a poll.
Let's begin.
Martin Rickman: We had a couple of really good dunks on Friday, and as I was watching the replays, I was kind of stunned by the similarities of the two. It's easy to jump in and say the NBA guy had the better one because he's bigger and stronger, but that Young dunk might have been even more impressive than the one Williams dropped on Biyombo. Who do you give the edge to?
Jack Winter: It's Williams. And frankly, not all that close. This epic play by Sacramento's high-flying forward checks off almost every dunking box – power, hang-time, explosion, ferocity. It's made even more awesome by the fact that Biyombo falls hard to the floor after Williams plows right through him. This is one of the more emasculating dunks we've seen in the NBA, one reminiscent of Scottie Pippen's legendary slam over Patrick Ewing. If you're asking, though, there must be a case for Young's jam. What is it?
MR: It's the stage in which it's happening. It seemed like every minute or two there was some sort of highlight play in that Oregon vs. Oklahoma State game, and this is an opening round NCAA Tournament game, not a game between the Kings and the Hornets. Young was the Pac-12 player of the year this year, and he had an insane buzzer beater to beat Utah in the conference tournament. This guy seems to explode in big moments. You get him on the break, with the left hand, and he reaches up and flushes it.
So many times you see guys miss that dunk – especially in college – but he made it happen. And Young slides on the ground to cap it off. It was smooth. It's a dunk you don't often see in college at all, much less in a tournament setting. I loved it. I'm so used to seeing huge dunks in the NBA. In college, with guys not having that lifting program and that level of competition, it doesn't always quite equate. So when it happens, I have to give it props.
JW: And props it deserves. Context always matters in sports, and not even a NBA obsessive like me is naive enough to believe that a March contest between middling NBA teams deserves the spotlight of a NCAA Tournament game. And the crazy momentum in Oregon-Oklahoma State obviously matters, too – Young's jam was the top highlight in a matchup flush with them. I have to admit that the look he gives back to Anthony Hickey before taking off adds to the awesome, too.
But come on, Martin. Young doesn't dunk directly on Hicky and barely gets his hand to the rim. Williams, meanwhile, soars through a proven shot-blocker, while having enough lift to cock the ball far back and finish with authority. And if we're talking post-dunk flair, I'll take his bow-legged flex over Young's slide.
MR: I'll give you that. The straight power Williams showed was not only impressive, but a little bit surprising. They show these things in slow motion, and it doesn't quite give it the respect it deserves. In full speed? That's unreal. And it's not like Biyombo is some guard. He's got a wingspan on him.
But here's the thing – Derrick Williams is is 6'8. Young is 6'2. And that's a college 6'2. Not a real-life 6'2. You complain about him barely making the rim on that dunk, but with his arm extended, protecting the ball and bringing his arm back and finishing? That's insane. That's not getting enough attention on its own. That is what puts it over the top for me. I'm biased, but guards slamming it home when they're not supposed to brings me an immense amount of joy.
JW: You're not alone there. There's always something extra special about a "little guy" rocking the rim – especially when they do so with dramatic flair. Young's dunk is great for many reasons, but his diminutive nature is what makes it stick out to me. Williams, for instance, would jam with ease in a similar situation that makes it less impressive. But you're still not giving Williams enough credit – he takes off from just below the dotted half circle! With two feet! The amount of explosion he shows here is absolutely incredible, and something rarely, if ever, seen on the college level.
I can't get over the gumption it takes to even attempt a dunk like that, either. Williams had bad, bad intentions from the moment he caught the ball. That counts for something, especially considering Young could have scored while simply laying the ball in. Williams' hand was forced; Young's wasn't.
MR: It seems like we're at an impasse here. May I throw a third dunk into the ring? I'm going to play Willie Cauley-Stein from Saturday against Cincinnati.
That's my mic drop. That's it for me. If that doesn't win, nothing does.
JW: Impasse, indeed. But we definitely agree on the quality of Cauley-Stein's dunk. If Kentucky wins the tournament, that's the highlight that will be played for years and years to come. I'd still like to see him try it on a shot-blocker the caliber of Biyombo, though.
MR: I'm sure he'll get the chance pretty dang soon.