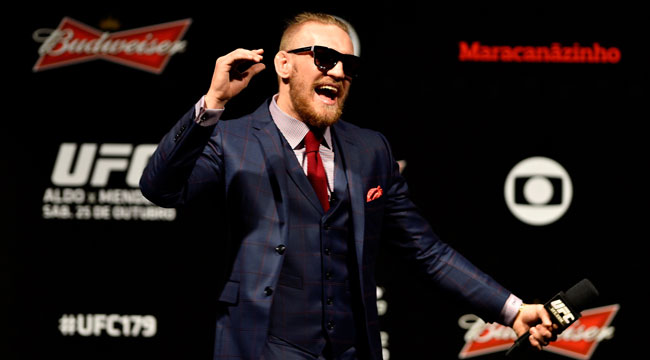 Yesterday, the sports world reacted with confusion and disbelief as UFC superstar Conor McGregor announced his retirement over Twitter. As the day went on, it became clear that this wasn't just some silly joke: something serious had happened behind the scenes and McGregor was out of his UFC 200 rematch with Nate Diaz.
UFC president Dana White said he was forced to remove McGregor from the card after the Irish fighter refused to promote the fight and attend a press conference in Las Vegas. But is that the real story? McGregor has gone silent with the media, telling a reporter who asked him for an interview outside his training camp in Iceland: "No, I'm retired. F*ck interviews."
Here are the three stories currently circulating on why the UFC's biggest draw suddenly decided to hang up his gloves.
The Death Of Fighter Joao Carvalho Has Affected McGregor
Last week, Portuguese fighter Joao Carvalho died in a hospital from injuries sustained in a fight against one of McGregor's training partners. McGregor was cageside for the fight and looked somewhat withdrawn afterwards, telling a reporter: "The man took some big shots… I thought it could have been stopped maybe earlier." He later wrote a heartfelt message on Facebook mourning Carvalho's death and contemplating the dangers of the sport.
While Carvalho's death was a quick blip on the sports news radar in North America, it has been a hot topic in Ireland, especially with McGregor's name attached to the story. There's no doubt he's been hearing and thinking a lot about it, with MMA Fighting's Ariel Helwani saying several of the sources close to McGregor brought up the Carvalho incident when talking to him about this sudden retirement.
The UFC Wanted Another World Tour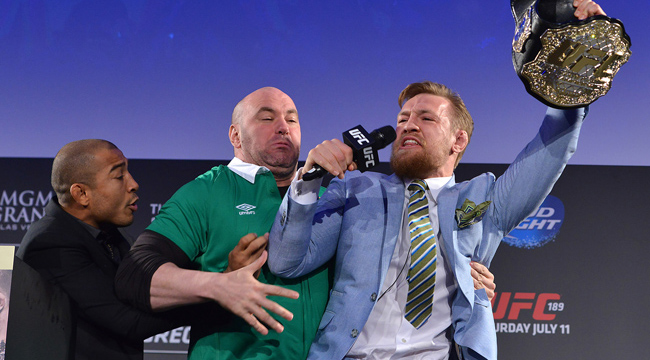 Another theory is that White was only telling half the truth when he said McGregor refused to promote UFC 200. Where White's interview with SportsCenter made it sound like McGregor was reneging on a single press conference and the filming of a commercial, MMA journalist Jonathan Shrager tweeted that the promotional duties expected from McGregor may have been much more extensive.
The UFC has sent McGregor on a world tour before leading up to his fight with Jose Aldo. But the Irish fighter has been extremely focused on his training since the loss to Nate Diaz, pulling out of Vin Diesel's xXx sequel to ensure no distractions. The UFC does typically expect fighters to do a lot of promotion, and some have wondered if the heavy press schedule Ronda Rousey undertook leading up to her fight with Holly Holm was partially responsible for her loss.
You have to imagine the UFC would want McGregor front and center leading up to UFC 200, and that means a lot of appearances and interviews — or from McGregor's point of view, interruptions. He's well aware that another loss to Diaz could signal the beginning of the end of his miraculous rise to fame. Could this be a battle of wills between the UFC and McGregor over promotion?
It's All About The Money
It seems crazy that the UFC would pull McGregor from UFC 200 simply because he refused to attend a press conference. White cited another time he yanked a fighter out of a superfight over a similar situation: when Nick Diaz no-showed a press conference for a fight against Georges St-Pierre. But even that fight pales in comparison to the numbers McGregor vs. Diaz II would have pulled. And in removing McGregor from the card, White is basically crippling the UFC's marquee 200th event.
You'd think the UFC and McGregor could come to some sort of reasonable agreement to keep the fight in place — unless something bigger was going on. Sports journalist Charly Arnolt reports that all this promotion talk is just a smokescreen for the real issue: money.
McGregor is already the highest paid fighter in the UFC, and it's estimated that he cleared $5 million easily in his last fight with Nate. But that's peanuts when you look at how much the UFC makes on a big pay-per-view. Keep in mind the company is selling these things at $60 a pop, and people were thinking UFC 200 might break the two million buy mark.
Did McGregor go for Mayweather money? Are we witnessing a battle of wills between the UFC and its biggest fighter? At least this is an angle that makes sense — as loathe as White must be to lose his UFC 200 main event, he may feel he needs to keep fighter pay from taking an astronomical lurch upwards, and he can't give in to a sudden demand for more money once a fight has been announced.
Maybe White called McGregor's bluff, and now McGregor is showing he's willing to walk away from the sport if he's not being paid what he feels is his fair share.
Whether the truth ends up being one of these or a combination, or elements of a few, we'll learn soon enough. The world of mixed martial arts is too small and this story is too big for what's really going on to stay secret for much longer.