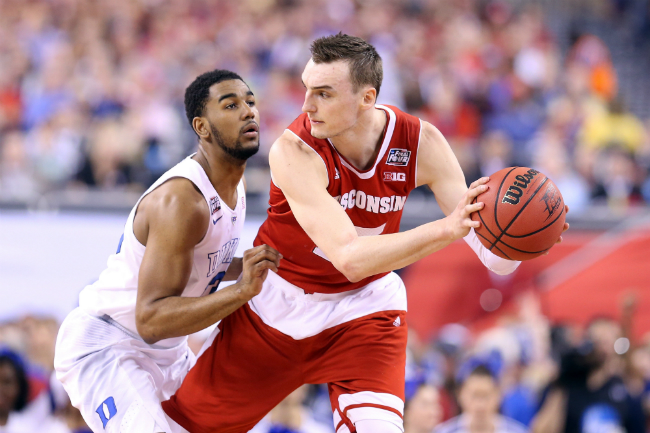 Another potential first rounder has declared for the NBA Draft. Wisconsin junior Sam Dekker announced his future plans on Friday, joining Duke's Jahlil Okafor and a host of Kentucky players (seven, to be exact) making their way to the NBA next season.
Dekker averaged 13.9 points and 5.5 rebounds last season and 19.2 points and 5.5 rebounds during the Badgers' run to the Championship game as the NCAA runner-up to Duke, including a 27-point outburst (on 8-of-11 shooting) in the Elite Eight win against Arizona.
DraftExpress current has the 6'9, 220-pound forward as the 15th overall selection in the 2015 NBA Draft, and ESPN's Jeff Goodman believes Dekker improved his draft stock throughout the tournament with his play.
"He was probably in the 20-25 range before the tournament, but now he'll likely be a lottery pick," one NBA executive told ESPN. "He made big shots throughout the tournament."
Dekker wrote a letter to Wisconsin fans, saying, "I've decided that it is in my best interest to enter the NBA Draft at this time. It is difficult to leave Madison and the only state I've called home, but I'm excited for the next chapter of my life."
The full text of the letter is below.