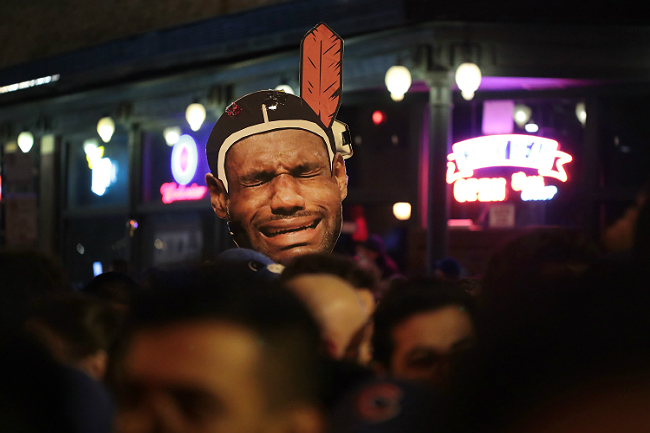 After winning a sports championship — which does not include your fantasy league, Kevin — there's nothing better than the photos. But when it's a team that hasn't won a title in 108 years, a number that seems so big that it can't be real, they are somehow even better.
Sure, much like when Joe Buck is calling a game, you'd prefer to let the images tell the story and have no words get in the way, but I'm paid for my words. So, with apologies, here are some fun Chicago Cubs photos and sad Cleveland Indians photos with my stupid words getting in the way.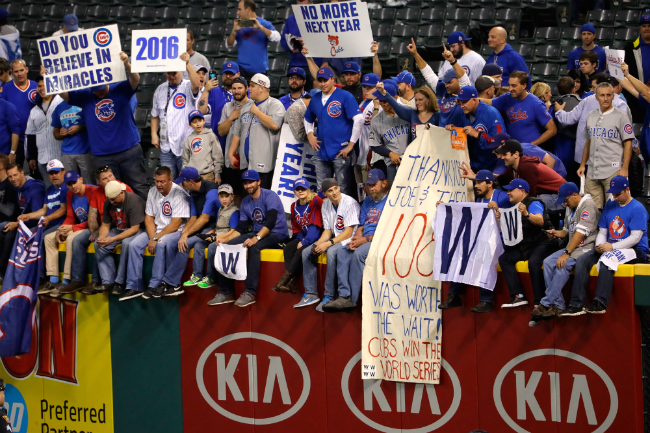 Personally, I don't think the road team should ever be allowed to win a championship Game 7. It's depressing to me. It's more fun when 60,000 people are losing their minds in the stadium. But the idea of paying to get into the enemy's building then sitting in their wall like you just conquered them in a battle is probably pretty fun. It's the closest you'll ever get to feeling like a soldier in 300.
This is just like after the Cubs won it all 108 years ago, when Jebediah and Missy took to the streets of Chicago and Instagrammed themselves outside of the stadium. It's hard to believe how little things have changed over the past century.
I prefer to think this guy is an X-Man and he bent the pole while he was climbing it.
Here's a pretty cool reaction of Cubs fans at the moment they realized Joe Maddon was taking out Kyle Hendricks in the fifth inning. It worked out, though.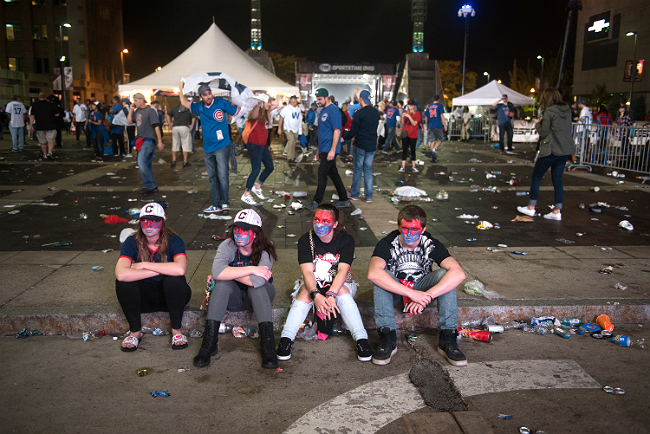 On the bright side, the Lake Erie Monsters won an AHL title and the Cleveland Cavaliers won an NBA title in the past five months. Although, if you don't care about minor-league hockey or the NBA, sorry.
This could easily be a celebration photo. He doesn't even look that sad. Maybe there's a blimp overhead about to drop money on him. Or maybe this is the moment the game went to the 10th inning and this guy had 500 bucks on the game going to extras at 6-to-1 odds. I choose to see joy in this man.
After a loss like this, fans of the winning team or neutral observers like to say to the losing fans, "Hey, you've got nothing to be down about it. Your team showed heart and guts and had a great season." I like to think this woman killed 11 people who thought that was a good thing to say to her in the aftermath of a crushing loss and this is her listening to her soon-to-be 12th victim tell her how she'll look back on this one day and feel good about it.
I'm sorta confused about this one. Is the game not over yet? Why is she on the concourse? The guy next to her looks like he's watching on TV. Did she experience the final out at the stadium but on TV? I like the bat as an exclamation point though.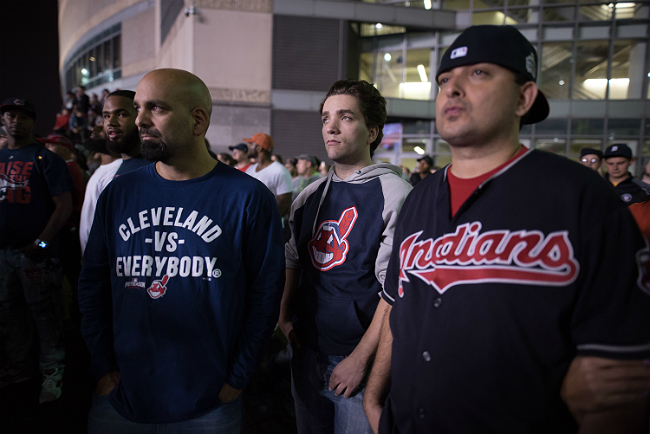 Guessing what each guy is thinking…
Guy on the right: Guess I have to kill Kris Bryant now.
Guy in the middle: That 18th beer was a bad idea.
Guy on the left: Guess I have to kill Kris Bryant now.