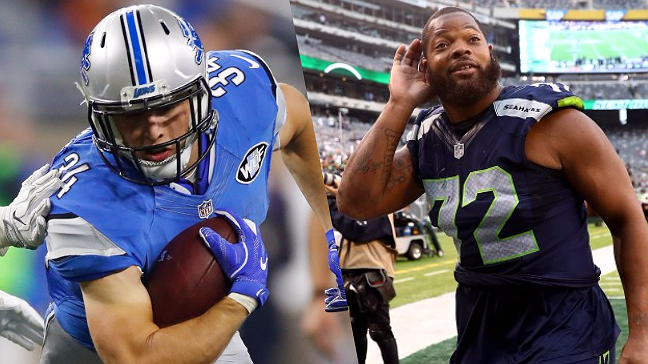 Zach Zenner is a white running back for the Detroit Lions. This might not seem like a big deal to you, but after Seahawks defensive lineman Michael Bennet made some comments about white running backs, it's now officially in danger of becoming A Thing.
The Lions play Seattle this Saturday in an NFC wild-card round game, and Bennett was asked about Zenner during a recent press conference. From the Detroit Free Press:
"I think the running back, man, he's — there's not many white running backs in the NFL but he has to be the best right now," Bennett said. "He's doing such a great job of cutbacks and hitting the hole. He's a really good back. I know all the stuff he did in college, three straight seasons of 2,000 yards. I don't care where you're at, if you can do that you have got amazing talent. And I think he's just an amazing running back, the things he can do with the ball. He got good balance, he can spin, he can catch it out of the backfield. I think he fits the offense perfectly."

Asked if he was surprised at Zenner's production, Bennett said, "That surprises me a lot because you don't see a lot of (white) running backs in the NFL, there's just a couple. But he's right now, he's really, really good. He does a lot of great things, I think. Even in the pass protection game, he steps up and he does a great job of protection. I'm not surprised that he's the starter right now because of all the great things that he's doing."
Zenner was a dominant back at South Dakota State, and it's likely he's lower on the NFL depth chart because he went to an FCS school, not because he's white.
Of course, someone had to ask Zenner about Bennett's comments, and he was fine with them.
"That does not bother me, no," Zenner said.

Zenner said he doesn't believe he had to overcome any preconceived notions about white running backs to make it in the NFL.

"I mean, I'm here, I had the same opportunity as everyone else so I would say none," he said.
So there you have it. Everyone agrees that Zenner is white and good at running the football. I look forward to when Zenner signs with the New England Patriots so scores of Boston fans can crush him with things like, "Zennah is good but he'll nevah replace our Woodhead!"