Nike has Kaepernick and now Adidas has… Dragon Ball Z? Adidas Originals just announced the long-rumored collection of Dragon Ball Z inspired designs and the first set is to be released sometime later this month. The idea sounds bizarre, but the shoes look, well… like you'd expect modern Adidas to look. Which is a good thing.
The sneakers will represent three iconic battles from the long-running anime series, with one pair dedicated to the hero and one to the villain of each battle. The final pair in the series represents Shenron — the legendary wish-granting dragon that is summoned when all seven (See what they did there? Seven balls; seven shoes) balls are collected. To be honest, it's kind of hard to remember that Dragon Ball Z even had a wish-fulfillment angle and wasn't just about very buff, very constipated alien men flexing until their hair changed color.
The first set to arrive represent the hero of the anime, Goku, and the first foe Goku went full Super Saiyan against, Frieza. If you remember the anime at all, this took way too many episodes for a child to be patient with. How was I supposed to explain to my family what I was watching?! "Yes, Grandma, that buff man is Goku, he's been screaming for about eight episodes in the same hunched over position and now his hair is changing color."

The "Son Goku" pair use the Adidas ZM 500 RM silhouette and come in the titular character's iconic orange, red, and blue colorway. An embroidered nimbus cloud and blue accents pull this design together atop a Boost midsole. It looks like Goku in shoe form! We would've preferred they didn't add the tattered edges to the tongue and three-stripes but we guess it wouldn't be Goku if it weren't a little beat up.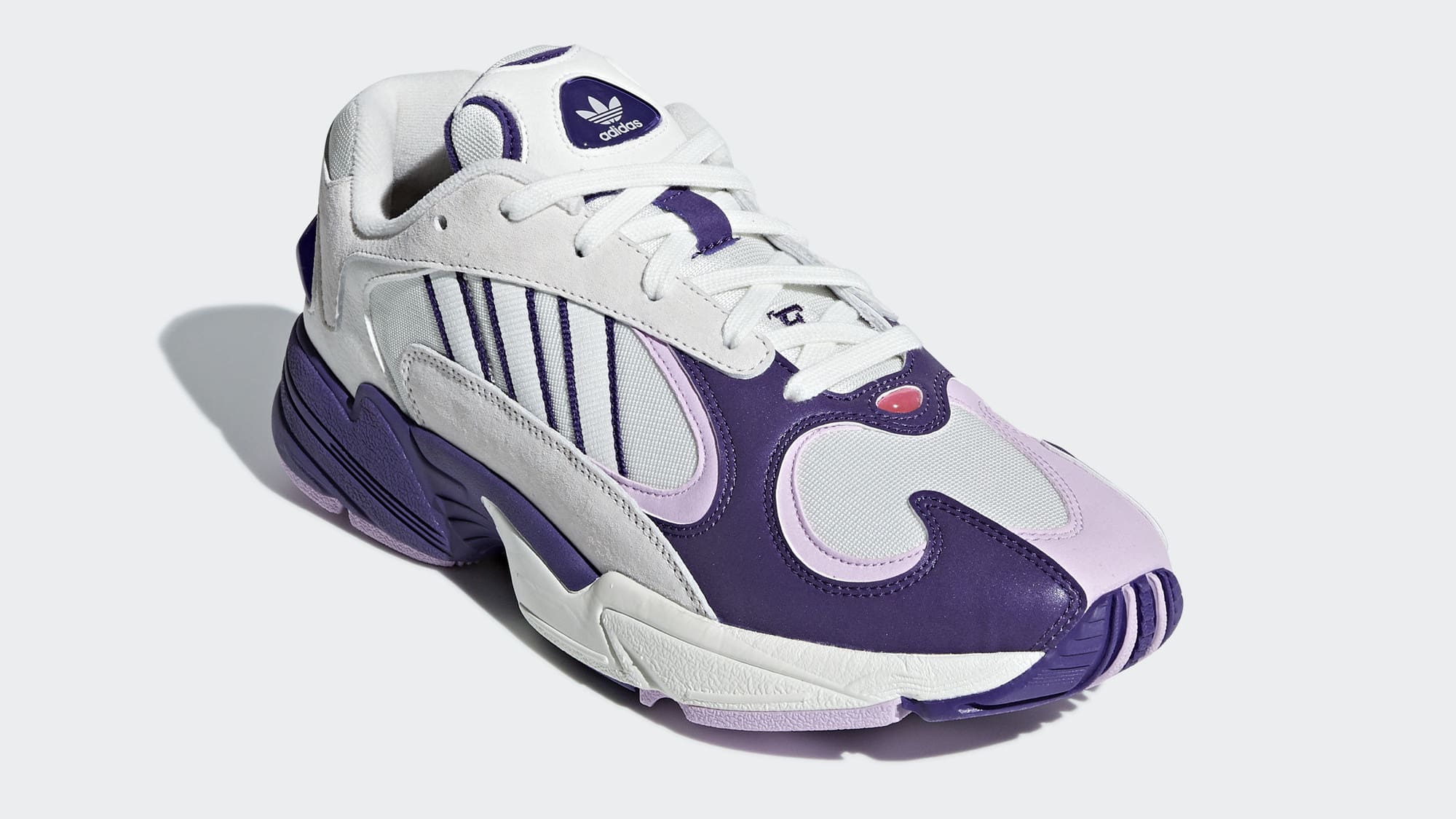 The Frieza style makes use of the Yung-1 silhouette with a white, purple, and lavender colorway meant to represent Frieza's alien skin. The shoe features a shifting asymmetrical design perhaps mimicking the many forms of Frieza. Or maybe I'm just a huge. Fucking. Nerd.
This shoe looks straight up Grandma, which seems to be in right now, though we can't figure out why.
The remaining five pairs have yet to be officially shown off by Adidas but some have gotten their hands on a few pairs.
The Majin Buu's are a take on the Kamanda silhouette in a light pink colorway, reminiscent of the alien's skin. Like the Son Goku and the Frieza, the Majin Buu design doesn't look too out of the ordinary, with its only major adornment being the stylized yellow 'M' emblem on the heel. The outer is a mix of pink suede and mesh and the tread pattern outsole looks appropriately alien.

The Cell is a take on the Prophere design — a mesh mix of deep purple, black, and green with an inner sole adorned with dragon balls and symbols from the anime. Although there are no images of the remaining styles: Gohan, Vegeta, and Shenron, Sneaker News reports that they'll be using the silhouettes Deerupt, Oregon Ultra Tech, and EQT ADV Mid, respectively. If you want to get extra dorky, head over to the Adidas website and start customizing your own pair to help imagine what those might look like.
I definitely did not do that. I swear.
We have to hand it to Adidas, they took a totally bizarre idea and seem to be executing it with subtlety. It wouldn't be a surprise if the shoes prove popular with people outside of the intended fan base. It makes the rumored Game of Thrones collection sound less like a dumb rumor, and more like a dumb inevitability. This is an interesting attempt at highlighting some of Adidas less iconic, more modern silhouettes.
The Adidas Dragon Ball Collection will retail at $150 each, a firm release date has yet to be announced.