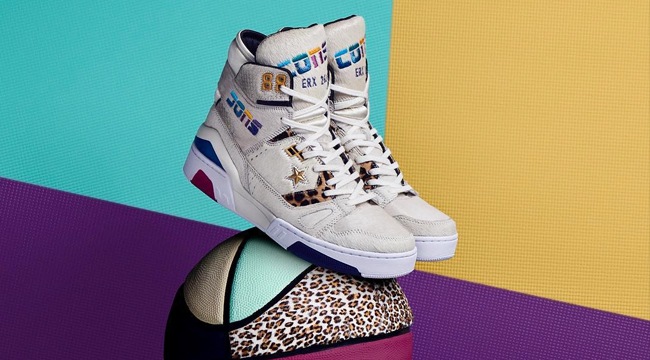 The day of the retro sneaker is well upon us, and, honestly, it's just shameful that we didn't appreciate many of these sneaks more when they first came out. Luckily, we're getting a second chance with scores of re-released Jordans, Vans, and the like. Today, Converse and JustDon re-released a version of the Converse ERX-260, originally worn by Magic Johnson during the late '80s. The show will be offered in multiple colorways including black leather, red leather, and white leather, but the one we're most hyped about is the premium rendition designed by Don C of G.O.O.D. Music/Kanye fight at the airport fame. While that event may have been unfortunate, we're glad it shifted him to fashion, because we're getting some pretty dope creations from his brand.
These specific JustDon Converse ERX-260s feature pony hair, snakeskin, and leopard print uppers, a multicolor Converse ERX-260 logo on the tongue, and a multicolor JustDon "DONS" logo on the side in lieu of the "CONS" logo that we'd normally see. Cleverly, the ankle collar features subtle "88" eyelets – the year that the shoe originally made its debut.
Additionally, JustDon X Converse have released apparel to match the ERX-260s — including heavy cotton French terry shorts with "Don C" across the front with leopard print accents and gold zippers, as well as nylon track pants with zippers down the full length of the pants, graphic tees, a hoodie, hats, and a gym bag. Don C is clearly channeling the late '80s super hard with the vivid blues, golds, pinks, and yellows, again reminding us that fashion is moving away from the monochromatic and into the vibrant. Let the color-lovers say, "Amen."
The shoes are already available on the JustDon Web site, but at $150 those kicks aren't going to last long — there are already only two sizes left. They'll debut globally November 20, but you might want to set an alert because people are hyped. The rest of the collection will be available on November 24.