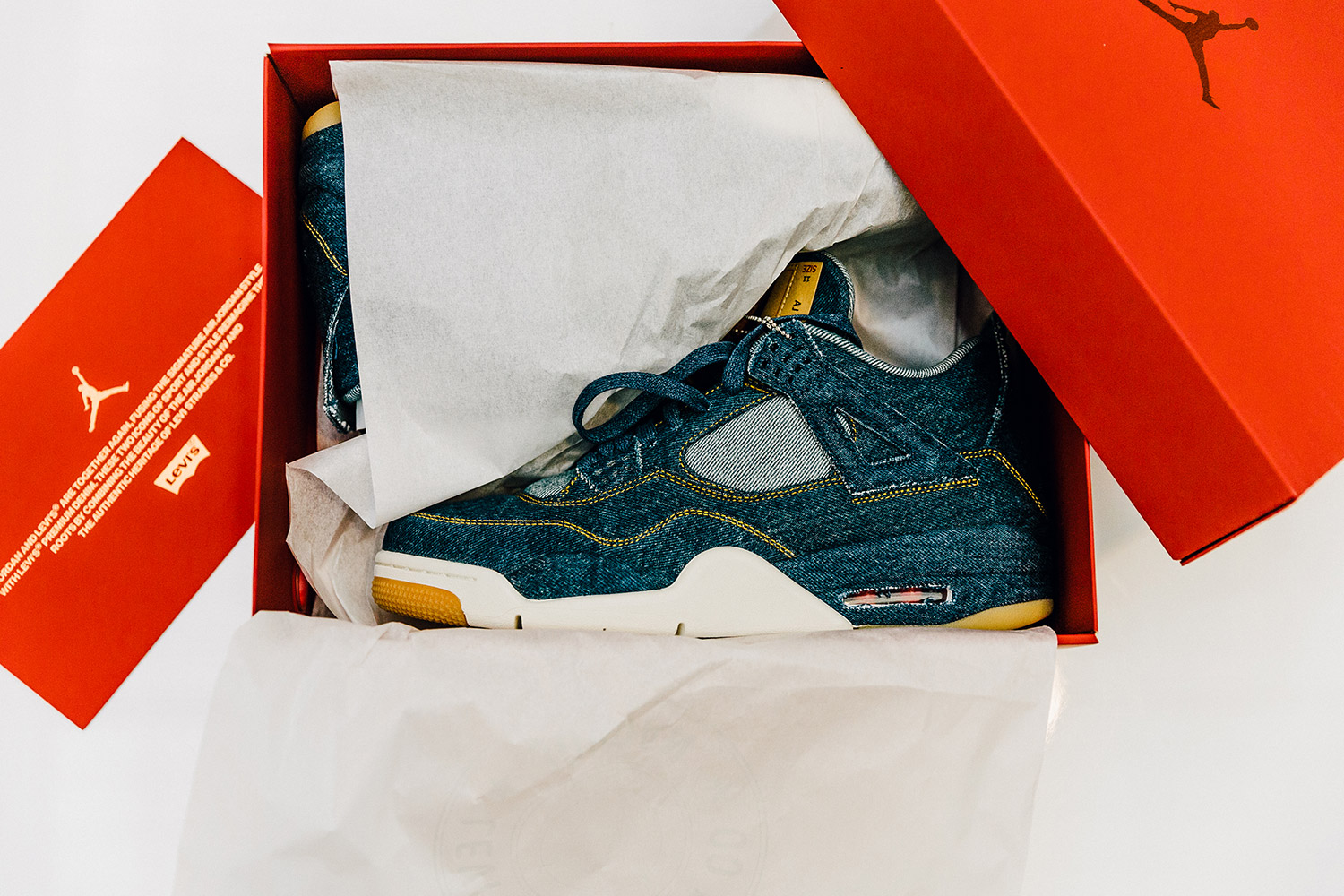 When it comes to street fashion, there are some undeniable classics. Styles that endure through generations. Reminiscing about the days of yore — when wearing more than one polo shirt at once was the wave, Champion shirts came five in a pack, and your belly buckle spelled out your name — Levi's Jeans and Air Jordans are bringing back all denim everything.
The Levi's x Air Jordan IV collab features a pair of 4's that are completely covered in denim — with a standard wash on the upper and reverse denim on the liner and insole. The stitching is gold, to provide a bit of an accent, and the legendary Levi's "Two Horse" paper patch is ever-present. Indigo laces and a gum outsole top it off, reminding you this shoe is for stunting, not playing.
The collab also has a reversible jacket. Side one has the red Jordan "flight" suit material has been stitched into the underarm panels, and the back has a distressed flight logo. Side two is a black flight suit with a denim on the collar and Jumpman (the outline of Jordan dunking) flight logo on back.
The Jordans and jacket cost $225 altogether which is shockingly reasonable, and the release date is January 17. Even though they're affordable, they're not ubiquitous. The duo is only available at the following stores:
BOTTEGA BACK DOOR- Bologna
CONCEPTS- Boston and New York City
DOE- Shanghai
END CLOTHING- Newcastle
INVINCIBLE- Taiwan
JORDAN BASTILLE- Paris
KICKZ- Berlin
KINETICS (TOKYO 23)- Shibuya-ku, Tokyo
LEVI'S STORE HARAJUKU- Tokyo
LEVI'S- San Francisco (Market St.) and New York City Soho
LEVI'S BERLIN KURFUERSTENDAMM- Berlin
LEVI'S LONDON REGENT STREET 174- London
LEVI'S OSAKA FLAGSHIP- Osaka
LEVI'S PARIS CHAMPS ELYSEES- Paris
LEVI'S SH Nanjing WEST RD- Shanghai
LIVESTOCK- Toronto
OPIUM- Paris
OQUIM- Amsterdam
SHINZO- Paris
SHOE GALLERY- Miami
SI VAS DESCALZO- Barcelona
SNEAKRS N STUFF- London
SOLE FLY- Miami
SPORTS LAB- Osaka
SPORTS LAB- Shinjuku, Tokyo
UBIQ- Philadelphia
UNDEFEATED- Los Angeles