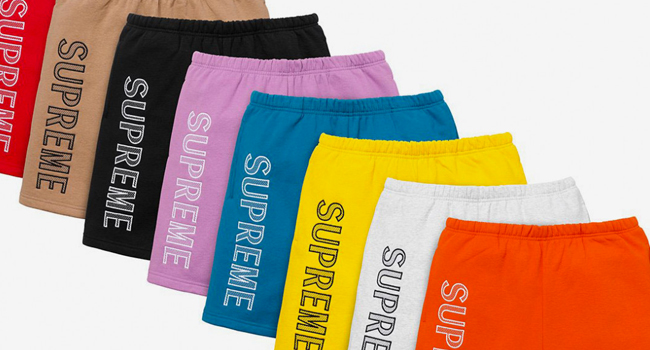 Happy Thursday! Every day is a blessing but Thursdays are especially sacred because 1) it's Friday, Jr. and 2) it's Supreme Drop Day (unless you're in Japan, then it's Saturday). Every week there are rumors about what will drop, and many of them never pan out. It's not until Supreme updates their site that we find out the real deal, and get to try our luck at snagging them before the mad rush to get the exclusive merch.
Lately, Supreme has been doing a ton of dope collaborations for each week's drop — the dopest of the latest being The North Face, LACOSTE and Hellraiser lines. This week's collaboration is with Puerto Rican graffiti artist and actor Lee Quiñones. Quiñones got his start in movies in the 1982 hip-hop film, Wild Style, portraying the character Zoro, and having his art prominently displayed throughout the whole movie. He is one of the artists who, like Keith Haring and Jean-Michel Basquiat, earned his claim to fame with the subway art movement in New York City during the growing era of hip-hop in the late '70s and early '80s, making art that reflected socio-political issues people of color were facing at the time.
Now, the actor and artist is bringing his talents to the fashion world with today's Supreme drop, sure to be one of the coolest artist collabs of the year.
Lion's Den Denim Trucker Jacket Multi
An homage to one of Quiñones's famous murals, "The Lion's Den," the trucker jacket is made of all cotton with a printed pattern and button front closure, featuring lower hand pockets on both sides and chest pockets with button closures. The jacket also has shorts and a shirt that can be purchased separately with the same design.

The Yard Hooded Work Jacket Multi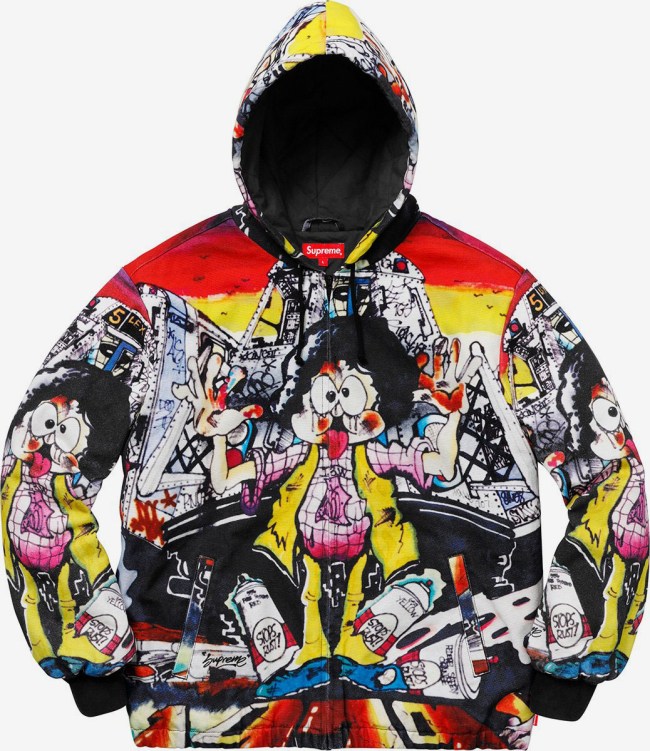 Another homage to Quiñones's work, "In the Yard of Doomsday," this all-cotton canvas hoodie has a quilted cotton lining and full zip closure. Hand pockets are at the lower front and there is a hidden, interior chest pocket. The jacket also has pants that can be purchased separately with the same design.
Lee Hooded Sweatshirt;
The cotton fleece hoodie has a pouch pocket and features original graphics by Quiñones on the chest and back. Color iterations are black, coral, white, dark aqua, heather gray, lemon, and light brown.
Work Short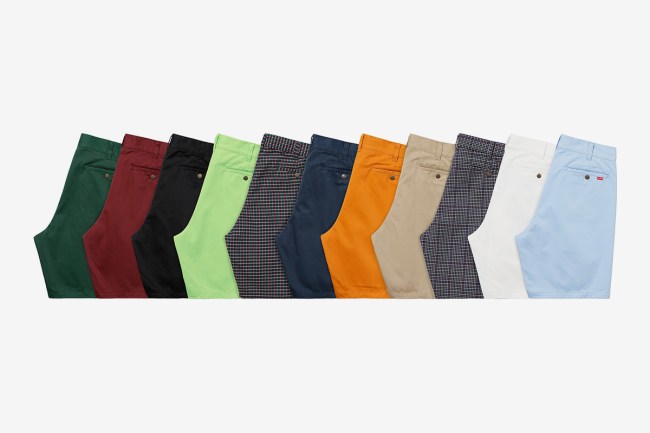 While this isn't part of the Quiñones drop, it's still super fresh. It's "skies out, thighs out" season, and these heavy cotton twill work shorts with front slash pockets and a single coin pocket with a snap closure are the back will keep you looking cool and classy for the summer months. Color options are gray plaid, dark green, black, khaki, light navy, light blue, light burgundy, light green, mustard, purple plaid, and white.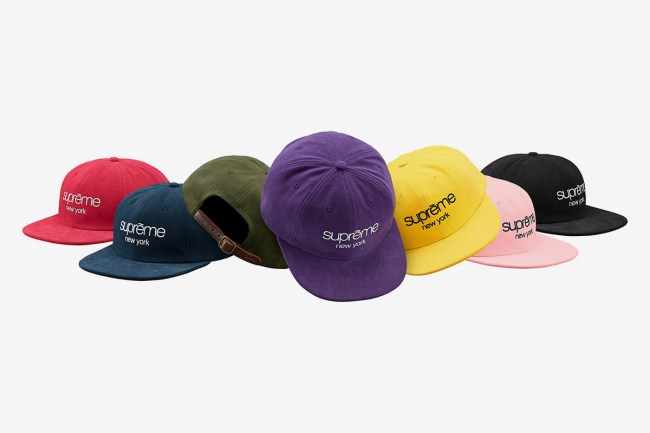 Supreme is offering a cool take on their usual hats with these all-cotton six-panel hats with the classic Supreme logo (not the box logo) embroidered on the front and custom embossed leather strap closure. Color options come in purple, pink, navy, olive, black, red, and yellow.