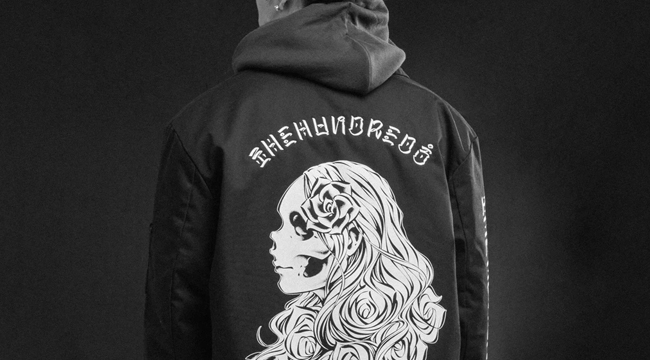 The world's first social merchandising company, The Hundreds, knows what they're doing when it comes to properly portraying groundbreaking street culture and art through clothing. While fans of the brand are used to getting a taste of California punk, skater, hip hop, and surfer culture, The Hundreds is back with a special collection inspired and led by Japanese self-taught artist Usugrow.
Usugrow's art is similar to the theme that The Hundreds usually sticks to, except that it also layers in Japanese popular culture with punk, skater, hardcore, and street references. This will be the second time to the two have paired up for a collection, and will feature outerwear with Usugrow's signature Japanese calligraphy, intricately designed female skulls will long, flowing hair and Japanese flowers. In line with the Californian roots of the parent brand, some of the merchandise features "LA" written on the front in Japanese calligraphy.

The outerwear collection includes Champion hoodies, T-shirts, wool beanies, sticker sets, and cotton twill shop jackets. All of the items are available for sale online on The Hundreds website and at select retailers. Usugrow, himself, will host an in-store artist signing at The Hundreds Los Angeles on February 24, from 3-5pm, where an extremely limited set of prints will be available.