We're at the point with SNX DLX now that we can ditch the intro right? You know that this is the place to go for the best drops of the week? Great, moving on.
Welcome to the first official week of fall. It's time to start seriously looking into copping a jacket or sweater. Longsleeves are everywhere — a joyous occasion for anyone who loves to wear layers. This week, we've collected the cream of the crop to help you start the new season out strong.
On the kick's end, we've got some first-time brands to SNX like Lacoste, Helly Hansen, and a debut effort that takes things back into the 70s from famed Chicago barber Ibn Jasper, who once toured with Kanye West.
It's a packed week, so let's get into it.
Lacoste Court Slam
Lacoste is a brand you probably thought you'd never see in SNX. Well, prepare yourself, because we're going to talk about them twice this week.
Why have they gotten no love? Not because the crocodile-sporting brand isn't fashionable, it is. The problem is that tennis, the sport the brand is most connected to, has fallen out of favor with the American public since the early 90s. Well all that's changing, now.
Aside from BAPE's recent collaboration with Wilson and the resurgence of tennis skirts in women's fashion, sneaker brands have been mining the chunky performance-driven silhouettes of late 80s/early 90s era tennis shoes for the past year and we're all for it. Anything that'll save us from having to embrace the return of Nike Shox for just a little bit longer.
As part of Lacoste's latest Fall/Winter 2019 collection, the heritage brand has released the Lacoste Court Slam. The Court Slam takes design cues from the Lacoste Tennis 91 sneaker but updates it with a chunkier body and molded sole. Featuring an all-leather upper, synthetic lining, and tonal suede accents layered over the white leather, the Court Slam plants Lacoste's flag firmly in the world of modern streetwear. Think less country club tennis court, more chain-linked fence city street court.
The Lacoste Court Slam sneakers are available now for a retail price of $150. Pick up a pair at Lacoste's online store.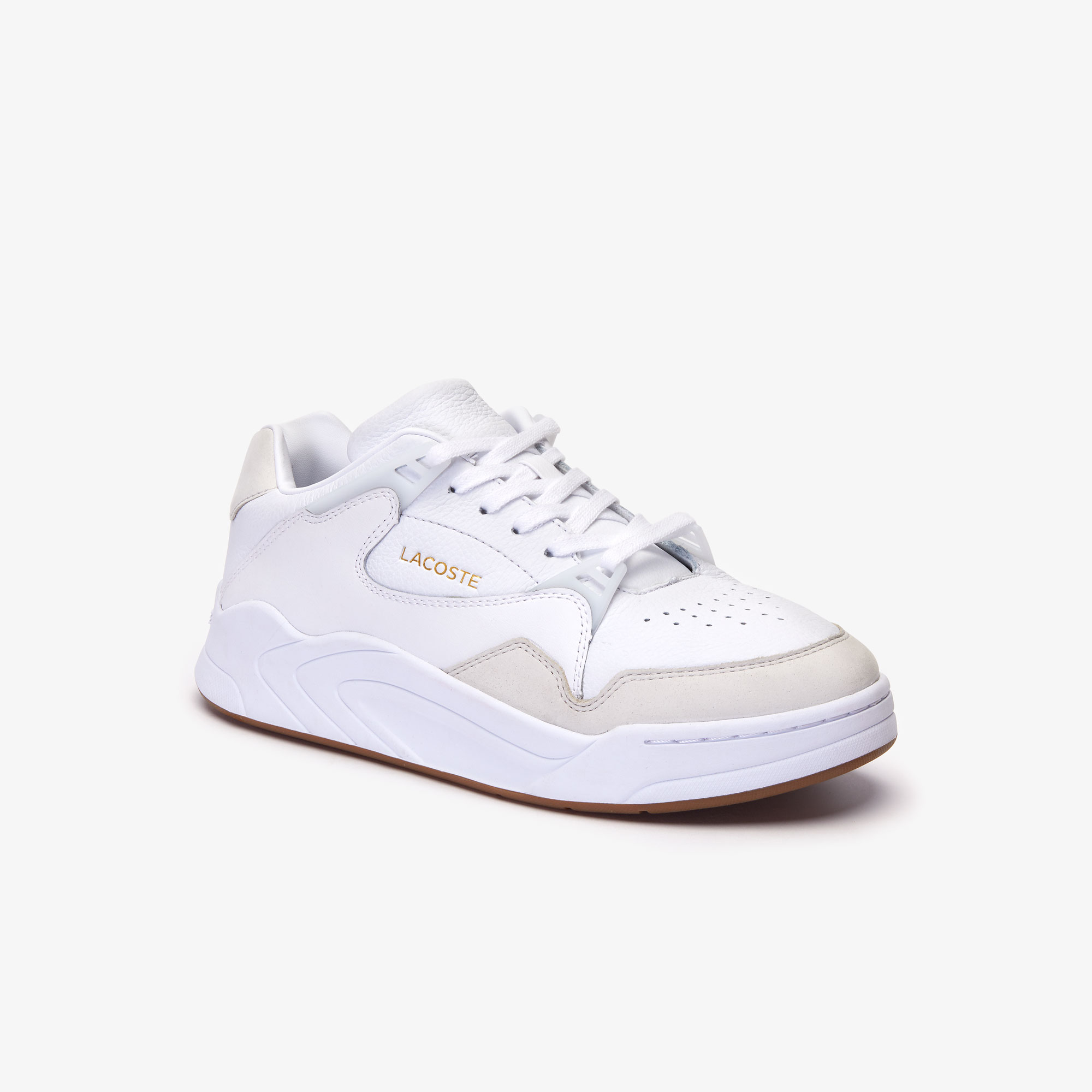 Helly Hansen PUMA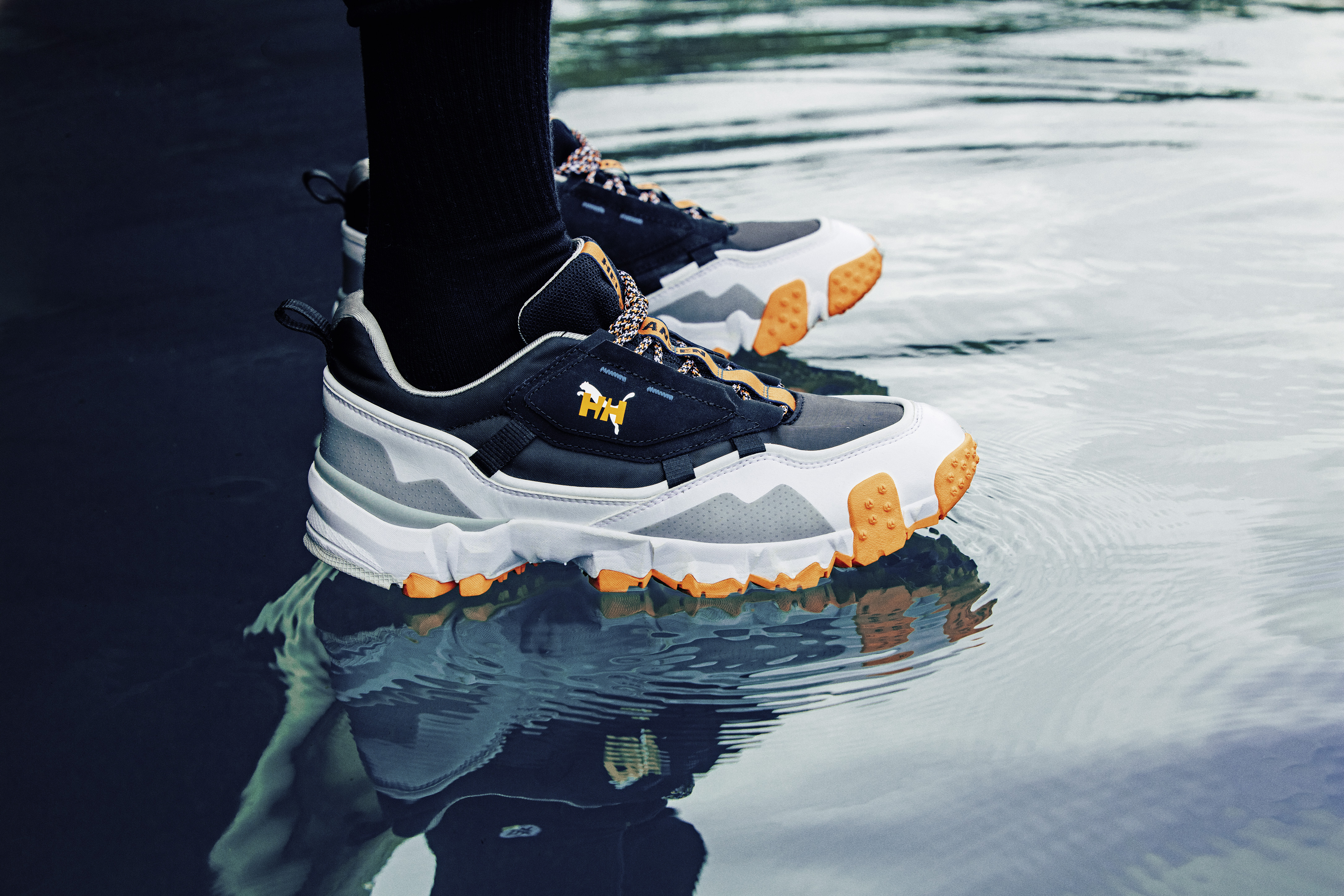 If you're in the market for an outdoor-ready sneaker that'll keep your feet light on the trail, this collaboration between Puma and performance-driven outerwear brand Helly Hansen will deliver everything you need, while still looking fresh and modern. Dressed in a nylon and suede upper in classic PUMA black, the collaborative sneaker has autumn appropriate orange accents, with bungee cord lace construction and subtle dual branding across the sneakers outer side.
The Helly Hansen PUMA collaboration is set to drop on September 26th for an unannounced price. Pick up a pair at the PUMA online store, Helly Hansen, or select PUMA retailers.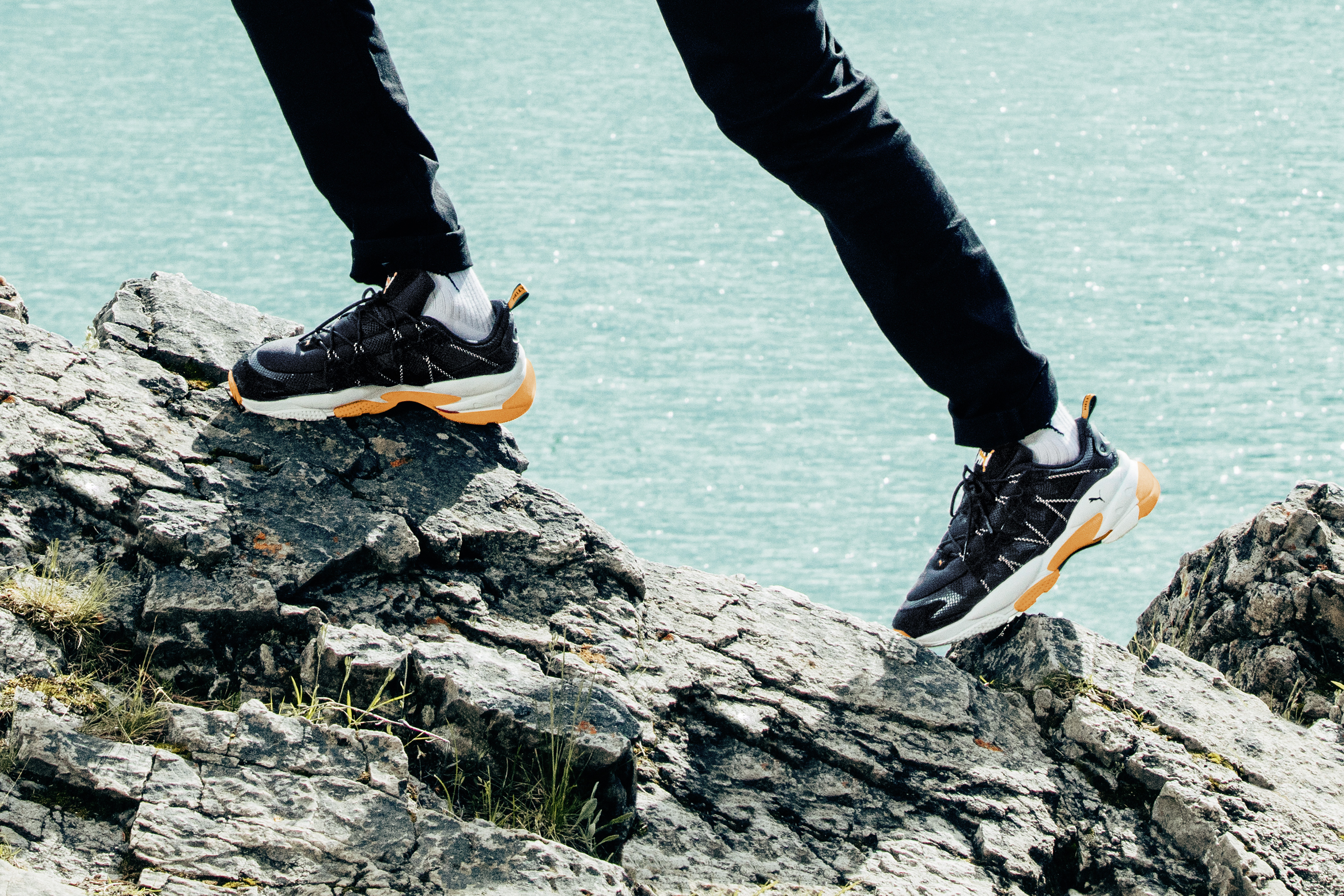 Converse x Ibn Jasper Floating Stripe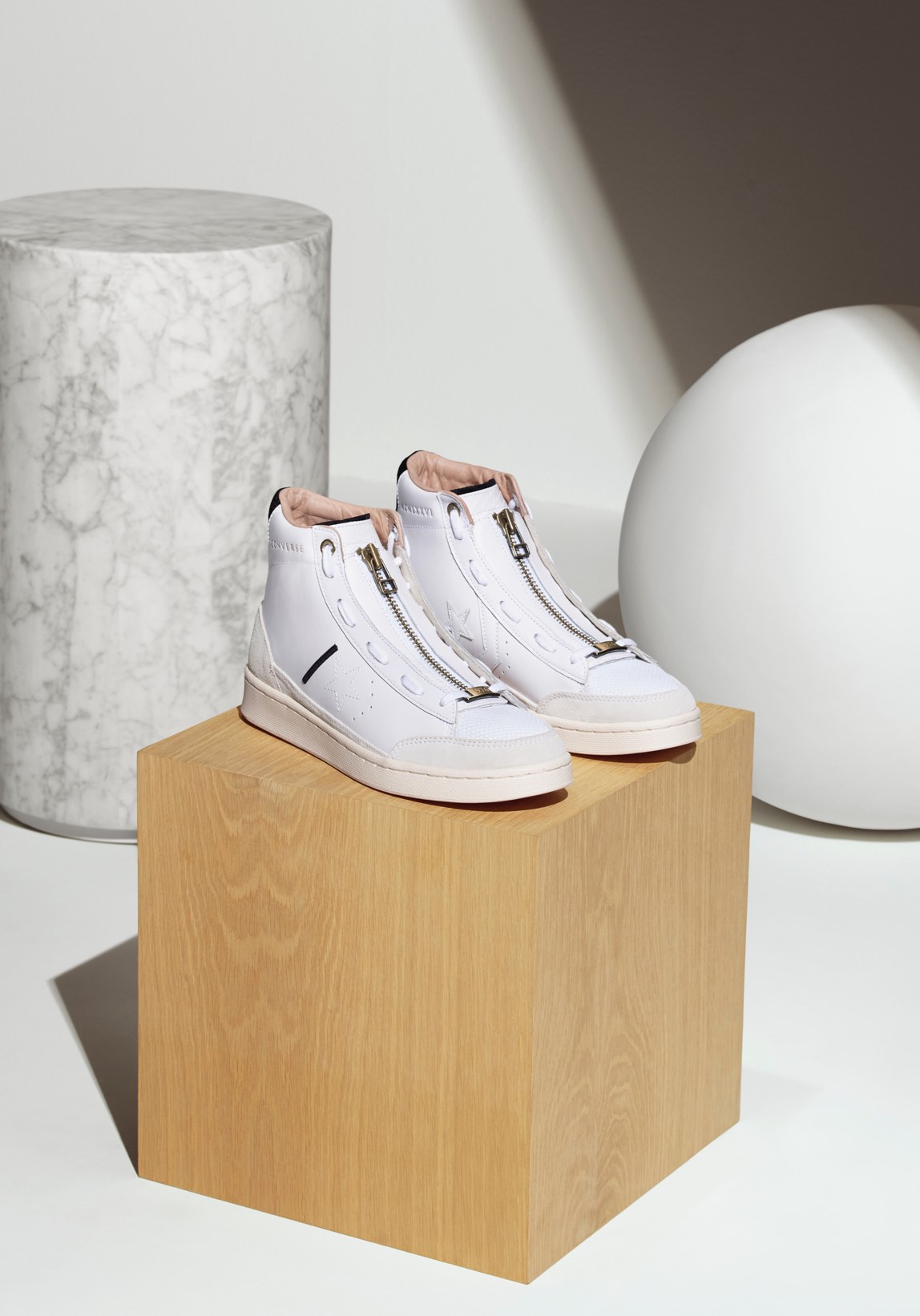 Famed barber Ibn Jasper takes us back to the 1970s with this zipped-up take on the legendary Pro Leather silhouette — a favorite amongst ballplayers in the Disco-era. The Floating Stripe features a pristine white all-leather upper, with grey suede overlays, a brass zipper guard, and a crushed velvet patch. In honor of the original Pro Leather silhouette, the Roman numerals for 1984 are embossed in gold on the shoe collar, the same year the original design was discontinued.
If you think that design from the 1970s is out of step in the modern world, open your eyes, flared jeans are back and style is — as ever — in flux!
The Ibn Jasper Floating Stripe Converse is set to drop on September 26th for a retail price of $120. Pick up a pair at the Converse online store or through select Converse retailers.
Air Jordan XXXIV Blue Void
For the latest court-ready effort from Jordan Brand, the Blue Voids break down the silhouette's design to the bare essentials to deliver the brand's lightest Air Jordan to date. The shoes upper is given the futuristic treatment with a translucent "Eclipse" plate in place of more traditional material, over a bright splash of seafoam material that pairs well with the muted effect of the upper.
The Blue Void sits atop a custom Zoom Air sole with a special traction pattern for stable court play. Wear them on the court, or just wear them. All that basketball tech is cool and all, but we're into these shoes for their future-leaning design, not their cutting edge tech. Either way, the Blue Voids make for a dope sneaker that won't look out of place amongst the muted colors of the coming season, despite all of its next-level flash.
The Air Jordan XXXIV Blue Voids are set to drop on September 25th and will retail for $180. Pick up a pair at the Nike online store or select Jordan Brand retailers.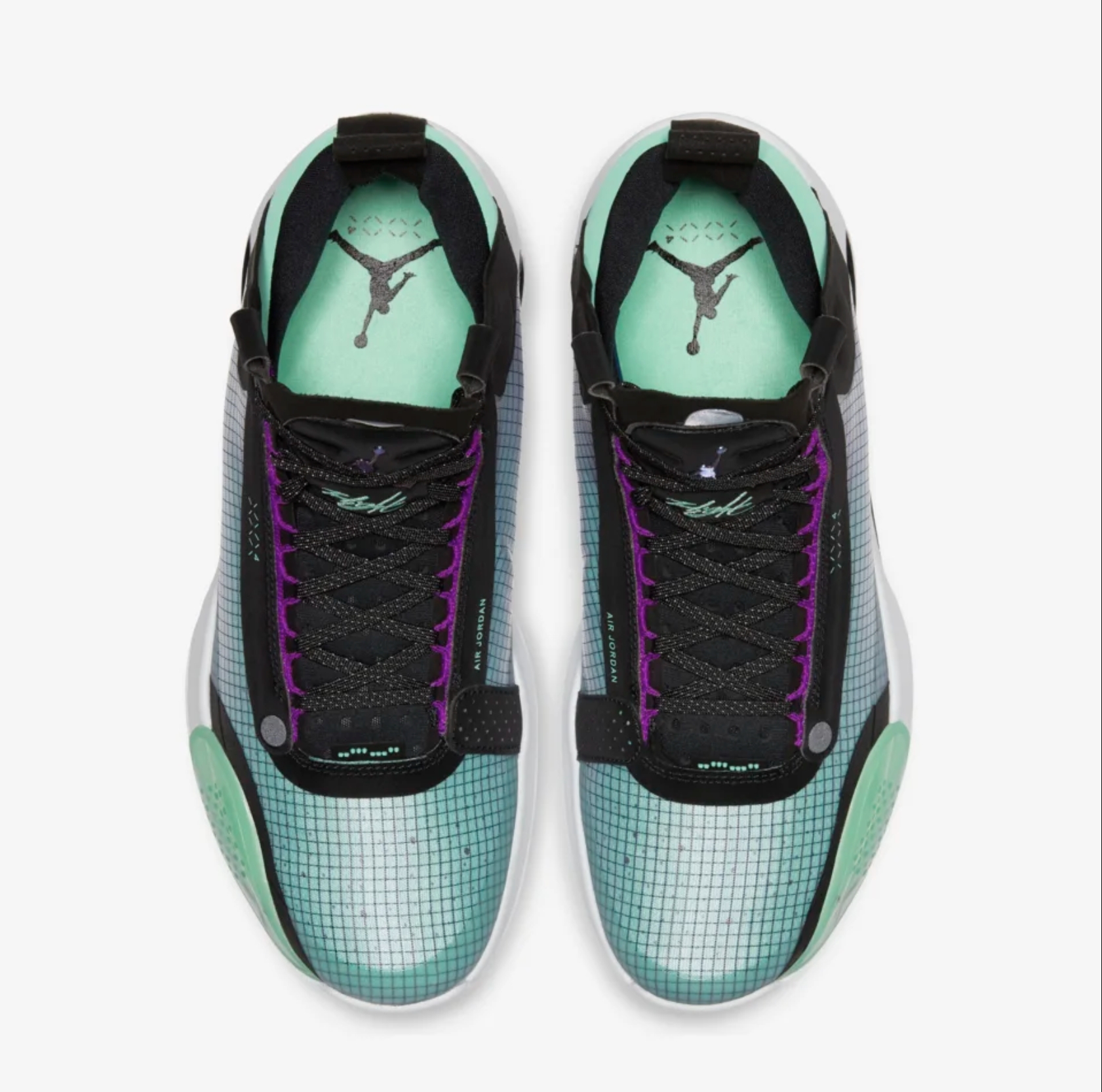 YEEZY Boost 700 V2 Hospital Blue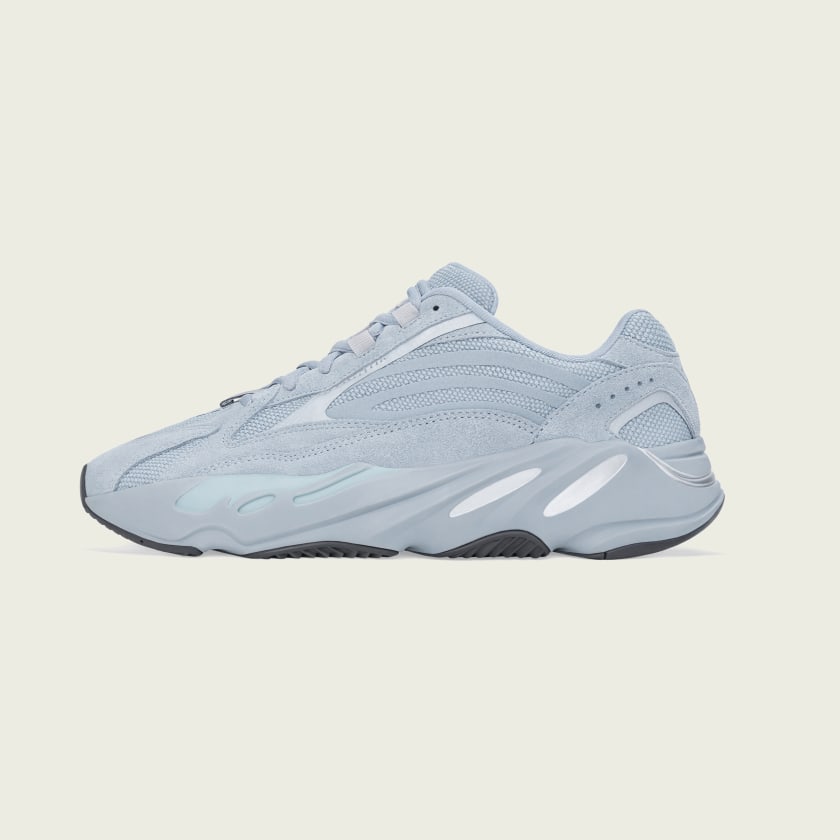 The YEEZY Boost 700s are about to drop and it looks like Ye is finally ditching the puke-toned Earth tones in favor of something with a bit more color. While the Hospital Blue sounds depressing — we think of unflattering fluorescent lighting and sterility — the 700 is anything but that. Instead what we have is a sneaker that uses the familiar monochromatic approach we've come to expect from YEEZY brand, but does something different by moving into a cooler part of the color spectrum.
Featuring a Primeknit upper with suede overlays, the 700s also sports reflective 3M accents and sits atop an off-black outsole, providing a splash of contrast to the sneaker. We would've been hyped an all-blue version, but the contrast is a nice touch for those unwilling to commit to a fully monochromatic shoe.
The YEEZY Boost 700 V2 in Hospital Blue are set to drop on September 28th and will retail for $300. Pick up a pair at the Adidas online store or through YEEZY Supply.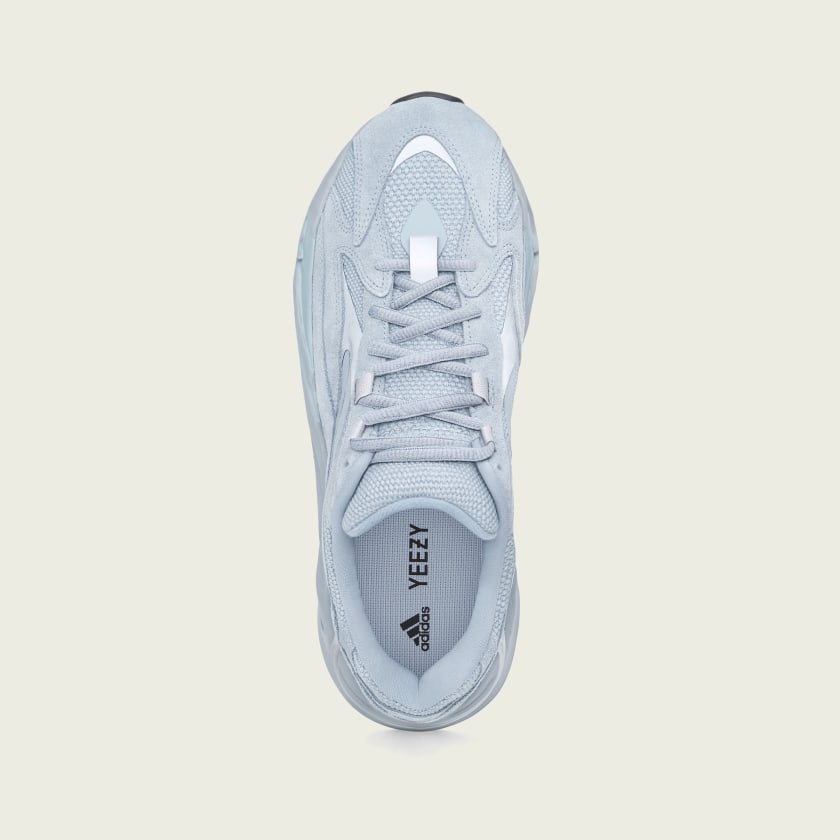 Palace's Autum 2019 Collection
Palace, everyone's favorite brand that isn't Supreme, has just dropped their latest Fall 2019 and Winter 2019 ready collections — featuring hoodies, windbreakers, and bomber jackets. If you're looking for a jacket, now is the time to buy. Palace drops move fast, so while you're too late to grab the sleek black Obsission Bomber, the silver is still available as well as the racer-inspired Revealer Shell track jacket and the Obsission hoodie in both black and white.
All three jackets range between $150 and $200, but be sure to be decisive — these pieces are flying off the digital shelves. Be sure to check out Palace's online store for a more in-depth look at each jacket.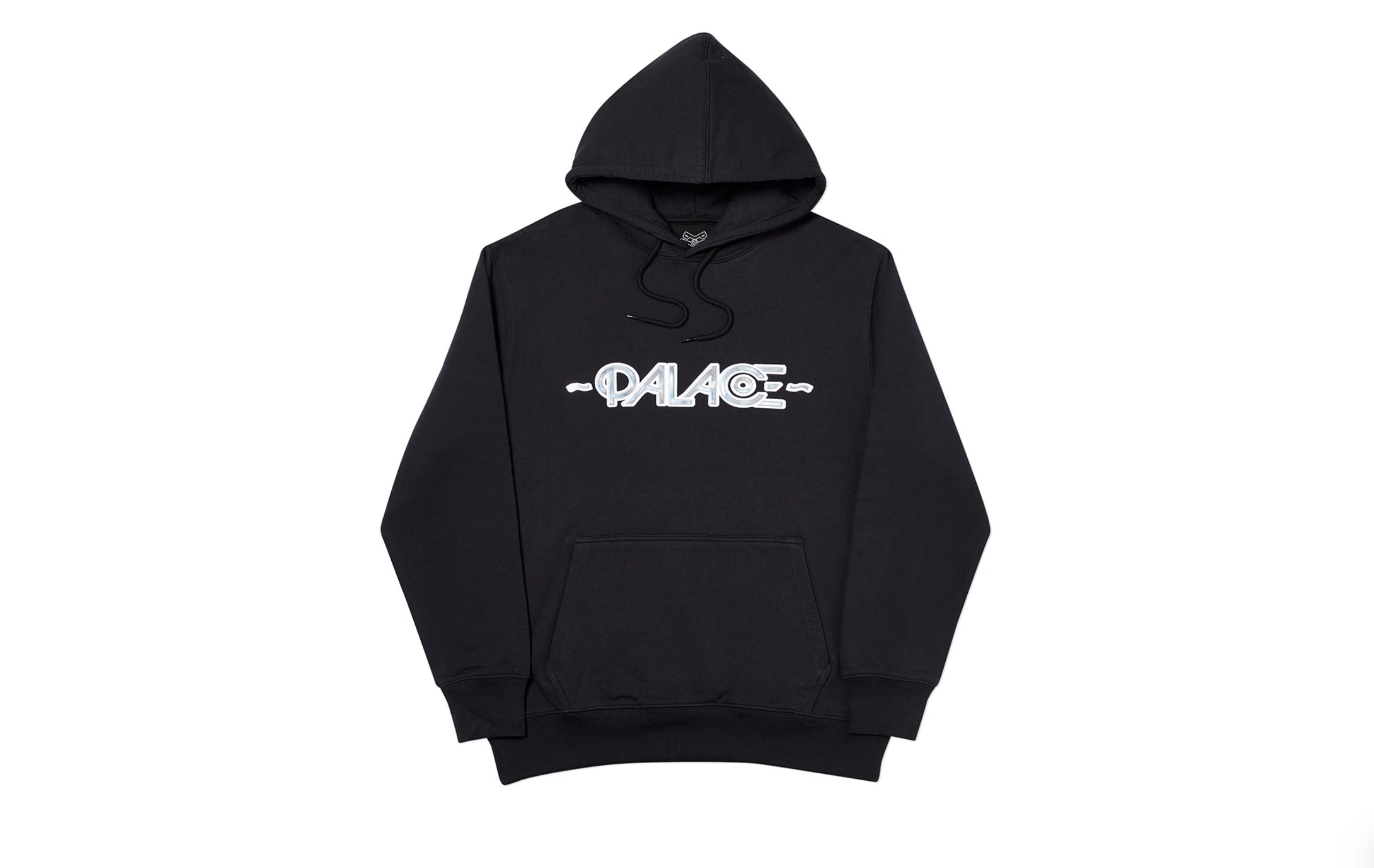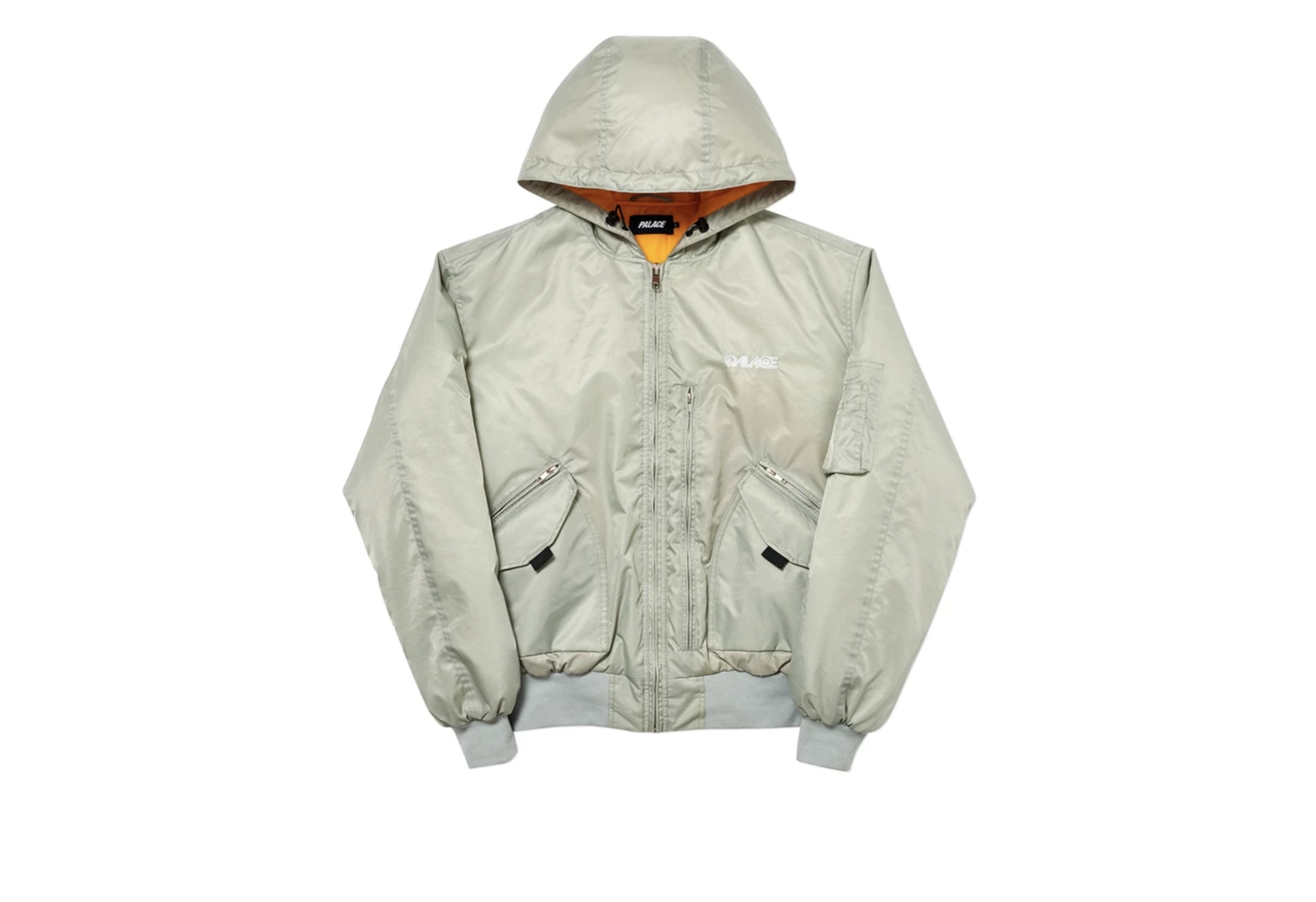 Palm Angels x Billionaire Boys Club ICECREAM Rhinestones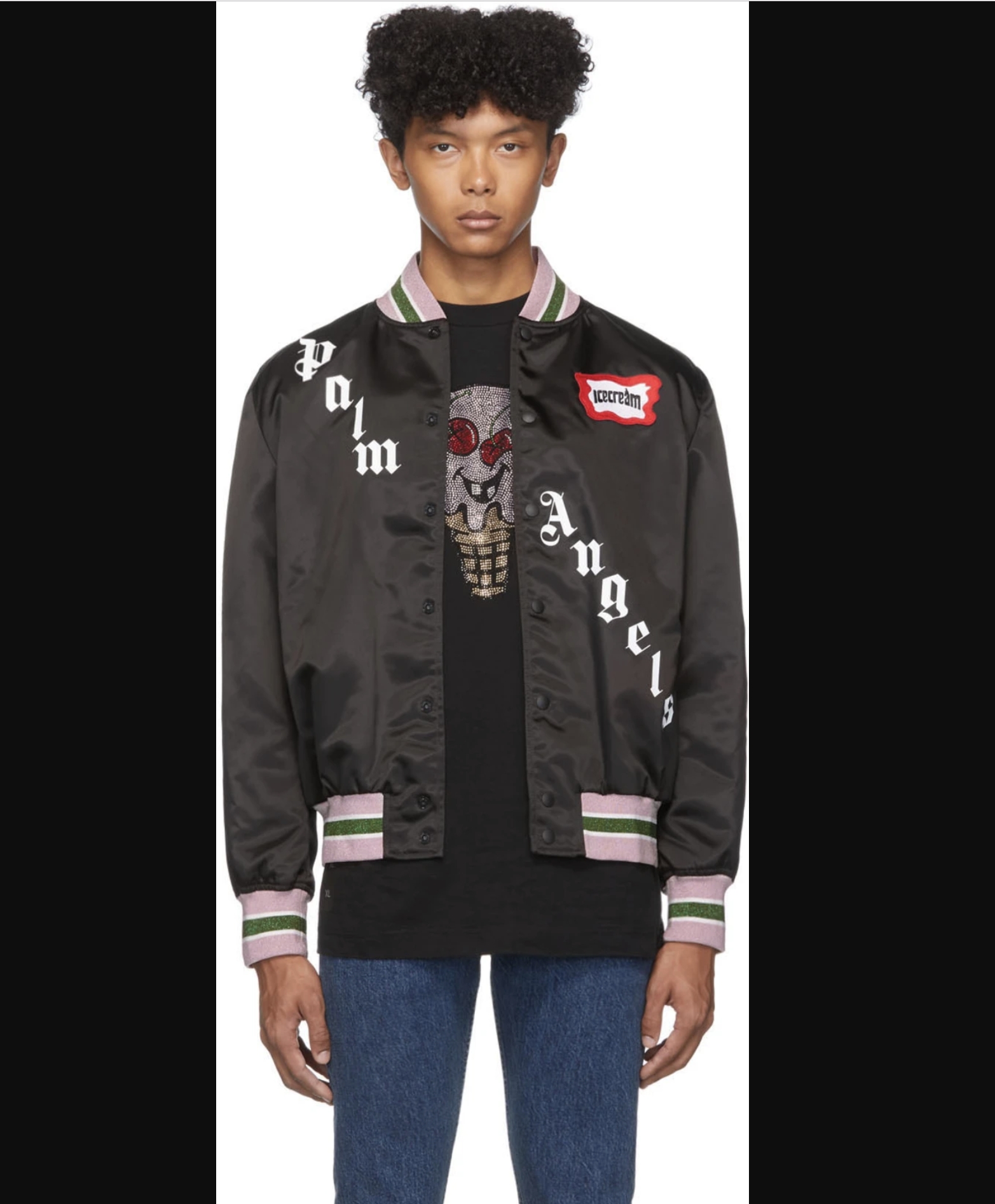 Palm Angels, Francesco Ragazzi's skatewear label out of Los Angeles, has teamed up with Pharrell's Billionaire Boys Club for a small drop through SSENSE featuring a cartoony ICECREAM skull graphic printed across a cotton tee and grey hoodie. Consider this on the high end of the streetwear spectrum though, with the shirt costing $250, the hoodie going for $550, and the Varsity Jacket dropping for $1,895.
Why didn't I mention the varsity jacket earlier? Because it's f*cking $1,895 and I'm not insane.
The Palm Angels Billionaire Boys Club collaboration is available now on SSSENSE, check out the full collection at the online store.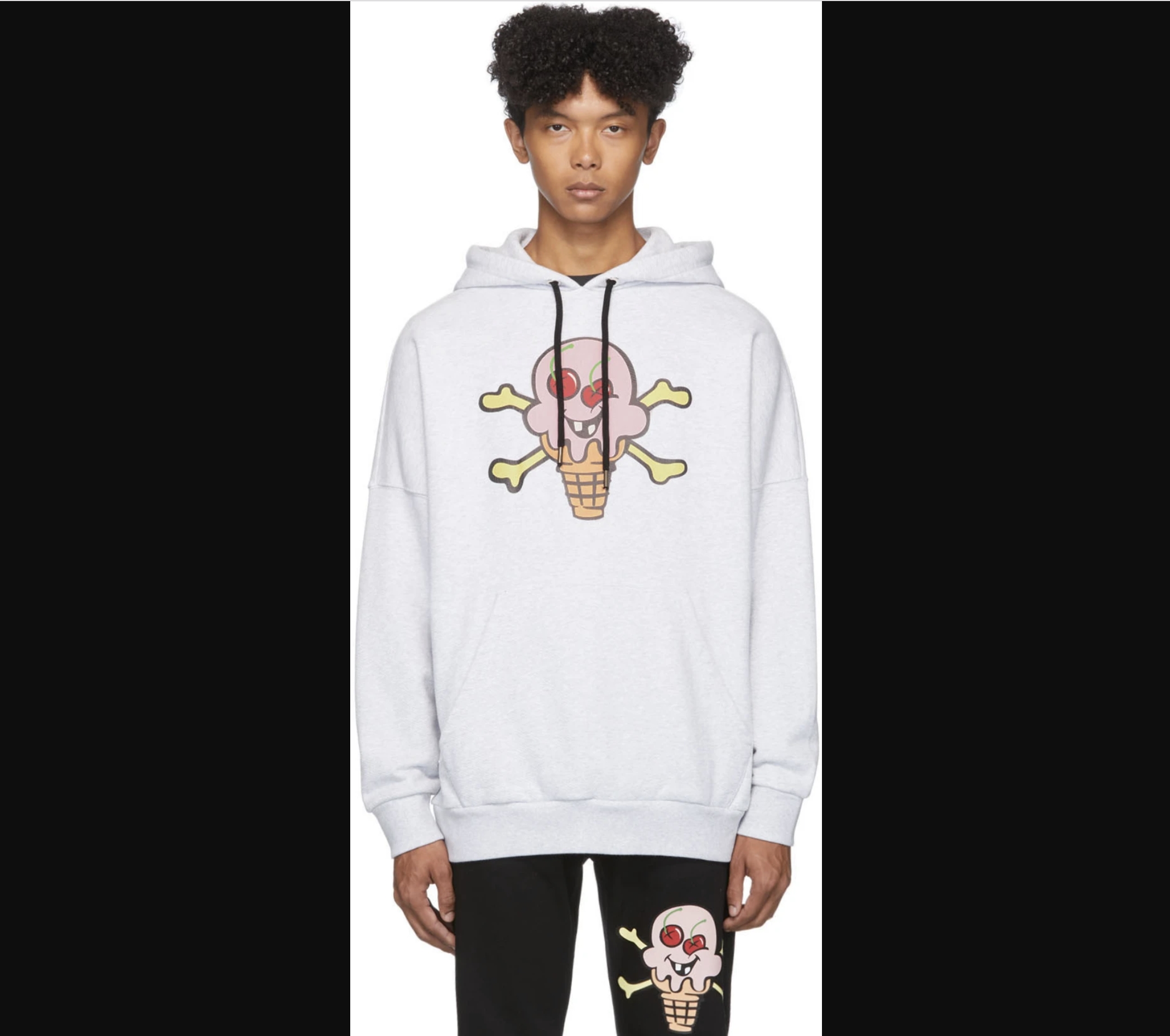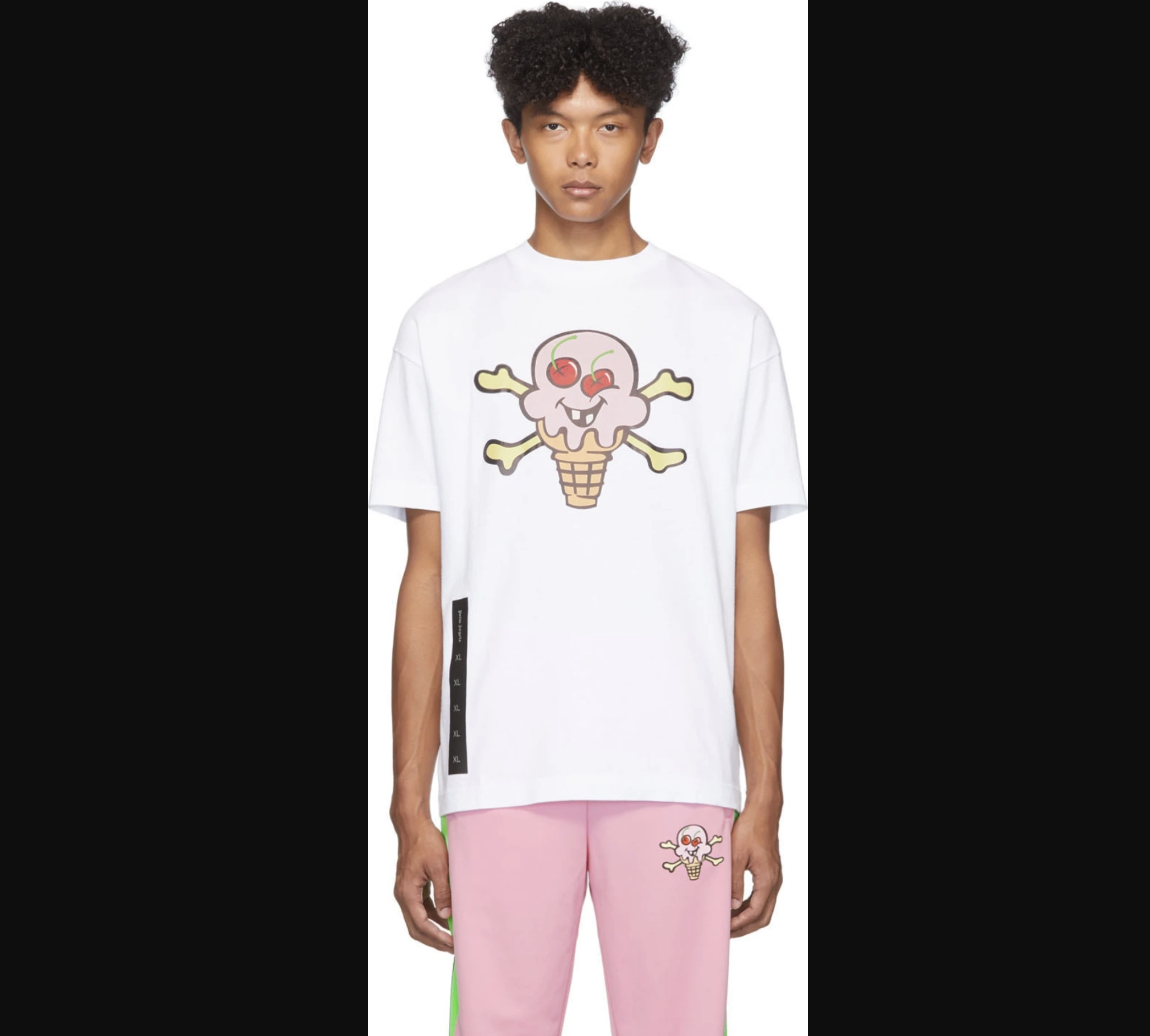 Supreme x Lacoste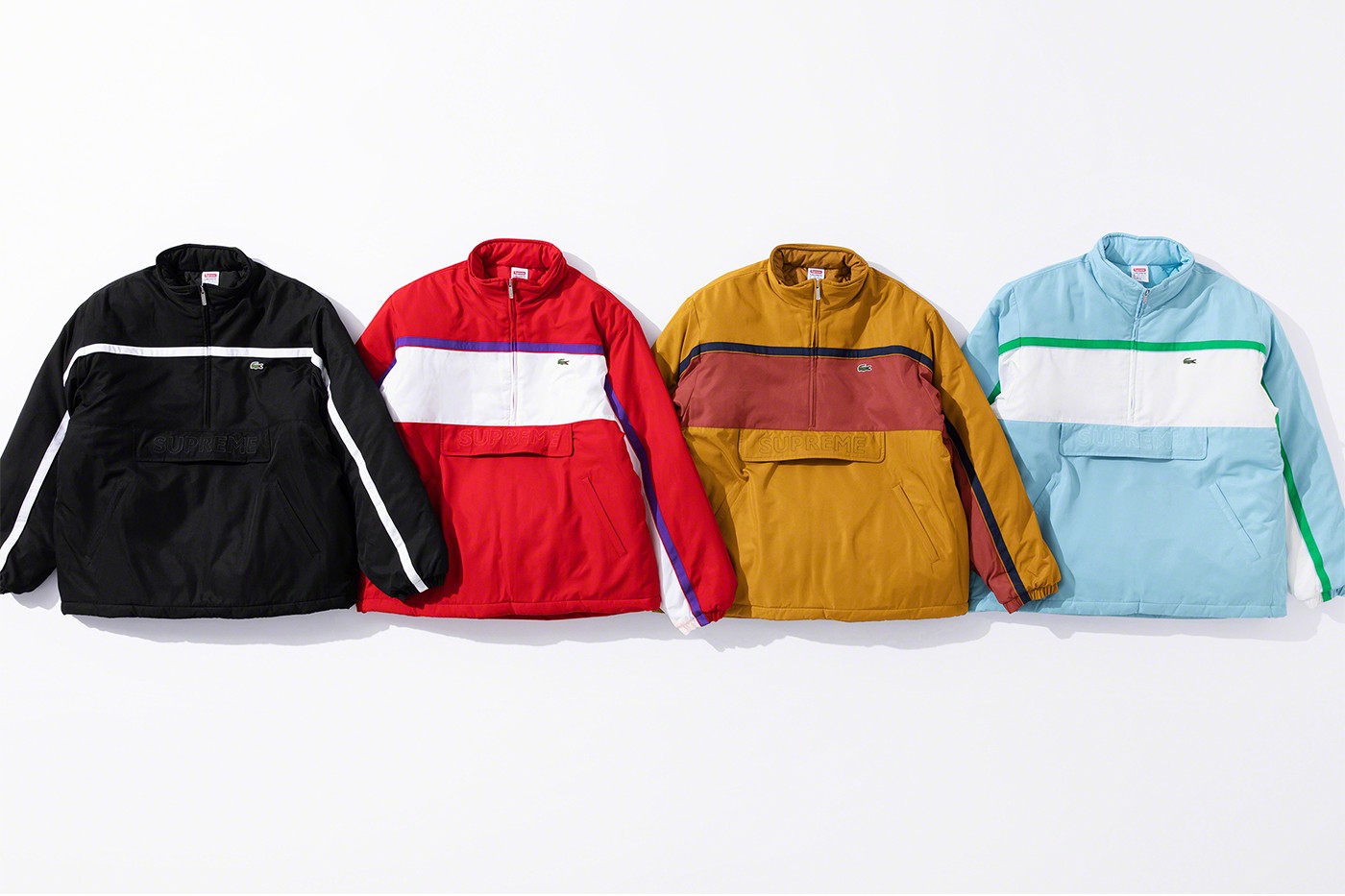 This latest collection from Supreme and Lacoste is the third consecutive collaboration between the brands, and consists of long sleeve polos, matching pants, hats, pullovers, track pants, messenger bags, beanies, bomber jackets, and sweaters — it's quite an extensive collection and much bigger than Supreme tends to drop, but hey, we're not complaining.
Every piece in the collection is a clear reminder that this is a collaboration between two juggernaut companies — with equal branding prominence across each piece. However, Supreme knows when to take the backseat, letting Lacoste shine and implementing their iconic crocodile branding throughout several of the designs. Lacoste being Lacoste, this whole collection does lean heavily on the tennis vibes, so if you're not ready to add a little bit of preppy design ethos into your streetwear this collection won't be for you.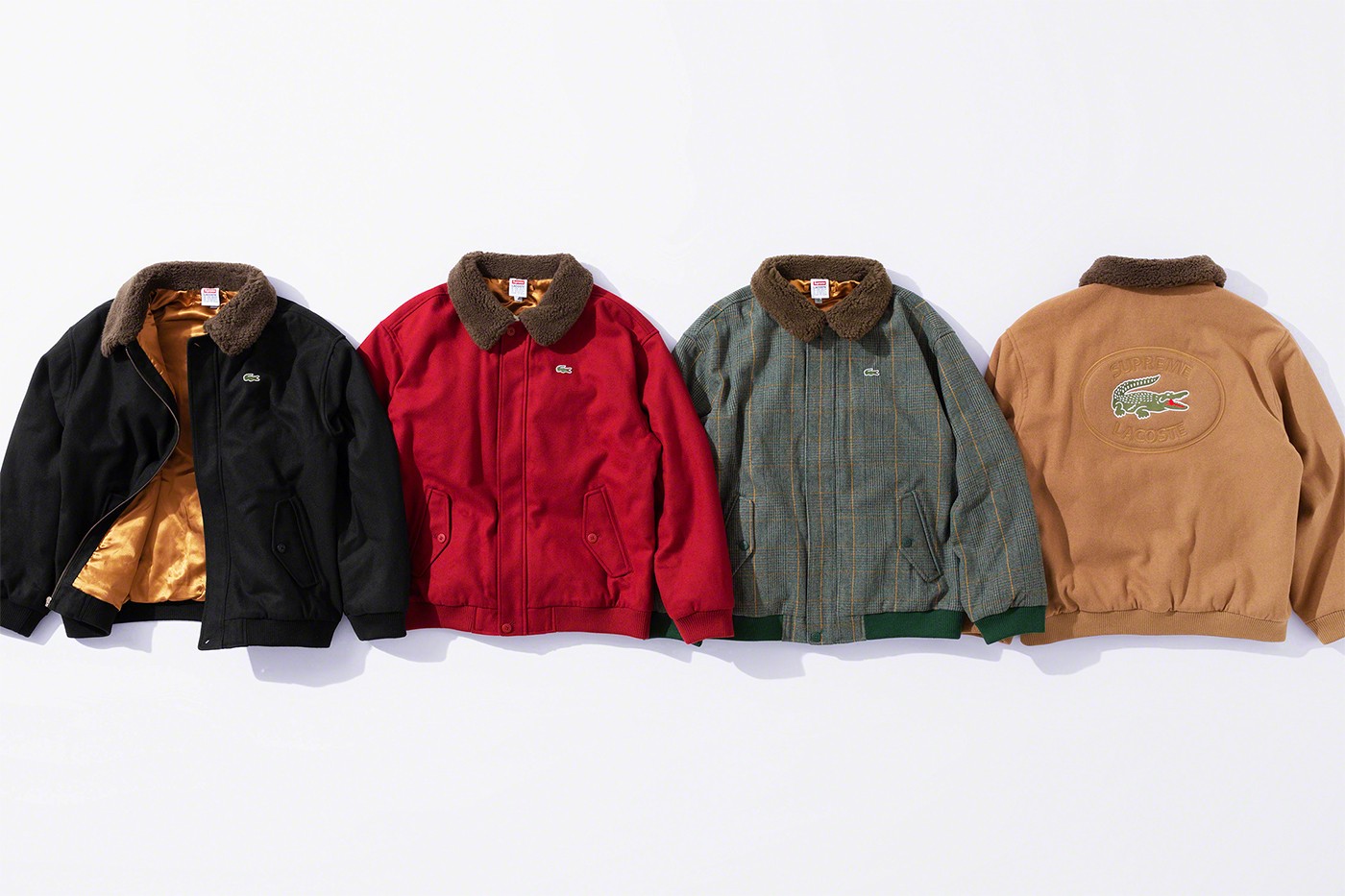 Of course, hypebeasts are going to drool over the collection regardless, so it'll be sold out before you can say "Supreme teamed up with Lacoste?!" The collection is way too massive for us to devote more than a few images to, so we've selected the best of the best.
The Supreme Lacoste collaboration is set to drop online and at Supreme's New York, Brooklyn, and Los Angeles stores on September 26th. Be ready!