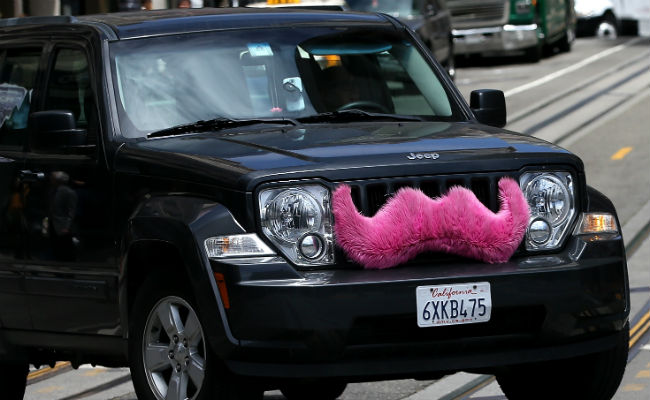 If you grew up on '80s films you know that by now, we should be surfing around on (actual) hoverboards, colonizing Mars and riding in cars that drive themselves. Sadly, our technology hasn't caught up to our imagination, yet, but that isn't stopping the CEO of Lyft from making some big predictions when it comes to his ride-sharing company.
The president of Uber's main competitor, John Zimmer, just released a 14 page document outlining the company's plans to adopt autonomous vehicles for most of it's rides. According to the handbook, by 2021, Lyft intends to have a majority of its fleet be driverless.
Titled "The Third Transportation Revolution: Lyft's Vision for the Next Ten Years and Beyond," Zimmer's mission statement predicts that by 2025, the idea of individual car ownership will be a thing of the past and the automotive industry will undergo a huge transition. This, in turn, will change the daily experience of riding in a car.
In other words, Lyft intends for its driverless fleet to present a buffet of options for its riders.
"If you think of yourself as the consumer, I can offer you 10 different vehicle types on the Lyft platform," he told The Verge. "They all have amazing Virgin America cabins-slash-beautiful hospitality experience inside. There's the private version if you want to do work on your ride, there's the sleeper car if you want to take a nap, there's the entertainment car if your friends and family want to watch movies, there's the bar car to have fun with other people on your ride home."
Nap cars, bar cars — for anyone suffering with extreme road rage, or people who just hate driving, this sounds like a dream come true.
Zimmer says there's still plenty of issues to figure out, like how users would pay for these different experiences, who would actually own the cars and what would happen to the company's drivers once they transitioned fully into autonomous ride sharing. But if anything sells us on this idea of ownerless, driverless cars, it's this quote:
You never have to deal with parking, maintenance, cleaning, etc.
Sold. Of course, all of this comes after Lyft's rival Uber began public testing of its self-driving fleet in Pittsburgh, so this may just be a publicity stunt to gain some good press for the company that's been struggling to find a buyer. GM Motors has been sniffing around and they've been working with Lyft on testing its own self-driving vehicles, though they haven't gone public with those trials yet.
Whether this bold vision of the future becomes a reality or not it sounds like it's probably time to prepare yourself for the era of driverless cars.
(Via The Verge)