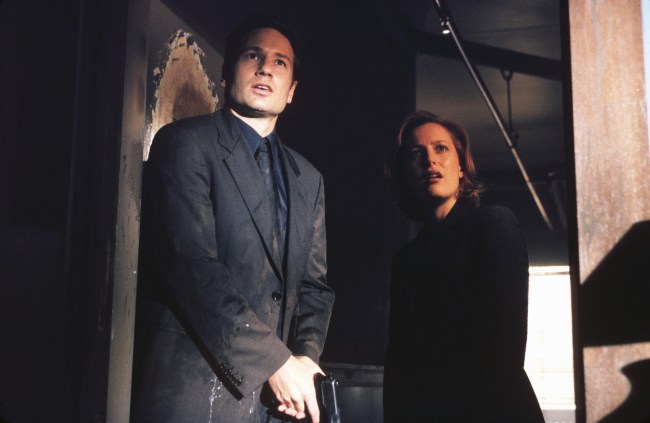 The truth is coming… in January 2016. Fans are eagerly awaiting the much-desired reboot of Fox's supernatural drama The X-Files, which will reportedly bring back both the beloved monster-of-the-week format AND the show's twisty mythology for its 6-episode run. While the mysteries in the David Duchovny and Gillian Anderson-vehicle are purposely unexplainable, the reasoning behind many of the show's plot lines and storyline choices is just the opposite. Some of the series's most iconic facets are all thanks to behind-the-scenes meddling. Check out that, and more, in our roundup of X-Files little-known facts.
David Duchovny forced the whole production to move to Los Angeles because he missed his wife.
We all know how Téa Leoni and David Duchovny's marriage panned out, but back in 1998, the couple was very much in love – so much so that he threatened to quit the show if they didn't relocate filming. The series had been filming in Vancouver since its premiere, dwindling the actual interaction time between Duchovny and Leoni, who was filming The Naked Truth in California.
The actor's hissy fit was successful, and the entire cast and crew were upheaved to Los Angeles.
Gillian Anderson's real life pregnancy birthed the show's entire mythology.
That whole abduction plot in season two? All thanks to Scully's fertile hubby. When Anderson discovered she was pregnant with her first child (daughter Piper) halfway through season one, the show runners were flummoxed and staff writers searched for a way to keep the young star around. Cue the abduction plot line. What better way to explain Anderson's maternity leave than to have her carted off in a space ship?