It was a great year for television overall, so much so that you could've watched 25 or 30 television series this year and still not seen all the good ones. Peak TV means picking and choosing. Amidst all this great television were some really remarkable performances, many of which didn't get the notice they deserved because their shows weren't as widely seen.
Below are 20 of the biggest stand-out performances of the year, performances that — for one reason or another — stood out among other great performances in their respective series.
Regina King and Carrie Coon for their intense, Heat-like chemistry on The Leftovers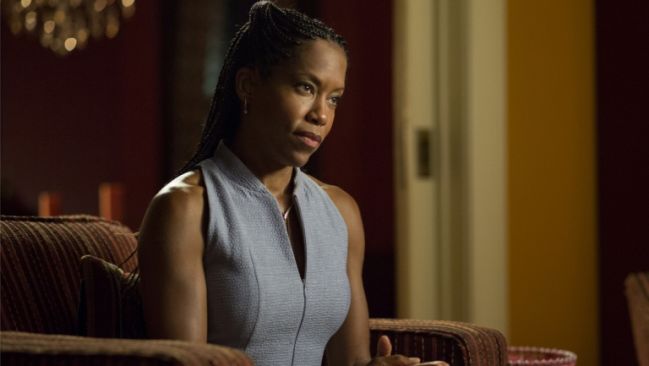 Regina King received her long-deserved Emmy award earlier this year for American Crime, and Carrie Coon is a Tony nominee. There's no question that the two can act, but about two-thirds through the second season of The Leftovers, they shared one of the most riveting, intense scenes on television this year, the kind of scene where a viewers can go 45 seconds without realizing they're breathing. Sitting across from one another, King and Coon traded verbal blows in a 10-round bout, and neither flinched at each other's knock-out punches. It was transfixing.
Bokeem Woodbine and Zahn McClarnon for their contrasting scene-stealing styles in Fargo
Woodbine and McClarnon are both veteran character actors who have been around a long time, but in season two of Fargo they transcended their "That Guy" status. The two stole every scene they were in, but did so in opposite ways: Woodbine did it with a bad-ass, intoxicating sing-songy approach (see the "Jabberwocky" monologue, above), while McClarnon — who played Hanzee — stood out with a quietness that was both aloof and intense. It's not easy to stand out in a cast as good as the one Fargo has assembled, but like Alison Tolman did in the first season opposite Martin Freeman and Billy Bob Thornton, Woodbine and McClarnon proved that you don't have to be the star of a show to make an impression.

Rami Malek for best human embodiment of the Pixies "Where Is My Mind?" in Mr. Robot
Malek– who has been acting for over a decade with notable performances in The Pacific and Short Term 12 — played the lead in Mr. Robot. Elliot was a vigilante who hacks your sh*t, unearths your sins, and dimes on you. He was withdrawn, weird (and not weird-funny) and bug-eyed in a strangely magnetic way. Mr. Robot was the best new series of 2015, and none of it would've worked with anyone other than Malek. He made that show his own.
Shiri Appleby for playing television's first real anti-heroine UnReal
A minor child star, Appleby had something of a break-out — along with Katherine Heigl — in Jason Katims Roswell back in 1999, but it took her another 15 years to make another splash, but this one caused tidal waves. In UnReal, she transformed a The Bachelor-like parody into one of the most addictive shows of the summer. Appleby played up her sweetness and vulnerability until her character gained the trust of the contestants, and she used that trust to manipulate and exploit them to suit her own ambitions. We could sense how terrible it made her feel about herself, but we also knew it was not something she could stop herself from doing. She struck the perfect balance between sympathetic and evil.

Clayne Crawford for outstanding demonstration of unknown hidden depths in Rectify
Through the first two seasons of Rectify, Crawford's character, Ted Talbot Jr., was the show's one-note antagonist. He was a bully to Daniel, emotionally abusive to his wife, and a suck-up to his parents. In the third season, however, showrunner Ray McKinnon tapped into the insecurity and jealousy that was driving Ted to act in the way he did. By season's end, we felt as much heartbreak and sympathy for Ted as we did for series lead, Daniel.
Trevor Larcom for being the unintentional comedic relief in True Detective and the intentionally funny scene stealer in Fresh off the Boat
Pizza-munching Larcom brought the only moments of levity to a grim second season of True Detective, while also being responsible for the funniest, most rewatchable Vine of 2015 in Fresh off the Boat. Shaggy! He also wins the Outstanding Ginger Kid of 2015 Award.

David Tennant for villain of the year in Jessica Jones
Once the charming, effervescent and cheery tenth Doctor in Doctor Who, Tennant displayed incredible range by becoming Kilgrave, the most despicable villain of the year, a man so vile that he used mind control to rape Jessica Jones and convince her it's what she wanted. He was the supervillain-as-abusive husband, so repugnant that it may be impossible to see him as his winsome Doctor Who character again without getting the shudders.
Ben Mendelsohn as the year's outstanding overall male performer for Bloodline
Kyle Chandler may be the draw for Bloodline, but it's Mendelsohn that kept us around. Television has never seen anything quite like Mendelsohn's Danny Rayburn: He was oily and conniving, equal parts charming and terrifying. He was the kind of character that disturbs your energy. There was far more to him than what's immediately apparent, and most of the fun of Bloodline was getting inside his mind and figuring out what makes the guy tick. Spoiler alert: It's pure spite and malevolence.
Michaela Watkins for best spiritual adaptation of a Transparent character in Casual
Michaela Watkins began her career in theater, moved to improv with the Groundlings, and then landed in sketch comedy on SNL. She bounced around in a number of series (including creating and writing Benched) before landing the role that feels like the culmination of her entire career (including her best friendship with Jill Soloway, the creator of Transparent). Casual feels like a close cousin to the Amazon series, and Michaela Watkins feels like that other show's missing sister. It's a role that exercises all her talents for improvisation, comedy, drama and theater work. Even in a ensemble cast that includes Frances Conroy and Eliza Coupe, it's Watkins who shines in a bleakly comic, often heartbreaking role.
Michelle Gomez for the year's best villainess in Doctor Who
Steven Moffat has been criticized for years for not considering a female Doctor and for the lack of female representation in the writer's room. Michelle Gomez's villainess, The Mistress, seemed to be Moffat's way of responding to his critics. While Moffat's reasons may have been disingenuous, there was nothing disingenuous about Gomez's terrific performance. As the Doctor's nemesis, she was delightfully British: Self-deprecating, caustic, and funny, while still managing to feel every bit as threatening as her male predecessors.

Colman Domingo for the year's best late-inning save in Fear the Walking Dead
The thing that Fear the Walking Dead missed for so much of its first season was personality. The characters felt stock, and performances were middling at best. It didn't matter what was going on in the story because we couldn't invest in the characters. That changed late in the first season when Colman Domingo's Victor Strand arrived. He was mysterious and compelling, and so mesmerizing when he was onscreen that we managed to briefly forget about all the other failings of Fear.
Cuba Gooding, Jr., for best performance as himself in Big Time in Hollywood, Fl.
Cuba Gooding, Jr. has largely been relegated to Redbox movies for the last decade, but in the little-seen but hilarious Comedy Central show Big Time in Hollywood, Fl. he briefly reminded us of why he won that Oscar for Jerry Maguire back in the '90s. Gooding was incredible, taking a page out of the Neil Patrick Harris White Castle book by playing a coked-out larger-than-life version of his already larger-than-life personae.

Lois Smith for best performance by an old-timer in The Americans
Lois Smith has been acting for 65 years, but her guest starring turn on The Americans may ultimately earn the 75-year-old her first major acting award. (She's already been nominated by the Critics' Choice Awards). She was the standout of maybe the best episode of a stellar third season of the FX series, playing a woman relaying her life story to another woman she knew was about to kill her. It was quietly heartbreaking.
Character Actress Margo Martindale for best performance by a character actress playing herself in Bojack Horseman
Margo Martindale was not only amazing on Justified and in The Americans, but she has an incredible sense of humor, playing a hyper-violent version of herself who robs banks, steals cars, bites people in prison, and gets herself involved in shootouts with the police. She's not only a great character actress, she's a true criminal mastermind.

Rebecca Bloom for funniest musical performance in My Crazy Ex-Girlfriend
Rebecca's Bloom's character on My Crazy Ex-Girlfriend is like no other character on a show that's like no other on television. The premise is not unlike that of Felicity, but the tone is unique: Quirky and hilarious on the surface, but dark and subversive underneath. As co-creator, Bloom also provides catchy songs with irreverent lyrics, and strikes the perfect balance between enthusiasm and neuroses.
Noel Fisher for best subversion of gay stereotypes in Shameless
Shameless is a sadly under-appreciated series, and Fisher is too often overlooked in favor of the series' bigger stars, William H. Macy and Emmy Rossum. However, there's never been a gay character like Noel Fisher's Mickey, and no one could've pulled it off as well this actor. In fact, his storylines seemed to evolve to suit his talents. He played a homophobic thug who also happened to be madly in love with a man. What's so heartbreaking about the character, however, was that the more he accepted himself as gay, the more he lost hold on his bipolar boyfriend.

Aya Cash for best depiction of what it means to be depressed in You're the Worst
Aya Cash was plenty funny in the first season of You're the Worst — profane, glib, sarcastic and sexy — but she found a different gear in the second season, demonstrating exactly what it looks like to be depressed. As someone who has never dealt with that particular condition, Cash's turn in You're the Worst made me understand exactly what it must feel like.
Sarah Hay for best nostril work in Flesh and Bone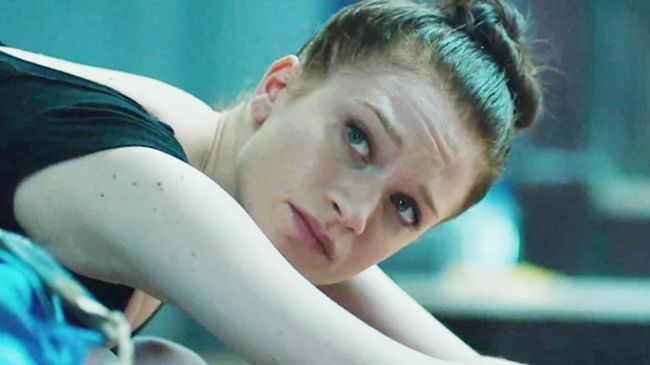 No one since Charlie Hunnam in Sons of Anarchy has done nostril work as impressive as Sarah Hay in the super dark ballet drama, Flesh and Bone. A lot of people can act with their eyes, but Hay manages to convey a lot about her otherwise quiet character through a simple flare or twitch of her nostrils. The series, which comes from Moira Walley-Beckett (who wrote the "Ozymandias" episode of Breaking Bad), is good, but it almost doesn't deserve Hay, who manages to turn in a subtle performance in the midst of some not-so-subtle writing.