The second half of the split Mad Men final season debuts on April 5, less than two months from now. And as anyone familiar with either the show or the Internet knows, this means one important thing: The time for rampant, illogical, borderline delusional speculation about the show and its characters is upon us. Yahoo! has a few of the first promos images, and while two of the three are pretty boring and straightforward, the third (pictured above) raises a number of very important questions.
And away we go.
Where is Don?
Is he at a pool party?
Why is he at a pool party?
Why does he look sad at a pool party?
What is he looking at?
Do you think maybe someone showed up to the party in the same blue jacket and it's bumming him out?
Was it Pete?
Ugh, Pete, right?
Or is he at some fancy education big wig's house trying to get Sally into some fancy educational establishment?
Or is he trying to get her back into some fancy educational establishment?
Did Sally get thrown out?
For what?
Dog fighting?
Would you be super surprised if Sally started a dog fighting ring at a boarding school?
You wouldn't, right?
Is he still sad about Bert dying?
Is he seeing another vision of a singing, dancing Bert Cooper?
Is he seeing a vision of many Bert Coopers, possibly doing an elegant synchronized swimming routine in the pool?
Is Ida Blankenship in the pool, too?
Are she and Bert doing a duet?
ARE THEY DOING "ENDLESS LOVE"?
IN THE POOL?
Wouldn't that make him happy instead of sad?
Would it make you happy?
Or would you throw a chronological hissy fit over the fact that "Endless Love" technically came out in 1981, over a decade after this episode probably takes place?
Do you think maybe you need to settle down and just enjoy things for once, you cynical piece of human garbage?
Wait, where's everyone else?
Is he at the party alone?
If it's not a work party, did … did he bring a date?
WAS IT MEREDITH?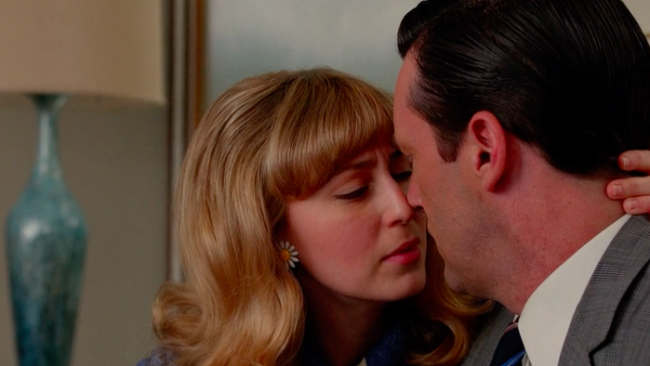 Did her plan work?
ARE THEY MARRIED?
Don has pulled this kind of stunt before, running off and getting married on a whim, you know?
Or is he there with Roger?
Is Roger off getting a beejer from some lady he just met?
How many blow jobs do you think Roger Sterling has received during parties in his life?
More than 10?
Is Cutler, that snake, that dirty, dirty snake at the party?
Is Don watching him drown?
Do you think that's what that face is — not sadness, but just the overwhelming nothing he feels watching Jim Cutler drown?
Why is the lady in the chair so cool with Cutler drowning?
Did she hate him, too?
Man, what a dick, right?
Speaking of drowning, uh, should Don really be drinking near a pool when he's sad?
I mean…
Wait, did Pete get eaten by a bear?
Is that why Don is sad?
Because Pete got torn limb from limb by a huge bear, possibly in the middle of Manhattan?
DID IT FINALLY HAPPEN?
IS HE AT PETE'S FUNERAL?
DID PETE SPECIFICALLY REQUEST A POOL PARTY FUNERAL IN HIS WILL?
Dear god, these episodes can't start soon enough.