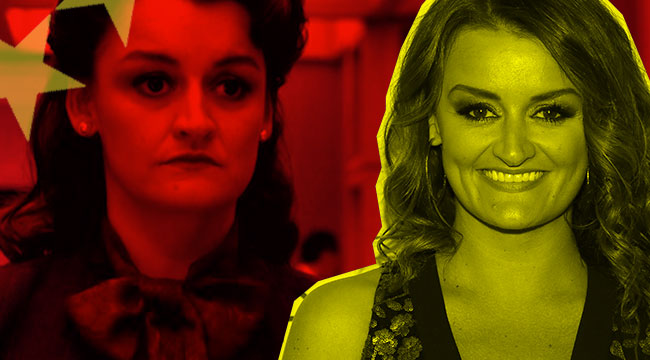 Alison Wright is an actress probably best known for portraying Martha Hanson on FX's The Americans. You may have also seen her in The Nanny Diaries and she recently co-starred in HBO's Confirmation, a dramatization of the Clarence Thomas/Anita Hill saga that starred Wendell Pierce and Kerry Washington. A new episode of The Americans airs tonight at 9 p.m. EST.
Alison was nice enough to take a few minutes out of her busy schedule recently to answer a few questions from us.
1. You walk into a bar. What do you order from the bartender?
Red wine, pint, barrel or trough-size.
2. Who's your favorite person to follow on Twitter and/or Instagram?
It's @TraceeEllisRoss and I'm obsessed with her in every way. She is utterly hilarious, gorgeous, wicked-smart and charming. I love her work on Blackish and I want to raid her character 'Bow's' closet, so badly. I covet everything they dress her in. I also like to follow my pal on Instagram — #harryjoshhair, he's a peach and always ready with something inspirational, uplifting and funny. Not forgetting amazing hair do's on all the famous faces out there!
3. What's currently waiting for you on your DVR?
Don't have one, but next I'm watching season two of both Happy Valley & Peaky Blinders.
4. It's your last meal — what are you going out with?
My Mum's Christmas Day dinner, then her perfect profiteroles. It almost induces a food coma anyhow, I often worry it actually will be my last meal.
5. What websites do you visit on a regular basis?
Anthropologie, Bergdorf's, YouTube, The New Yorker, Amazon, Amazon, Amazon.
6. What's the most frequently played song on your mobile device?
Well, my ringtone is Tammy Wynette, "Stand By Your Man." Music wise, it's Sam Cooke's Greatest Hits & "Sussudio" by Phil Collins.
7. If you could go back and give your 18 year-old self-one piece of advice, what would it be?
You will not suit blue hair, don't f#%#ng do it and don't pierce your tongue, either. Go, move, shift, and I guarantee your life will be sweeter than you can imagine.
8. What's the last thing you Googled?
"Michael Angarano girlfriend??"
9. Dogs or cats?
Doggies, little silly ones.
10. Best concert of your life was…?
Madonna. Blonde Ambition. 1990. 'Nough said.
11. What book are you most likely to give as a gift?
The God Delusion — Richard Dawkins.
My Brilliant Friend — Elena Ferrante.
Dry — Augusten Burroughs.
12. What's the nicest thing anyone has ever done for you?
My best friend Coco does amazing things for me all the time. She's given me the gift of all my greatest adventures, they've all been because of her. She's my Brilliant Friend.
13. South Park or Family Guy?
South Park, but I claim Stewie Griffin, too.
14. You have an entire day to do whatever you want. What would you do?
After just spending time in LA, I have to say starting it off with a hike somewhere, it's such an excellent way to start your day! ….. Of course, I can think of another really splendid ways to wake up, too….
15. What movie can you not resist watching if it's on?
The Goonies, The Fifth Element, The Labyrinth.
16. The sports team or teams you're most passionate about?
None, not a one.
17. Where did you eat the best meal of your life?
I like to think it hasn't happened yet. That I still have it to look forward to. Eating is everything.
18. The last movie you saw in a theater?
The Hateful Eight 70 mm.
19. Who was your first celebrity crush?
Michael J. Fox, and it hurt…. it hurt so bad. I was around 10 years old I dreamt about him. Kylie Minogue's smash hit "I Should Be So Lucky" was number one in the charts in England, playing on the radio constantly, and it fueled my aching fantasy. I was on holiday with my parents, staying in a remote little village in The Lake District. We had driven past a little shop and, from the car, I saw a new magazine in the window with MJF on the cover. I trekked the two miles back, in secret, alone through the farm land to get to the newsagents and get my hands on it. And it was totally worth it.
20. What would you cook if Nic Cage was coming to your house for dinner?
I live in New York. My apartment barely has a kitchen. But, instead, I could play him Kylie Minogue songs… because I know they did a record together once. That could naturally segue into the thrilling "first crush" aforementioned Michael J. Fox story. By then, I'm sure he'd be chomping at the bit to get outta there. Problem solved, no cooking necessary.