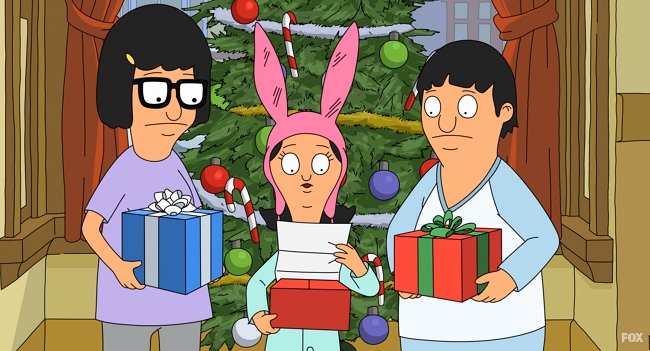 Bob's Burgers has celebrated Christmas seven times since the show debuted in 2011. When given the opportunity, the show has done an incredible job with holiday installments, and these Bob's Burgers episodes have it all, from horror to action to good, old fashioned fun. In the end, everything usually works out nicely for the Belchers. Teddy specifically? Not so much. It's tough to rank these episodes because they're so close in quality, but we did our best. Here are the show's greatest Christmas episodes, ranked.
7. Season 6, Episode 5 "Nice-Capades"
If you aren't a fan of Christmas creep, then you won't appreciate the fact that this Christmas episode aired on November 15th. That means that it wasn't even Thanksgiving when Tina, Gene, and Louis put on a special show for a mall Santa (voiced by Henry Winkler) to remove their names off the naughty list after they unwittingly kicked him out of a massage chair. Of course, Teddy ends up playing a crab that Tina "saved." It's mass chaos and splendid but landed a bit too early on the calendar for comfort.
6. Season 3 Episode 9 "Bob Rest Ye Gentle-Mannequins"
Weirdly, Bob's Burgers didn't get around to doing a first Christmas episode until season 3. Zach Galifinakis voiced Chet, a man who believed himself to be a mannequin come to life, living in storage unit. Faced with a $150-a-month bill, Bob decides to take Chet in. It's a wonderful episode where the kids give up gifts, so Chet can keep his mannequin wife (who he met while creating window displays), but the really special thing to take away from the first Bob's Burgers Christmas episode is how "go talk to Uncle Ernie" is code for "going to the bathroom." Can you dig it?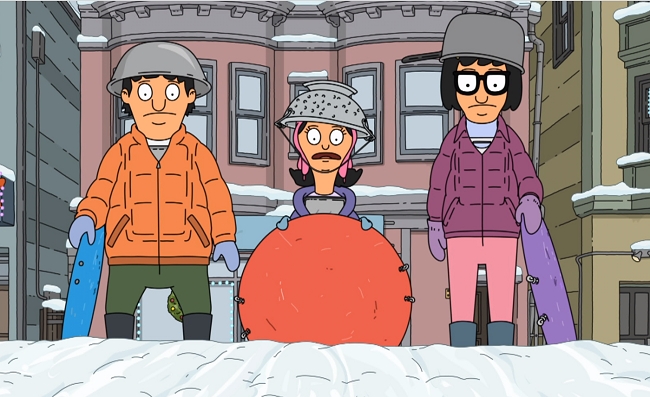 5. Season 9, Episode 10 "Better Off Sled"
The Belcher kids and their friends simply want to go sledding, but their plans are thwarted by teens having snowball fight at the bottom of the hill, so a fight is in order. Pots and pans are used as armor. Another varsity athlete gets involved. And then a bunch more. It is literally an arms race that ends with Louise being the biggest person. While the main story is more about winter recess, the B-story is about Linda and Bob knitting Christmas gifts with varying degrees of success. Linda's Knitcracker dream turns into a nightmare, and Louise sums up all the Bob's Burgers Christmas episodes madness with this line: "Santa, look away. This isn't for your delicate eyes."

4. Season 7, Episode 7 "The Last Gingerbread House on the Left"
The Belchers (and Teddy) head out for caroling and hot chocolate, but their plans descend into the gutter once again. Bob gets sidetracked when duty calls, so while the family (and Teddy) go caroling in Mr. Fischoeder's neighborhood, Bob finds himself decorating a gingerbread house in a competition against a bunch of rich guys in tuxedos with guns who say "ginger boom" whenever someone is insulted. And there's an albino polar bear — who scores some major points for this episode — hanging over the entire evening. It's ridiculously strange, but all the bonkers details make this episode ride high.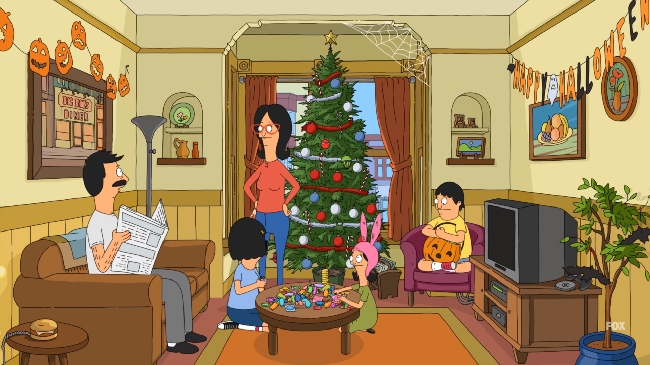 3. Season 4, Episode 8 "Christmas in the Car"
This episode is an irresistible one with Linda putting up the family's Christmas tree on November 1st, but unlike with "Nice-Capades," serious consequences are afoot for Christmas creep. You see, the tree dies on Thanksgiving, and the Belchers are forced to look for their third tree on Christmas Eve. That's when they get caught in a horror movie situation with a truck shaped like a candy cane. When the final confrontation happens, Bob is forced to fight a smaller man (Bobcat Goldthwait) who is happy to hit him. It's all so morbid and un-Christmas-y, which is why this episode pleases the series' fans so much.
2. Season 5, Episode 6 "Father of the Bob"
This Christmas episode doubled as a Bob origin story — and a fitting one at that — and featured the on-screen debut of Bob's father, Big Bob. Big Bob, the proprietor of Big Bob's diner, is voiced by Bill Hader. His friend, and owner of gay bar next door, is voice by Nick Offerman. That combination is the comfort food of guest star voices. We learn that Bob's trouble with his father began when he started trying out creative burgers at his father's diner. The good news is that Bob and his father eventually work out their differences while line dancing. All while the kids are in Big Bob's basement, searching for last minute Christmas gifts. Of course.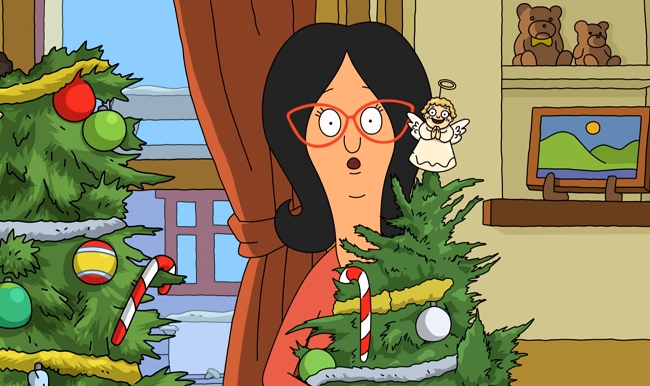 1. Season 8, Episode 6 & 7 "The Bleakening"
At long last, "The Bleakening" introduces us to the Bob's Burgers version of the Krampus, The Bleaken. This 2-part episode is framed around Linda's struggling to save Christmas after a series of nightmares, and after someone steals Linda's tree, the episode turns into a musical about her quest to find the tree thief. He ends up being Art The Artist (voiced by Adam Driver). Despite that Star Wars tie-in, one of the numbers looks like a Game of Thrones crossover and goes big in the process. In part 2, the Belcher kids search for The Bleaken, following clues to an abandoned building where they believe The Bleaken lives. Instead they stumble onto a Christmas rave. Meanwhile, poor Teddy tries to save the day but endures perhaps his most depressing holiday yet, but this overloaded 2-parter works hard to top the list.