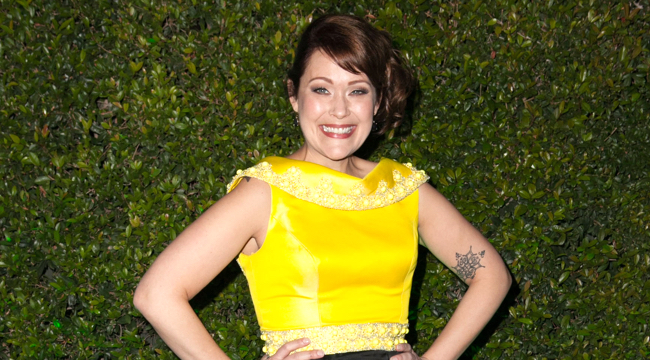 Reddit had questions and Amber Nash supplied answers on Tuesday as she submitted to the interrogation dorkout that is a Reddit AMA. Was there talk of gyro humping? Count on it!
The Archer star (she's the marvel that's brought Pam Poovey into our lives) fielded user queries while promoting her new live action series Hart of America. "It's got murder, sex and a weed smoking Bigfoot, you know something for everybody," she explained while nudging potential viewers to check out the first episode. Colin Mochrie shows up on the program at some point which should be a big plus for all the MochrieManiacs here.
The bulk of the talk was about Amber's animated alter-ego, but there's also some excellent barf anecdote action too. Granted, that also kinda circles back to Pam Poovey, but let's quit blabbin' and give you cherrypicked good stuff.
Worried that Judy Greer (a.k.a. the voice of Cheryl/Carol) isn't fun to work with? Don't worry, Amber confirms she's swell!
Judy is super fun and full of energy and kooky for real. Adam has gotten to know us all better over the years and really writes the characters for us more than ever. So I do feel like a lot of that comes from Adam knowing what Judy is capable of. I love Cheryl so much too!
Amber thinks a certain screen legend would be the ideal choice to play Pam in a live action Archer adaptation.

My dream would be John Goodman! Or me…somehow!
She did not do mounds of cocaine to better exhibit Pam's coke problem.
I'd like to say that the whole time we were recording that season that I was on a cocaine bender but alas it was pretty much the same prep as usual, maybe a little more coffee before I went in. I just had to be really excited about most anything. So I just jumped around in the booth a lot.
As you might imagine, Amber's bullish on the upcoming season of Archer. It'll be new, but not as drastic of a revamp as you've seen before.
So next season is so much fun! We've recorded about half of them and they are in a new environment, it's not a total reboot like season 5 was, but it's new and fresh and so funny. The most important thing is that they are all still horrible a**holes to each other. We air in March this year cause we are moving to FXX.
She had a lovely answer when asked for a story about doing voice work for the cable cartoon comedy.
My favorite is still when recorded the episode where Pam is humping the gyro and they weren't quite getting what they wanted out of me so our EP was like "Amber watch me and just make the right noises" so he just started humping around the studio and I made humping noises. That was the day that I realized that hands down I had the best job ever.
Beautiful.
The whole thing's worth your time, really. Especially if you're curious how Amber sees Pam shuffling off her mortal coil. Robots are involved.
(via Reddit)