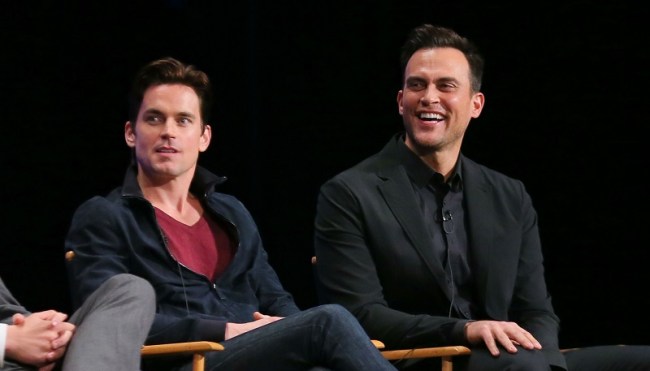 The freak show is over, and the hotel is getting ready to open for business! At PaleyFest, the participants of the American Horror Story panel made a few casting announcements to share who would be joining Lady Gaga as the star of American Horror Story: Hotel.
Matt Bomer, who appeared on AHS: Freak Show, will be in a leading role that may or may not be a romantic interest for Gaga. His exact comment was, "I can't confirm or deny that there might be a love interest." Bomer is a Ryan Murphy standby after appearing on Glee, The New Normal, and his Golden Globe-winning turn in The Normal Heart. He will also be reprising his male stripper role from Magic Mike in Magic Mike XXL, so plan on being either titillated and/or heartbroken, as is Bomer's acting m.o.
Cheyenne Jackson is also joining the cast, but no details about his character were revealed. Jackson is also a Glee veteran and appeared on 30 Rock as Danny Baker, the Canadian singer added to the cast of The Girlie Show, who had a fling with Liz Lemon and was really named "Jack."
While the addition of Bomer and Jackson is great news, other good things must come to an end. Jessica Lange confirmed her exit from the series after four seasons of playing a variety of dramatic grand dames by saying, "Yes, I'm done." She added:
"We've had a great run here. I mean, I absolutely love doing these four characters, and in all the madness, I love the writers and Ryan (Murphy) and the insanity of shooting it."
That is one scream queen who will be truly missed. But at least we're getting Mother Monster.