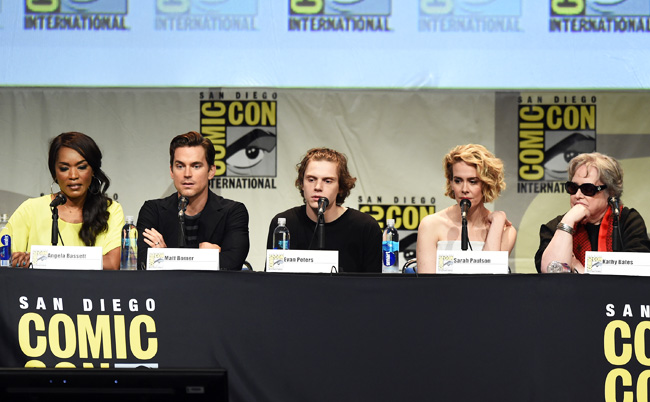 Yesterday, we brought you news out of San Diego Comic-Con of how Lady Gaga ended up landing a role on the next season of American Horror Story, but one important overlooked detail involves crossovers from past seasons. Thanks to the Pepper story from last season, as well as Dr. Arden from Asylum popping up (in addition to Murphy's own admission), we now know that all of the seasons are connected in some way.
On Sunday, Ryan Murphy revealed that the crossing over of American Horror Story worlds will continue with Hotel, according to Variety:
The fifth round will also bring back even more familiar characters, Murphy confirmed, bringing truth to longstanding theories that all "AHS" seasons are connected. "Things are connected," he said. "This season, you'll see more and more and more of that. Characters from previous seasons will come check into the hotel."
Interesting… I fully expect the Montgomerys from Murder House to show up. Thanks to the panel yesterday, we also have our first insight into the names of some of the major players.
The actors, for the first time, also revealed their character names. Bomer will play Donovan, Peters is Mr. March, Paulson revealed she is Hypodermic Sally and Bates is Iris.
Murphy also reiterated the possibility of Jessica Lange's return, although he makes it sound like we won't be seeing her this season. Via Us Weekly:
The Supreme herself, Jessica Lange, has confirmed multiple times that she's not doing AHS anymore, but Murphy teased her possible return in a year or two. Yes, the 6,000-plus seat room erupted in cheers at the news.
I'm putting 50/50 odds that Lange turns up before the end of Hotel. Calling it right now.