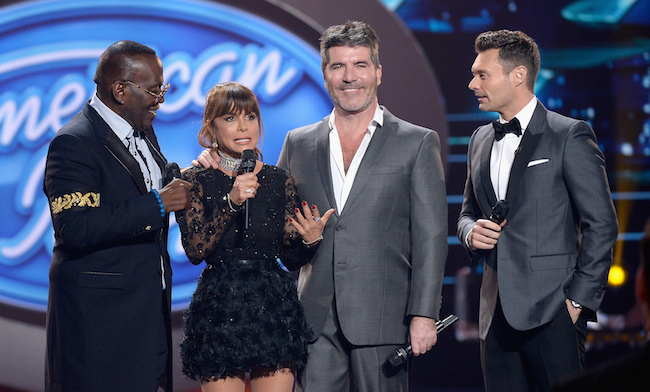 Lee DeWyze enthusiasts, take note. American Idol's still warm corpse might be reanimated and given a new home on a new network. Absorb this information how you will.
The Hollywood Reporter has an intriguing bit of news suggesting NBC is interested in returning Idol to network TV. According to THR sources, producers FremantleMedia are discussing bringing the reality singing competition to the Peacock Network.
The prospect of a revived Idol reads a bit strange in 2017. Sure, everything is revived these days, but it's not like the Ryan Seacrest hosted show was still enjoying its ratings glory years. Quite the opposite. Declining ratings, reduced pop cultural impact, and a lack of Kelly Clarksons ushered Idol off to the exit in *checks calendar* 2016? Geez, this thing's not even a full year removed from its finale. Anyhoobastank, it's somewhat bizarre that NBC, who already has a more successful than modern Idol franchise in The Voice, would want to load up on another singing show. Even with the built-in brand recognition of Idol, it's difficult to see what that would add to schedule beyond multiple nights of readymade programming. As programs like The One: Making A Star, The Next Great American Band and millions more have shown, it's never a slam dunk with reality singing fare.
What do you think of an NBC retool of American Idol? Could it make you fall back in love with the franchise or are you hoping this prospect goes away and it never mentioned again? Sound off in the comments. Or to Justin Guarini if you have that sort of relationship.
(Via The Hollywood Reporter)