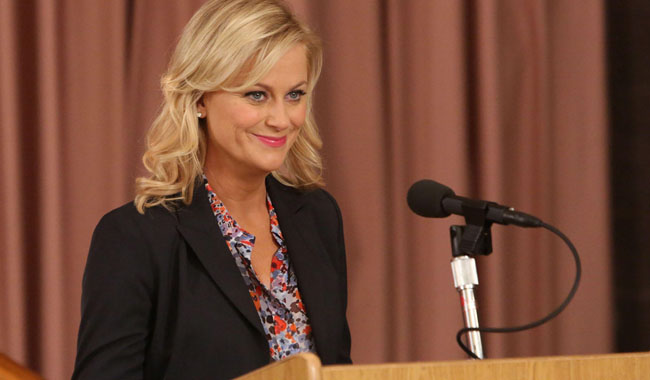 Amy Poehler hasn't officially been Leslie Knope since Parks and Recreation ended its 7-season, 125-episode run in 2015. But much like a superhero in times of peace, she's still got the suit in the back of her closet.
The actress and director has plenty of other projects going on — including Wine Country, which just hit Netflix over the weekend — but the specter of Parks and Recreation remains for the actress who made Knope everyone's favorite midwestern bureaucrat. Much like another show that Mike Schur played a part in (The Office), Parks and Rec is still beloved by fans.
And there's plenty of interest in bringing the show back in some capacity. If you've seen the show, you know its seventh season was essentially demanded by fans after writers had found logical endings for the show in Season 6. But even after things got wrapped up, there seems to be interest from those that made the show in getting the band back together.

Poehler, for example, was asked by Entertainment Weekly about whether there's a Parks and Recreation in the works, and though she said it's not happening just yet, she's interested.
"I'm like Leslie Knope in one way, which is that I am not good at playing it cool. So if there was an actual thing happening, you'd probably be able to pry it out of me pretty fast."
Still, she's said in the past that the cast is open to a reunion if it makes sense, and it clearly wouldn't be hard to convince her to say yes.
"Mike Schur, our captain, is working on like, 50 shows right now but I have my suit ready. I'm Avengers-style ready to put it on at any time. Again, I should probably play harder to get but that's really not me or Leslie's style so you know, I'm avail."
This isn't anything new, as basically everyone involved with the show seems to have loved what they made and would be willing to make more. But it is funny to imagine Poehler's closet containing a costume from her time on the show, in a garment bag, ready to go at a moment's notice when Schur sends out a group text.
(Via Entertainment Weekly)