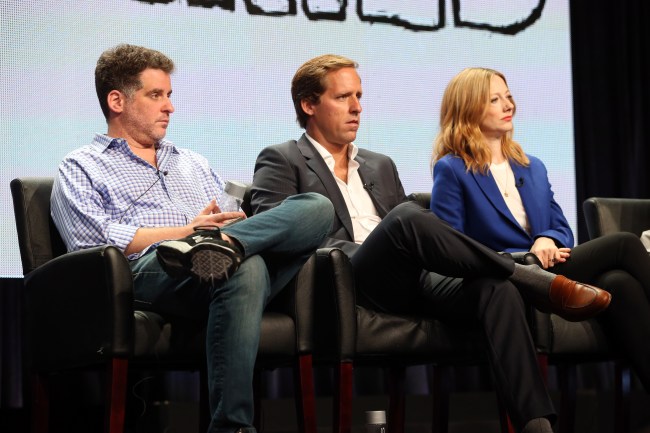 Andrew Gurland is a writer and director probably best-known for being the creator/showrunner of FX's Married. The show, which stars Nat Faxon and Judy Greer, returns for its second season Thursday, July 16.
Andrew was nice enough to take a few minutes out of his busy schedule recently to answer a few questions from us.
1. You walk into a bar. What do you order from the bartender?
Tequila Rocks.
2. Who's your favorite person to follow on Twitter and/or Instagram?
Sarah Silverman.
3. What's currently waiting for you on your DVR/TiVO?
Classic comedies so my kids know funny.
4. It's your last meal — what are you going out with?
Texas barbecue.
5. What websites do you visit on a regular basis?
The Onion is my favorite, but most of my internet time is reading about boxing.
6. What's the most frequently played song on your mobile device?
For a long time this year it was "Too Many Cooks."
7. The first face that comes to mind when you think "punchable?"
My mom.
8. What's the last thing you googled?
"How to abandon your family and not feel bad about it."
9. Dogs or cats?
They're both delicious.
10. Best concert of your life was…?
Hi 5.
11. What book are you most likely to give as a gift?
The Bible For Dummies.
12. What's the nicest thing anyone has ever done for you?
My father paid for film school.
13. South Park or Family Guy?
South Park all day.
14. You have an entire day to do whatever you want. What would you do?
Family hike right as the edibles kick in.
15. What movie can you not resist watching if it's on?
Lebowski.
16. The sports team or teams you're most passionate about?
Miami Dolphins.
17. Where did you eat the best meal of your life?
Italy. Honeymoon. Everywhere.
18. The last movie you saw in a theater?
Inside Out.
19. Who was your first celebrity crush?
Winona Ryder.
20. What would you cook if Nic Cage was coming to your house for dinner?
Some type of Birdy.
PREVIOUSLY: Abigail Spencer.