It's no secret — America likes things supersized. Take the Big Mac, the Lincoln Navigator and the collective rear ends of J.Lo and Kim Kardashian. But when it comes to putting on live TV events, it's possible TBS just took the proverbial 17-layer, chocolate-stuffed cake with the 25-Hour Angie Tribeca Binge-A-Thon.
Not because TBS played their new slapstick police-procedural straight for over a day. Because of the all-night event they put on to do it. That is, from 9pm ET Sunday to 5am ET Monday, season one of 'Angie Tribeca' ran while being glued together by a variety show's worth of live, in-studio comedy ridiculousness.
There was a bit of self-reverential torch-passing from comedy legend Carol Burnett…
A Whip/Nae Nae dance number from the 'Angie Tribeca' cast…
And a hardcore rock riff from Aubrey Plaza who shared her true feelings on not being cast in 'Angie Tribeca.'
It was a night of 1,000 oddities. There were also taped segments with Conan O'Brien, Samantha Bee and Jason Jones — and live cameos in-studio with people like Amy Smart, Ana Gasteyer and whoever this amazing guy was.
Then there were interviews. Namely ours with Steve and Nancy Carell (creators of 'Angie Tribeca'), Rashida Jones and even 15 random minutes in a dressing room with John Michael Higgins and David Koechner (aka Champ Kind). That's not as lurid as it sounds.
It was an event unlike any before it — so here are our best bites from the night, buffet-style:
Rashida Jones on what slapstick can do to a woman (while talking to us next to a men's room): 
"There was one scene at the end of last season where I stopped knowing how to say words. I must've done upwards of 15 takes and was like, 'Holy Shit, you really don't know how to talk anymore.' My brain just died."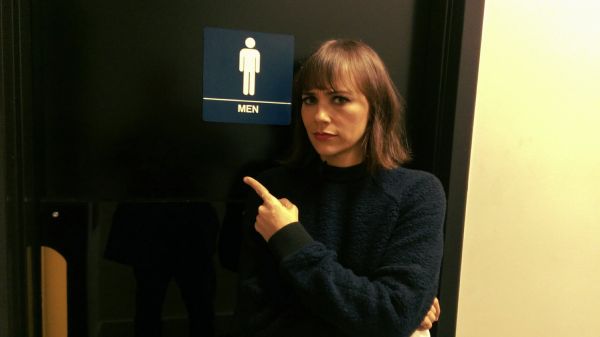 Show co-creators, Steve Carell and Nancy Carell on the birth of 'Angie Tribeca' and what it's like to work with your spouse: 
Steve: "We were just trying to make each other laugh. We weren't looking to create a show together. This wasn't part of any master plan. It was just a silly idea… a happy accident."
Nancy: "We work really well together I think. We don't have a lot of friction between us, which is good I guess."
Steve: "I like how she qualified it as 'a lot.' Notice how she didn't say we don't have any."
John Michael Higgins and David Koechner on guest starring in separate 'Angie Tribeca' episodes:
John: "They did everything they could to humiliate us… and they very nearly succeeded in both of our cases. I was stripped, shaved and painted…my entire 52-year-old body… and then filmed for mass consumption. It was deeply undignified."
David: "I am bone white, so they had to paint me tan. 'Cause I had to run around in a diaper."
Comedian and Binge-A-Thon Show Host, Deon Cole on what it's like to do an eight-hour live TV show:
"Live TV is crazy. This is the longest I've ever been on live TV talking… ever. It's the most stressful thing!"
Hayes MacArthur, 'Angie Tribeca' police detective J Geils on what to expect from 'Angie Tribeca' season two:
"We made the show a little darker to look even more like those procedural dramas that we're sending up…CSI, NCIS, Law & Order.  We wanted it to be like if you were watching the show and the sound was ff, you'd think you were watching one of those procedural dramas… until you see something like a dog driving a car."
If you missed the binge, worry not. The entire first season can be watched on the TBS website. Season two is right behind it, premiering Jan. 25 at 9:30pm ET on TBS.