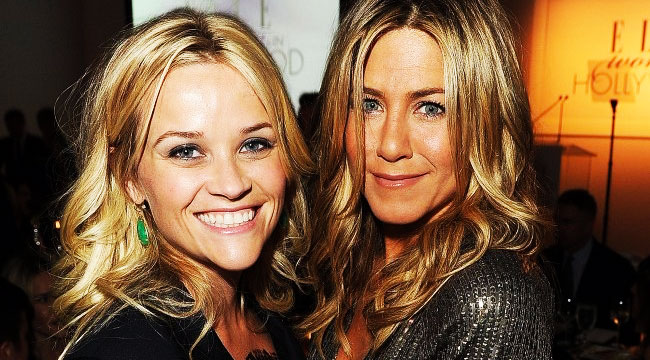 Following a battle of the bids between outlets, Apple has nabbed Jennifer Aniston and Reese Witherspoon's morning show drama. Apple has already given the show a two-season order of 20 episodes. The as-yet-untitled series is being described as using the book Top of the Morning: Inside the Cutthroat World of Morning TV by Brian Stelter as "additional background for the show," rather than as a source for a direct adaptation. There are no scripts yet so we don't know much about the series aside from the fact that it will follow the world of morning TV.
What we do know is that, in addition to starring in the show and executive producing, Aniston and Witherspoon will also own the show, along with former HBO head of drama Michael Ellenberg and his company Media Res.
This will serve as Aniston's first regular television role since Friends ended in 2004. Her post-Friends television career has largely included guest spots on shows like 30 Rock, Cougar Town and her finest role: as a dating show contestant wearing a bear costume on Burning Love.
Witherspoon, of course, had big success as both an actor and producer on HBO's miniseries Big Little Lies, which took home eight Emmys in 2017. The two memorable appeared together on Friends when Witherspoon guest starred in two 2000 episodes.