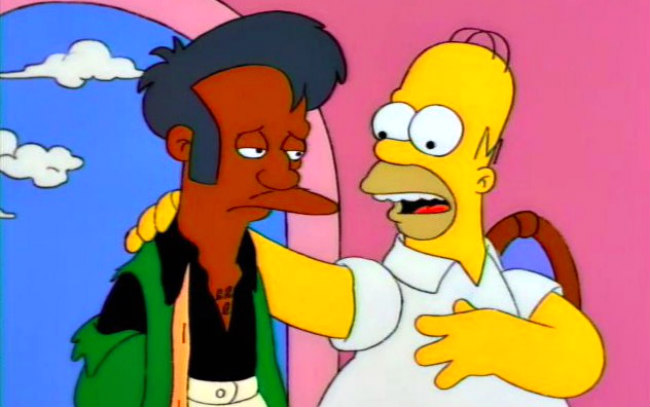 Unlike Skittlebrau, the controversy over Apu Nahasapeemapetilon exists. There was a documentary, and comments from creator Matt Groening and Hank Azaria (a white actor voicing an Indian character), and a snarky in-show response; South Park even got involved, with a cry to #CancelTheSimpsons. The Simpsons isn't going to be canceled (you can't stop it), but over the weekend, it was reported that the animated series was planning to cancel Apu.
"I got some disheartening news back, that I've verified from multiple sources now: They're going to drop the Apu character altogether," producer Adi Shankar told IndieWire. "They aren't going to make a big deal out of it, or anything like that, but they'll drop him altogether just to avoid the controversy." So, is Apu, one of the most popular Springfieldians, joining the likes of little-to-never-seen (and less popular) characters like Marvin Monroe and Nelson's weasels?
Maybe not.
On Sunday, Simpsons showrunner Al Jean tweeted, "Adi Shankar is not a producer on the Simpsons. I wish him the very best but he does not speak for our show." Shankar might be correct about the show's plans for Apu, but until there's an official statement for someone involved with The Simpsons, expect Apu to keep Springfield stocked with surprisingly expensive penny candy.